Newsletter: Today: Steeling for a Trade Fight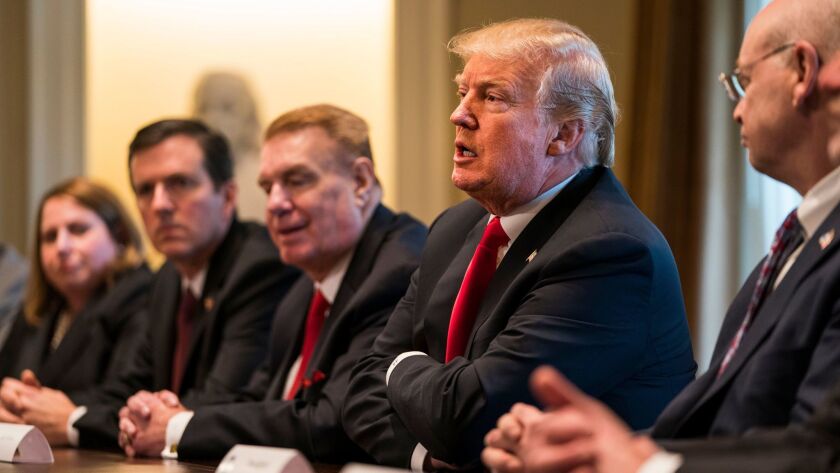 President Trump's talk of tariffs shakes things up.
TOP STORIES
Steeling for a Trade Fight
President Trump said he will sign an order next week to place heavy tariffs on global imports of steel and aluminum — an announcement that caught much of his administration by surprise, sent stocks plummeting and stoked fears of a trade war. It even set partisan politics on its head, with key Republicans jeering and Democrats cheering. Still, the details are unclear, including whether the tariffs would apply to all countries or just primary targets, such as China or Canada. (The latter is the biggest exporter of steel and aluminum to the U.S.) If China does react, it could go after products like soybeans, whose farmers form a powerful lobby in Washington.
More Politics
-- The White House says the Department of Justice is reviewing the actions of Oakland Mayor Libby Schaaf, who alerted residents to an immigration raid.
-- Trump's vow to go big and bipartisan on guns is reminiscent of his reversals in the past, notably on immigration and healthcare.
-- After complaining for years that it was starved for cash, the Pentagon now says it may have more money than it can possibly spend.
-- Another senior diplomat is quitting: Roberta Jacobson, the U.S. ambassador to Mexico.
Putin to the World: 'You Have Failed to Contain Russia'
In his state of the union speech, Russian President Vladimir Putin said his nation has nuclear weapons with unlimited range that can bypass any missile defense system. His address was bellicose enough to draw a rebuke from the White House and renew fears of a Cold War-style arms race. Perhaps not to be outdone by Trump's showmanship, Putin even announced a contest to name these new weapons of mass destruction. But with the longtime leader seeking reelection this month, some analysts thought it was more posturing and pointed out that Russia and the U.S. have long had the ability to destroy each other.
The Not-Long-Enough Arm of the Law
The U.S. Securities and Exchange Commission filed civil fraud charges in October against four former executives of Homex, a Mexican construction company whose collapse was detailed in a Times series last year. The complaint accuses them of faking home sales on a mass scale to increase revenues by $3.3 billion. One problem: Documents show the SEC hasn't been able to deliver a summons to them, leaving the case in limbo.
Who's in Charge Here?
Do you remember when L.A. city leaders said they were about to declare a state of emergency over homelessness two years ago? They never actually did. Nor did the state of California, after county supervisors called on it to do so 18 months ago. The latest Times editorial on homelessness looks at L.A.'s long history of failure on dealing with the issue and calls for leaders to take responsibility, individually and collectively.
When Sacramento Pride Meets the Red Carpet
The 90th Academy Awards will be handed out Sunday in Hollywood, a place that is nearly 400 miles away from Sacramento and even further apart in mindset. But one top awards contender is proudly set in the state capital: "Lady Bird," Greta Gerwig's tribute to her Northern California hometown. The film is up for five Oscars, including best picture and director. And Sacramento really likes what it sees through the eyes of Gerwig, even if her film misses a couple of things about this city of "modest pleasures."
More About the Oscars
-- Some say the Oscars have lost their mojo and their relevance. Here are some theories as to why.
-- The nominees: The complete list and how they've fared in the lead-up to Sunday's show.
-- What to watch on TV and when: the previews, the show and the aftermath.
-- You won't see live announcer Randy Thomas on camera, but you'll recognize her voice.
FLASHBACK FRIDAY
Fifty years before the Florida high school students would lead the fight against gun violence, students in East L.A. helped ignite the Chicano power movement. On March 5, 1968, hundreds streamed out of classrooms at Garfield High in protest of run-down campuses, lack of college prep courses, and teachers who were poorly trained, indifferent or racist. Thousands would follow in their footsteps – and be decried as having fallen under communist influence.
MUST-WATCH VIDEO
-- Film critic Kenneth Turan says Jennifer Lawrence and a strong cast can't save the lesser spy games of "Red Sparrow."
-- Meanwhile, Justin Chang reviews the melancholy Japanese comedy "Oh Lucy!" in which cultures and desires clash.
CALIFORNIA
-- As a storm moves in, Santa Barbara County authorities have ordered mandatory evacuations Thursday for residents in Montecito and other fire-scarred areas. In Northern California, it will dump several feet of snow in the mountains.
-- Metro has backed away from plan to widen the 710 Freeway, opting for more modest changes.
-- U.S. Treasury Secretary Steven T. Mnuchin has blocked the release of a video that shows him being heckled at UCLA, but the initially little-noticed incident went viral via cellphone video.
-- The battle between lawyers in the Robert Durst murder case has included accusations of misconduct, incompetence, bullying and slander.
HOLLYWOOD AND THE ARTS
-- Bruce Willis is back for a gory remake of "Death Wish," the Charles Bronson thriller that Trump once said you couldn't make today.
-- Pasadena's Arroyo Seco Weekend festival in June will feature Neil Young, Robert Plant, Jack White and Alanis Morissette, among others.
-- Our architecture critic tried to crack the mysterious case of Frank Lloyd Wright's L.A. houses on camera. First rule: No drone shots.
NATION-WORLD
-- The value of the Las Vegas gunman's estate may be worth less than thought, a detail that's of key interest to victims and families seeking compensation.
-- In tears and with anger, a New York mother testified against a former nanny who is accused of stabbing two young children to death.
-- The bucolic north of Israel is relatively peaceful for now, but the specter of war is looming.
-- China is making it easier for Taiwanese to invest, work and study on the mainland, but Taiwan's leaders aren't happy about that.
BUSINESS
-- The Weinstein Co. saga continues: An investor group says it has reached an agreement to buy the company's assets.
-- Snap Inc. says it put more than half of its Venice office space up for lease last week so that it can consolidate hundreds of employees in a corporate office park next to Santa Monica Airport. Apparently the employees won't be getting bonuses, either.
SPORTS
-- LAFC will play the first Major League Soccer regular season game in its history Sunday in Seattle, while 1,000 miles away at Exposition Park work continues on its new stadium.
-- Jordin Canada has quietly become the driving force for UCLA's women's basketball team.
OPINION
-- There are echoes of the Fugitive Slave Act in today's immigration debate.
-- In Rio de Janeiro, military intervention won't solve the violence.
WHAT OUR EDITORS ARE READING
-- How did Melania Trump get a green card in the elite EB-1 program? Immigration experts want to know. (Washington Post)
-- Less than a day in, former Arkansas Gov. Mike Huckabee resigned from the CMA Foundation board of directors after an outcry in the country music industry. (Tennessean)
-- Every Oscar best picture winner, ranked from worst to first. (BuzzFeed)
ONLY IN L.A.
Sportscaster Keith Jackson was credited with naming the Rose Bowl "the Granddaddy of 'em all." Next month, the stadium in Pasadena is playing host to a celebration of life for Jackson, who died at age 89 in January. The April 15 event is open to the public and will include Jackson's former college broadcasting colleagues Dan Fouts, Bob Griese, Todd Harris and Lynn Swann.
If you like this newsletter, please share it with friends. Comments or ideas? Email us at headlines@latimes.com.
---