Newsletter: Today: Ryan's Nope
House Speaker Paul D. Ryan is heading for the exits. What will it mean?
TOP STORIES
Ryan's Nope
In a year of Republican incumbents deciding not to seek reelection, House Speaker Paul D. Ryan is the highest-profile of them all — second in line to the presidency and one of the GOP's most prolific fundraisers. Ryan insists that it's to spend more time with his teenage children, after fulfilling his dream of passing major tax cuts, and that it has nothing to do with the difficulty of dealing with President Trump or fears of a Democratic blue wave in November's midterm election. Regardless of whether you read between the lines, his decision only adds to the uncertainty surrounding who will control the House of Representatives next year. One possible successor: Rep. Kevin McCarthy of Bakersfield, also a big fundraiser whom Trump calls "My Kevin." Assuming, that is, Republicans still have a majority.
Like, Really 'Smart' Missiles
Syrian government troops have reportedly evacuated air bases in anticipation of a U.S.-led air raid meant to strike back after a suspected poison gas attack on civilians in a suburb of Damascus. Yesterday, Trump unleashed a series of tweets about the situation, blaming "much of the bad blood with Russia" on "the Fake & Corrupt Russia Investigation" and including a warning: "Russia vows to shoot down any and all missiles fired at Syria. Get ready Russia, because they will be coming, nice and new and 'smart!'" Trump tweeted Thursday that an attack on Syria could take place "very soon or not so soon at all!" A national security analyst said Trump's bellicose tweets could complicate things, because the Pentagon must make sure "the size of the strike matches the rhetoric."
National Guard, Yes. Wall, No.
Gov. Jerry Brown has a message for Trump: California will take your money but not your marching orders when it comes to the National Guard. Brown agreed to deploy 400 troops "to do what it does best: support operations targeting transnational criminal gangs, human traffickers and illegal firearm and drug smugglers along the border, the coast and throughout the state." But he also had a list of what the Guard wouldn't do, including building a new wall or enforcing federal immigration laws.
More Politics
-- Trump's anger over the Russia investigation fueled a bipartisan push in the Senate for a new proposal to prevent the president from firing special counsel Robert S. Mueller III.
-- Drug testing for certain food stamp recipients? The Trump administration is considering a plan that would open the door for states to require it.
-- Mike Pompeo, Trump's pick for secretary of State, is likely to need all his diplomatic skills to get through his Senate confirmation hearing today.
-- Facebook CEO Mark Zuckerberg's second day of questioning on Capitol Hill had a bit more edge, but the biggest revelation was he was among those who unwittingly had their personal information harvested by Cambridge Analytica.
Leaving for Liberia (or Not)
Thousands of Liberians who have been living in the U.S., some since the 1990s, are making a difficult decision: Return to a country still recovering from civil war, or stay and go underground, hoping to avoid deportation from the U.S. In New York's Little Liberia on Staten Island, that reality is sinking in for those who are losing or have already lost their temporary protected status as immigrants. Their experience could foretell what happens to roughly 300,000 TPS holders from other countries.
A Game-Changer at LAX?
Getting into and out of Los Angeles International Airport has long been a nightmare, made all the more frustrating by knowing that a light-rail line stops 2.5 miles short of the terminals. Now, the L.A. City Council has signed off on a solution to one of L.A.'s great planning failures. It's approved $4.9 billion for an elevated "people mover" train that will finally connect LAX with the mass transit system. Estimated opening: March 2023.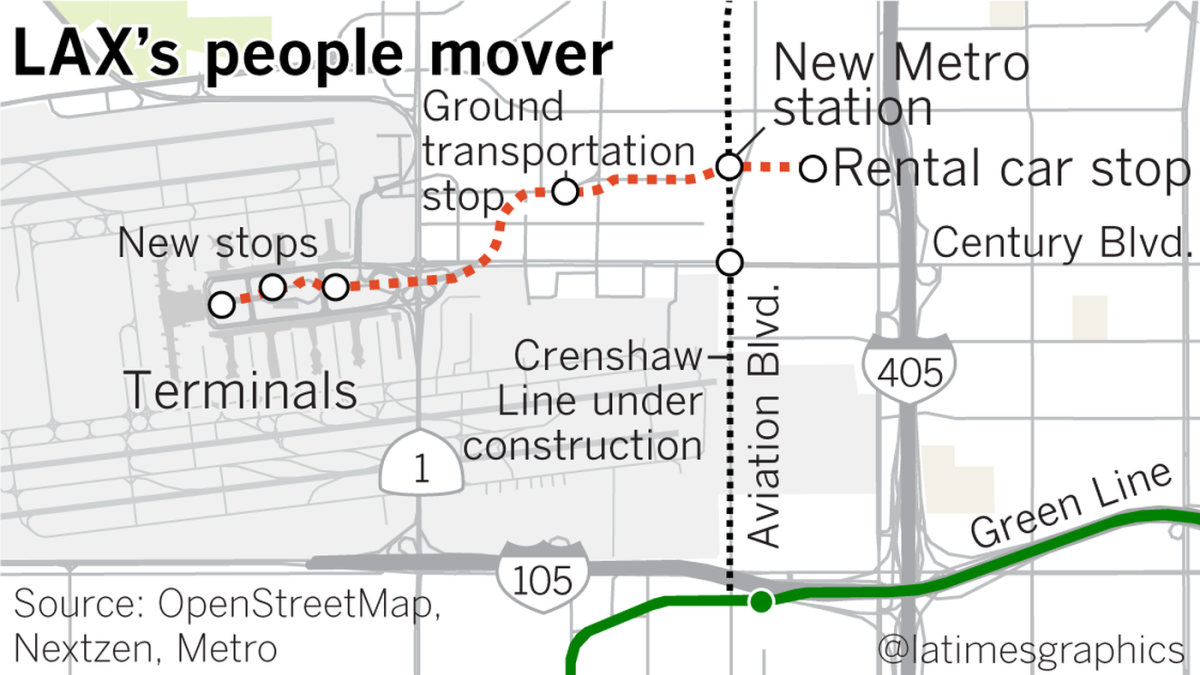 Sign up to get Today's Headlines delivered to your inbox. »
MUST-WATCH VIDEO
-- A vigil for the victim of a fatal hit-and-run crash in South L.A. was interrupted by yet another hit-and-run.
-- Inside the announcement at Dodger Stadium that it will host the 2020 Major League Baseball All-Star Game.
CALIFORNIA
-- "Sanctuary cities" update: A U.S. government lawyer has asked a federal appeals court in San Francisco to overturn an injunction blocking enforcement of Trump's executive order against them.
-- Newport Beach is the latest city to oppose California's key "sanctuary state" law.
-- Police in Delano are asking Kern County prosecutors to review whether federal immigration agents gave false information to police investigating a crash that killed a couple who were in the country illegally.
-- In Irvine, protesters are fighting against homeless people moving there. "We will decide who comes into the city," says one.
HOLLYWOOD AND THE ARTS
-- A case of alleged sexual abuse involving Oscar-winning actor Kevin Spacey is being reviewed by the Los Angeles County district attorney's office. Officials have declined to give specifics, but the date of the alleged incident would make it impossible to prosecute.
-- Lennie James, who plays fan favorite Morgan Jones on "The Walking Dead," will leave that series to join the "Fear the Walking Dead" spinoff.
-- "I lived in denial and isolation": Mariah Carey has revealed her bipolar disorder diagnosis in the hope that the stigma surrounding it will be lifted for others.
-- Is Museum of Contemporary Art Director Philippe Vergne on his way out? Rumors are swirling, but the museum is mum.
CLASSIC HOLLYWOOD
Mitzi Shore, who died Wednesday at age 87, was the the godmother of comedy in L.A. — or, as David Letterman once said, "the den mother of some berserk Cub Scout pack." Though there were some not-so-funny times too, as the owner of the Comedy Store, she influenced the careers of Letterman, Jay Leno, Jimmie Walker, Andy Kaufman, Robin Williams, Bob Saget, Richard Lewis, Garry Shandling, Elayne Boosler … need we go on?
NATION-WORLD
-- Calls for Missouri Gov. Eric Greitens to resign have come after a report detailed accusations that he initiated a physically aggressive unwanted sexual encounter with his hairdresser and threatened to distribute a partially nude photo of her if she spoke about it.
-- This week, lawmakers from the Northeast to the Deep South have been debating and voting on gun control legislation, with mixed results. Here's a snapshot of four states.
-- Pope Francis has admitted he made "serious errors of judgment" in his handling of a sex abuse case in Chile, telling bishops he feels pain and shame for victims and will beg their forgiveness in person.
-- Prosecutors say they have evidence that Mexican drug lord Joaquin "El Chapo" Guzman was involved in killings, torture, kidnappings and an attempt to smuggle tons of cocaine in cans of jalapeños.
BUSINESS
-- Warner Bros. will not renew its $450-million co-financing agreement with Brett Ratner's film funding company. Several women have accused him of sexual misconduct or assault, which he has denied.
-- Merger talks between Viacom Inc. and CBS Corp. plunged into chaos after a report that controlling shareholder Shari Redstone could oust CBS' combative chief executive, Leslie Moonves.
SPORTS
-- In Las Vegas, the Golden Knights won their first ever NHL playoff game against the L.A. Kings, with a little help from some Elvis impersonators.
-- The Dodgers aren't on TV, but they have been to a World Series and now will host the All-Star game. Is the trade-off worth it?
OPINION
-- Trump will launch a missile strike against Syria and declare the mission a success. Don't you believe it, says Doyle McManus.
-- The delta tunnels plan to revamp California's waterworks is costly, risky and unfair to L.A. It's also the right thing to do, according to The Times Editorial Board.
WHAT OUR EDITORS ARE READING
-- Former White House chief strategist Stephen K. Bannon is reportedly pitching a plan to cripple the federal probe into Russian interference in the 2016 election. (Washington Post)
-- A visit inside the no-go zone around Daiichi nuclear power plant in Japan. (Longreads)
-- Do people really have different learning styles? Studies suggest no. (The Atlantic)
ONLY IN L.A.
Andre Ingram played 384 games in the minors, but at age 32, he made it into an NBA game this week — and brought down the house. Ingram dropped four three-pointers, the most in a Lakers rookie debut, on his way to scoring 19 points and inspiring the fans to chant "M-V-P." Even Kobe Bryant, a man who once heard those chants regularly at Staples Center, approved: "What a story, huh?"
If you like this newsletter, please share it with friends. Comments or ideas? Email us at headlines@latimes.com.
Must-read stories from the L.A. Times
Get the day's top news with our Today's Headlines newsletter, sent every weekday morning.
You may occasionally receive promotional content from the Los Angeles Times.