Newsletter: Today: Weird Science at the EPA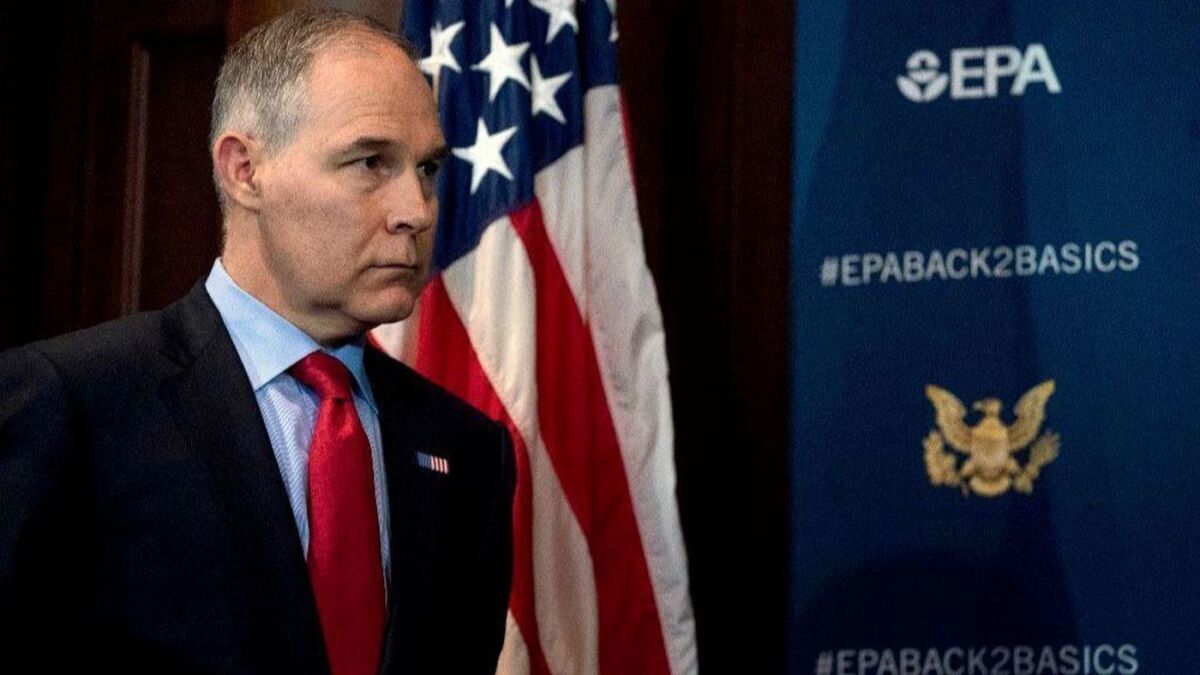 The head of the Environmental Protection Agency is targeting the science behind many of its rules for clean air and water.
TOP STORIES
Weird Science at the EPA
EPA chief Scott Pruitt says he's for government "transparency." Does that mean he's addressing the soundproof telephone booth he spent $43,000 on, the $100,000 on first-class travel, or the big raises given to two aides against the White House's wishes? No, instead he's using that term to go after what he and industry advocates call "secret science" that makes use of confidential data — in other words, lots of health studies that include legally protected patient information. Pruitt's proposal would block the EPA from using these studies when considering clean air and water rules. It was announced at an event with no reporters allowed. On Thursday, Pruitt is scheduled to testify on Capitol Hill.
Extreme Vetting Isn't What the Doctor Ordered
Dr. Ronny Jackson was supposed to have a Senate confirmation hearing today as President Trump's nominee to head the Department of Veterans Affairs. Instead, the hearing has been postponed and Jackson is facing questions about allegations of inappropriate conduct as the White House doctor stemming back several years. Trump said he would stand behind Jackson, even though at a news conference the president recounted — not once, but six times — asking Jackson why he would choose to proceed. The situation has again raised concerns about the White House's vetting process too.
Rip Up the Iran Deal — or Expand It?
After days of Trump and his French counterpart, Emmanuel Macron, soaking in Washington pomp, bonding over their shared outsider status and Trump brushing an apparent piece of dandruff from Macron's shoulder, is Trump changing his stance on the Iran nuclear deal? That's the main goal of Macron's visit, and yesterday Trump suggested he was open to renegotiating and expanding the deal rather than tearing it up.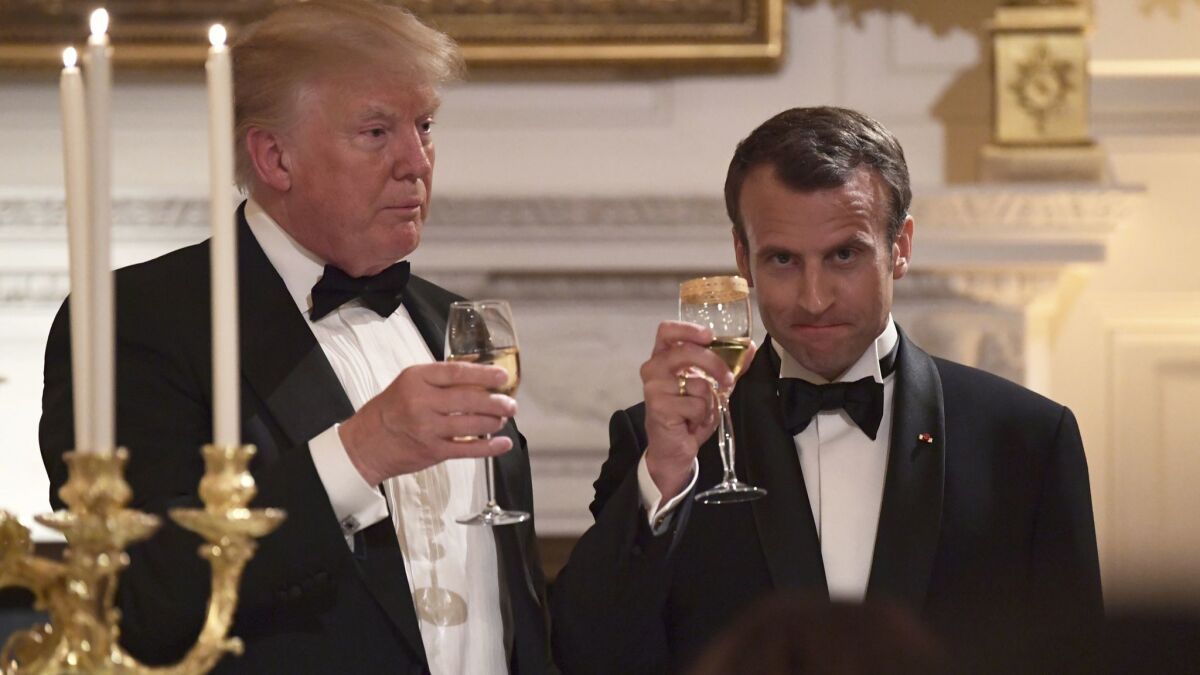 More Politics
-- A federal judge in Washington has ordered the Trump administration to continue the Deferred Action for Childhood Arrivals program and accept new applicants for the first time. But the judge gave the administration 90 days to provide a more solid reason for ending the program.
-- The Trump administration is racing to strike a deal on a revamped North American Free Trade Agreement by early May, with an eye toward forcing a congressional vote by the end of the year.
-- Trump's travel ban goes before the Supreme Court today. Justices will consider whether the chief executive has the power to bar most immigrants and travelers from five heavily Muslim countries.
Big Trouble on Campus
With a student body that was 54.8% white in fall 2017, Cal Poly San Luis Obispo is said to be the least diverse university in the 23-school Cal State system. Many minority students say racism, both overt and subtle, permeates their lives there. The tensions have taken on a new urgency after a spate of racial incidents, including a white fraternity member appearing in blackface.
Mysteries of the Vermont Triangle
The 7,000-square-foot traffic median known as the Vermont Triangle was supposed to be a gateway to Los Feliz's boutiques and restaurants when it was redesigned for $850,000 nearly a decade ago. After it fell into neglect, locals volunteered time and money to give it another makeover in 2013. Today, it draws tents and transients. So now, a third redesign is in the works to ward off encampments. "It should have stayed the way it was," says one official. "But everyone has all these different, wild ideas."
Sign up to get Today's Headlines delivered to your inbox. »
MUST-WATCH VIDEO
-- To mark the 103rd anniversary of the Armenian genocide, thousands of demonstrators marched in L.A.
-- Film critic Justin Chang says "Avengers: Infinity War" is a "brisk, propulsive, occasionally rousing and borderline-gutsy continuation of a saga that finally and sensibly seems to be drawing to a close. (Or not.)"
CALIFORNIA
-- Pro- and anti-Trump forces are scoring points on immigration these days, but columnist Steve Lopez writes, "I have a feeling there are no winners here, and that neither side is accomplishing much."
-- Housing and Urban Development Secretary Ben Carson toured a women's center on L.A.'s skid row on a fact-finding trip to programs tackling homelessness and job training.
-- Efforts to regulate the state's bail industry have some perhaps unlikely proponents: bail agents.
-- Los Angeles is ending its economic boycott of Arizona, which began eight years ago to protest a law targeting illegal immigration and then was repeatedly lifted.
HOLLYWOOD AND THE ARTS
-- "The Handmaid's Tale" returns to Hulu today, and TV critic Lorraine Ali says Season 2 boldly opens in terrifying but familiar form.
-- "Nova Wonders" on PBS ponders big questions in a changing world. TV critic Robert Lloyd calls it an answer to the anti-science crowd.
-- Meghan Markle has that royal wedding day coming up, but first her character on USA Network's legal drama "Suits" is tying the knot.
-- A Chicago massage therapist has accused Marvel Comics' Stan Lee of inappropriate behavior. Lee has denied the allegations through his lawyer.
CLASSIC HOLLYWOOD
Larry King tried the retirement thing and found he just couldn't do it. At 84, he's going strong on the web and has no plans to retire again. "I asked Milton Berle once if he was going to retire and he said, 'Retire to what?' I don't know what I'd do. I don't golf. I can't see myself living in Phoenix. I don't play shuffleboard. I don't like cruises. But work isn't work to me. The easiest thing I do in my day is on the air."
NATION-WORLD
-- A 25-year-old suspected of plowing a van into a crowded Toronto sidewalk was ordered held on 10 counts of murder and 13 of attempted murder.
-- The gruesome case of three Guadalajara film students who were kidnapped, beaten and killed — and their bodies dissolved in acid — is generating outrage across Mexico.
-- In a tiny Illinois town that bills itself as the Pumpkin Capital of the World, residents hesitate to acknowledge the man accused of killing four people in Nashville.
-- A British judge said the parents of a terminally ill toddler cannot take him to Italy for treatment, a course of action that U.K. courts have said would be futile and wrong.
-- A mummified body discovered near the site of a former royal mausoleum in Iran may be the remains of Reza Shah Pahlavi, the founder of the Pahlavi dynasty and the father of the country's last shah.
BUSINESS
-- Three years after China unveiled its plan to dominate the world's most crucial technologies, it's at the core of a trade dispute with Washington that threatens to upend the global economy.
-- Would you let Amazon into your car? The company has launched what it calls In-Car Delivery, which allows its drivers to open the trunks of certain late-model cars and drop off packages inside.
-- Sinclair Broadcast Group, which gained unwanted fame by forcing its news anchors to read a statement about "fake news," will divest 23 TV stations to clear the way for its merger with Tribune Media.
SPORTS
-- Angels pitcher Shohei Ohtani was throwing balls faster than 100 mph against the Houston Astros, but it was still a learning experience.
-- The NFL draft is Thursday. How close will reality be to this mock draft by NFL beat writers?
OPINION
-- South Orange County's solution to homelessness is class warfare at its NIMBYest, writes columnist Gustavo Arellano.
-- The new congressional authorization to fight terrorism still gives the president too much power, a fellow at the Defense Priorities think tank argues.
WHAT OUR EDITORS ARE READING
-- "I'm not a hero. I'm just a regular person": James Shaw Jr., who police say saved lives by disarming the man who opened fire at a Waffle House in Tennessee, is indeed being hailed as a hero. (NPR)
-- Just what is a state dinner? This brief history explains. (Smithsonian)
-- Working as a songwriter these days means truly being a starving artist. (Pacific Standard)
ONLY IN L.A.
Kevin Durant of the Golden State Warriors once said he "was recorded at 6 feet 10 inches and three-quarters with no shoes." So when he went to buy a beachfront home in Malibu, the vaulted ceilings were a plus. The price was a tall order too: $12.05 million. Take a look inside a house fit for an NBA All-Star.
If you like this newsletter, please share it with friends. Comments or ideas? Email us at headlines@latimes.com.
---