Newsletter: Today: History, Made in South Korea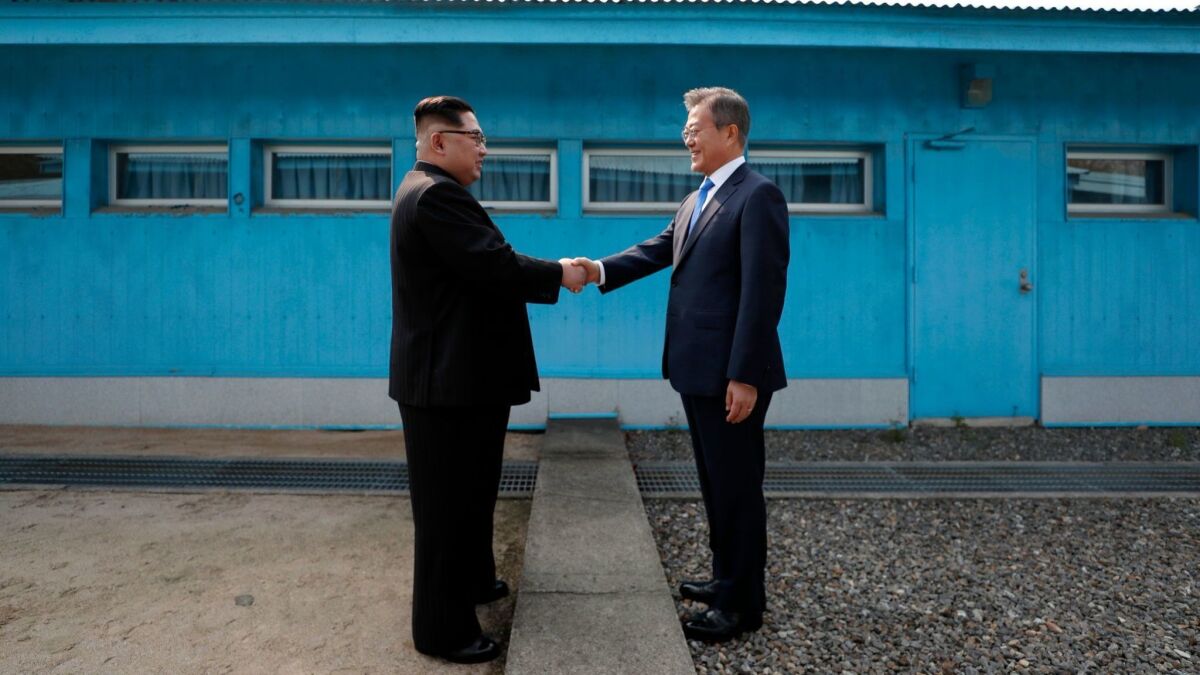 North and South Korea have a lot to talk about.
TOP STORIES
History, Made in South Korea
It was a handshake that made history. North Korean leader Kim Jong Un and South Korean President Moon Jae-in greeted each other at the border, then walked hand in hand into South Korea for the opening act of a meeting between two countries still technically at war (the Koreas said they hope they'll be able to declare an end to it by year's end). Kim, the first leader from the North to engage in summit talks in the South, declared that he hoped for "a new history of peace, prosperity and better inter-Korean ties." The summit — laden with symbolism in everything from the choice of location to the mango mousse for dessert — could be just the first round in a continuing dialogue and is a precursor to the expected meeting between President Trump and Kim.
The Doctor Is Out
For the next secretary of Veterans Affairs, Trump says he has a replacement candidate in mind: "somebody great … somebody with political capability." As for Rear Adm. Ronny Jackson, who withdrew his nomination to head the VA amid a cloud of allegations, his tenure as White House physician could be in jeopardy. Jackson calls the allegations, mostly from military personnel, "completely false and fabricated." Speaker Paul D. Ryan says he expects the House to investigate.
More Politics
-- After the Senate confirmed CIA Director Mike Pompeo as Trump's second secretary of State, he got right to work, taking off for Brussels to attend a meeting of NATO foreign ministers. And to put an exclamation point on it, photos of his visit with Kim Jong Un emerged.
-- In hearings on Capitol Hill, Environmental Protection Agency chief Scott Pruitt said critics have fabricated stories about him, and he offered lawmakers little contrition for the questionable spending and management decisions that have plunged his agency into scandal.
-- In a grievance-filled interview on Fox, Trump threatened to intervene in the Justice Department's Russia investigation and appeared to confirm that Michael Cohen was representing him when the lawyer paid $130,000 to Stormy Daniels.
Cosby's Third Act: Guilty
For the #MeToo movement, it was a watershed moment. Dozens of women have accused Bill Cosby of violating them; now, he's been convicted of sexual assault and is out on $1-million bail while he awaits sentencing. The verdict from a Pennsylvania jury was also the most severe blow in a years-long fall from grace for a comedian who had broken racial boundaries and become America's favorite dad on TV. As Cosby left the courthouse, some onlookers yelled, "Burn in hell!" or "Rot in jail!" while others shouted, "We love you, brother!"
A Quiet Life, With Flashes of Rage
To his neighbors, he was a grumpy old man known for his meticulously manicured lawn — and his loud cursing — in a Sacramento suburb. To authorities, Joseph James DeAngelo Jr. is the prime suspect in at least 46 rapes and 12 homicides from the 1970s and '80s perpetrated by the Golden State Killer. Yet little in his life story would suggest the sadism of those acts. So how did investigators find him? By linking DNA evidence from the slayings to genetic information contained on a consumer genealogy website.
A Toxic Legacy
Regulators say more than 7,500 properties around the closed Exide Technologies battery recycling plant in Vernon exceed California's standard for lead in residential soil. The state plans to remove contamination from the 2,500 that are most polluted. But three years after the Exide plant shut down, only 270 properties have been cleaned, and delays for the others keep growing. A Times analysis of newly disclosed California Department of Toxic Substances Control data shows which homes, schools, child-care centers and parks are hit hardest.
Sign up to get Today's Headlines delivered to your inbox. »
FLASHBACK FRIDAY
Ninety years ago this week, Los Angeles City Hall opened with a three-day dedication ceremony that featured a parade, open house, speeches and concerts. One of the performers was songwriter Irving Berlin. See more photos from the 1928 festivities here.
MUST-WATCH VIDEO
-- We went to the Infinity War Marathon, a more than 30-hour endurance screening of 12 Avengers movies, and survived.
-- Ten films to see this summer: The Times' film critics give their picks.
CALIFORNIA
-- State officials say $2.4 billion from an increase in gas tax and vehicle fees will be spent on dozens of transit projects, just as Republican activists are planning today to file signatures for a ballot initiative to repeal the increase.
-- Saying they've done more than their share, Santa Ana officials have moved to take legal action against all of Orange County's other cities, stepping up the pressure to help resolve homelessness.
-- The National Rifle Assn. and its state affiliate have filed a fourth lawsuit against California over its gun control laws, this time challenging new restrictions on the sale and transfer of ammunition.
-- The free ride for solo drivers of zero-emissions vehicles in Los Angeles County's toll lanes will be over starting in November or December.
YOUR WEEKEND
-- Heading to the Stagecoach country music festival in Indio? Guy Fieri will be there, with his frosted tips and lots of barbecue.
-- Why is a good cook so hard to find these days in L.A.'s restaurants? It's a problem that started in New York and San Francisco and has made its way to Southern California.
-- Get a sneak peek of the Pasadena Showcase House of Design makeover, complete with before-and-after pictures.
-- On a weekend escape to Prescott, Ariz., hiking and history are on display.
HOLLYWOOD AND THE ARTS
-- In the film "Disobedience," Rachel McAdams and Rachel Weisz explore a forbidden love affair.
-- Theater critic Charles McNulty had a dream assignment: tea with Glenda Jackson. Except that it was more of a disaster.
-- Photographer Laura Aguilar, a chronicler of the body and Chicano identity, has died at age 58.
NATION-WORLD
-- The prevalence of autism spectrum disorder among American children continues to rise, but health officials say the higher number is probably a sign that more children of color are being recognized and getting services to help them.
-- Retailers, major banks and institutional money managers followed the lead of Dick's Sporting Goods and have tightened their own gun-control restrictions in the absence of similar action by Congress.
-- Nearly a quarter of a century after the genocide in Rwanda, mass graves that authorities say could contain more than 2,000 bodies have been discovered.
-- Armenia's parliament has called for an extraordinary session next week to vote for a new prime minister after the abrupt resignation of the country's leader.
BUSINESS
-- Southwest Airlines' first fatal accident has pushed bookings down. The company expects revenue per mile, which tracks average prices, to drop between 1% and 3%.
-- What's a "co-pay accumulator"? Consumer columnist David Lazarus says it's a way insurers make you pay more for medicine.
SPORTS
-- Quarterback Baker Mayfield went first overall in the NFL draft, to Cleveland. Writer Sam Farmer gives a pick-by-pick breakdown of the first round.
-- Photos: Banc of California Stadium is ready to host Los Angeles Football Club's first home match Sunday, but the fans got an early chance to make themselves at home.
OPINION
-- Hard to imagine: Housing and Urban Development Secretary Ben Carson was on L.A.'s skid row, then announced a plan to make it harder to house the most downtrodden in society.
-- Forget the palm tree. Southern California's true star is the big cone spruce.
WHAT OUR EDITORS ARE READING
-- The Rev. Patrick J. Conroy, chaplain of the House of Representatives, says he was blindsided when Speaker Ryan asked him to resign, and still doesn't know why. (New York Times)
-- A photo essay of today's Chernobyl, 32 years after the nuclear disaster. (The Atlantic)
-- In Portland, Ore., dubbed the whitest major city in America, there's a rich diversity of restaurants. (The Ringer)
ONLY IN L.A.
Well, there's nothing on Earth like a genuine, bona-fide, electrified … gondola? Yes, a company funded by former Dodgers owner Frank McCourt is proposing to build a gondola that would take passengers from Union Station to Dodger Stadium in five minutes. "I am absolutely confident that this will happen," L.A. Mayor Eric Garcetti says. "It's not actually crazy."
If you like this newsletter, please share it with friends. Comments or ideas? Email us at headlines@latimes.com.
---