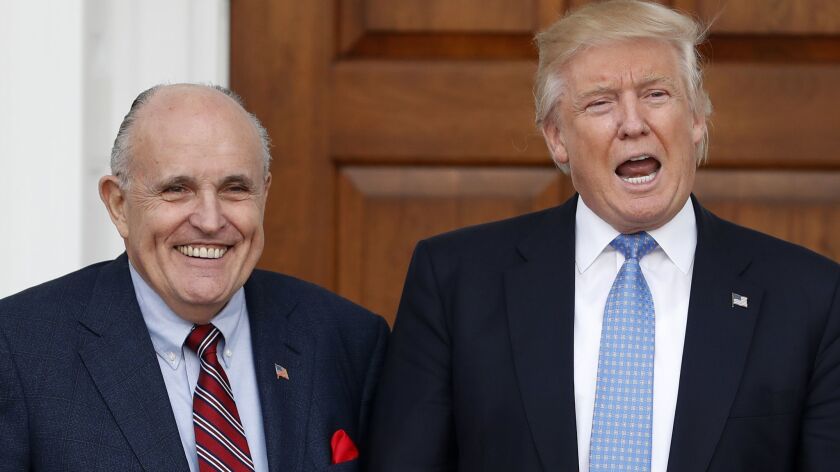 A new legal strategy and Rudy Giuliani's remarks threaten to make President Trump's problems worse.
TOP STORIES
What Could Go Wrong?
Rudolph W. Giuliani joined President Trump's legal team to shake things up, and shake things up he did. His admission of something Trump recently denied — that Trump reimbursed personal lawyer Michael Cohen for hush money paid to porn actress Stormy Daniels before the election — has raised a number of questions about the president's honesty and compliance with the law. Many want to know why Giuliani spoke out, especially since he may have made things even worse for Trump and Cohen. Or why the stories keep shifting in the first place. Or how Trump did not know about the $130,000 payoff to Daniels, as White House Press Secretary Sarah Huckabee Sanders stated. At the very least, the news made for an awkward Rose Garden celebration of the National Day of Prayer.
More Politics
-- Trump and Vice President Mike Pence are expected to address this year's National Rifle Assn. convention shortly after it opens today in Dallas; protests are expected.
-- The California Republican Party convention starts in San Diego today. An endorsement in the governor's race could, in a way, help the GOP hang on to Congress.
-- The Rev. Patrick Conroy has withdrawn his resignation as chaplain of the House of Representatives in a caustic letter to Speaker Paul D. Ryan.
An Allegation and a Denial
Rep. Tony Cardenas from the San Fernando Valley has been a rising Democratic star and one of the highest-ranking Latino members of Congress. Now he is vehemently denying accusations stemming from a lawsuit filed last week in Los Angeles alleging he sexually molested a teenage girl in 2007. The Times has been unable to corroborate the allegations, and no public evidence has emerged to support them. Cardenas has been contacting fellow members of Congress in recent days to assert his innocence.
The Ground Is Shifting
For nearly half a century, People's Park has been a battleground pitting UC Berkeley against activists, who once chanted "take back the park" when the university put fencing around it, then found law enforcement pushing them back with tear gas and buckshot. This week officials unveiled a plan they hope will be beyond reproach: to develop it into housing not only for students but also — in a potential first for a U.S. university — for some of the community's homeless.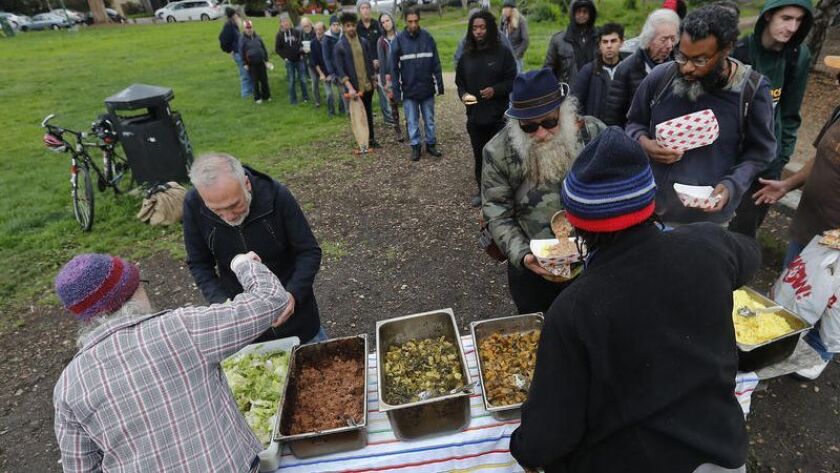 Mission Into Mars
We've only scratched the surface in exploring Mars. Soon, NASA will send a lander to take a deeper look. The launch of the InSight mission from Vandenberg Air Force Base could come as early as Saturday and, if all goes well, seven months later the craft will start getting to work. "Even though we've had a lot of missions to Mars … we've never had a mission that was devoted to looking inside Mars," says one scientist.
Sign up to get Today's Headlines delivered to your inbox. »
FLASHBACK FRIDAY
"Paralyzing, terrifying thunder — like a crashing fulmination of hell — smashed our 50-ton Patton tank with a single lash of demoniacal rage in the faint dawn today as a massive atomic blast ripped earth and sky with incandescent flame less than two miles distant." That's how The Times' Marvin Miles began his story about the test of a nuclear device in Nevada on May 5, 1955. He was stationed in a tank just 3,100 yards from ground zero, while Times photographer Larry Sharkey took this photo from eight miles away.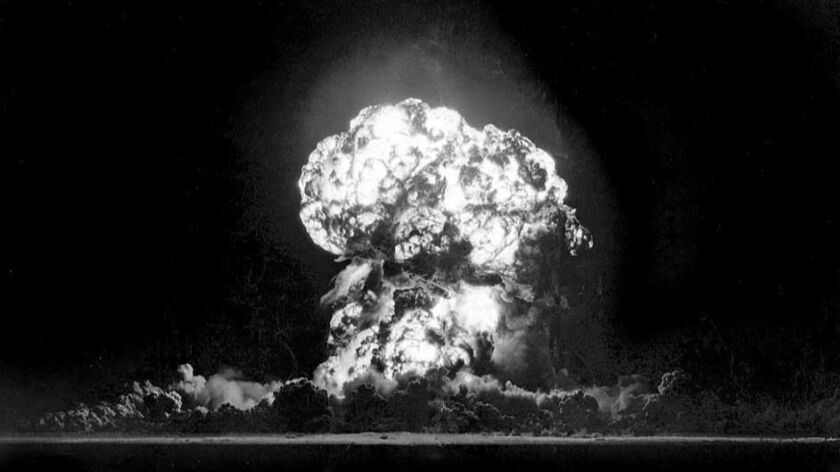 MUST-WATCH VIDEO
-- Beyond the "Gins-burn": The documentary "RBG" shows the formidable power of Supreme Court Justice Ruth Bader Ginsburg. Kenneth Turan reviews.
-- What to make of the dark motherhood story in "Tully"? "You'll laugh, you'll cringe, you'll reach instinctively for your wet wipes," film critic Justin Chang says.
CALIFORNIA
-- A Sacramento County judge has ruled that the Golden State Killer suspect cannot refuse to provide additional DNA samples, fingerprints and photographs of his body sought by authorities.
-- A state audit says health regulators have allowed poor care to proliferate at nursing homes, and the number of incidents that could cause serious injury or death has increased significantly.
-- The L.A. city attorney is suing nine makers and distributors of prescription painkillers, alleging unethical practices that worsened the opioid crisis.
-- L.A. Police Chief Charlie Beck is calling for reform of a pension program that pays city police officers and firefighters nearly double at the end of their careers.
YOUR WEEKEND
-- Cinco de Mayo is tomorrow. These 25 recipes will help you celebrate.
-- Plan for Mother's Day next Sunday. Check out these 63 options for brunch, and our gift guide.
-- Mmmmm … fried chicken. Here are four great places to try now in L.A.
-- Take a weekend escape to Creston, the cowboy country on California's Central Coast.
HOLLYWOOD AND THE ARTS
-- The Nobel Prize in literature will not be awarded this year after sex-abuse allegations and other issues within the ranks of the Swedish Academy that selects the winner.
-- Bill Cosby and director Roman Polanski have been expelled from the Academy of Motion Picture Arts and Sciences in an effort to address Hollywood's sexual misconduct scandals.
-- Director Christopher Nolan has returned Stanley Kubrick's sci-fi masterpiece "2001: A Space Odyssey" to its original glory.
-- David Henry Hwang's play "Soft Power" has a cast that's almost entirely Asian — a radical idea for American theater.
NATION-WORLD
-- Officials say at least 91 people died and more than 160 were injured in northern and western India when a powerful dust storm and rain swept through.
-- Karl Marx is turning 200 on Saturday. That's creating a stir in Germany, which was once divided over his ideas.
-- Becky Harris, the first woman to lead the Nevada Gaming Control Board, has set her sights on reforms in the #MeToo era.
-- In those with autism, is vasopressin the missing hormone in the brain?
BUSINESS
-- More than one study has found that high housing costs are driving out lower-income Californians.
-- People are still talking about Elon Musk's unusual performance on Tesla's earnings call. Could it make people afraid to buy his stock or his cars?
-- Twitter is advising all users to change their passwords, saying it found a bug in its systems.
SPORTS
-- As Albert Pujols of the Angels pulls within one hit of another milestone, columnist Bill Plaschke has a reminder: Pujols still belongs more to St. Louis than Anaheim.
-- Behind the scenes of Saturday's Kentucky Derby: Trainers say that having more horses running doesn't give them any strategic advantage.
OPINION
-- Smoggy times call for serious measures to clean up freight pollution.
-- Save this Latino landmark: Roosevelt High School's historic R Building should be preserved, not demolished.
WHAT OUR EDITORS ARE READING
-- This detailed map of the U.S. shows how diverse and segregated it can be. (Washington Post)
-- Muhammad Radwan was born in Texas, grew up in Egypt and the United States, ended up in a Syrian prison and now runs a food truck in Berlin. (Roads and Kingdoms)
-- Absolutist thinking has its dangers, not to be absolute about it. (Aeon)
ONLY IN CALIFORNIA
This auditorium was built as a dance hall in 1912, converted into a roller skating rink in the 1930s, then reconverted to hold dances and concerts. But you may know the Fillmore best as the place where Janis Joplin, Jimi Hendrix, Jefferson Airplane, Carlos Santana, Steve Miller and the Grateful Dead played some of their most important early shows. Take a long, strange trip through the history of San Francisco's cradle of psychedelia, which keeps on rocking today.
If you like this newsletter, please share it with friends. Comments or ideas? Email us at headlines@latimes.com.
---