Newsletter: Today: 'Incredibly Qualified' or 'Conservative Ideologue'?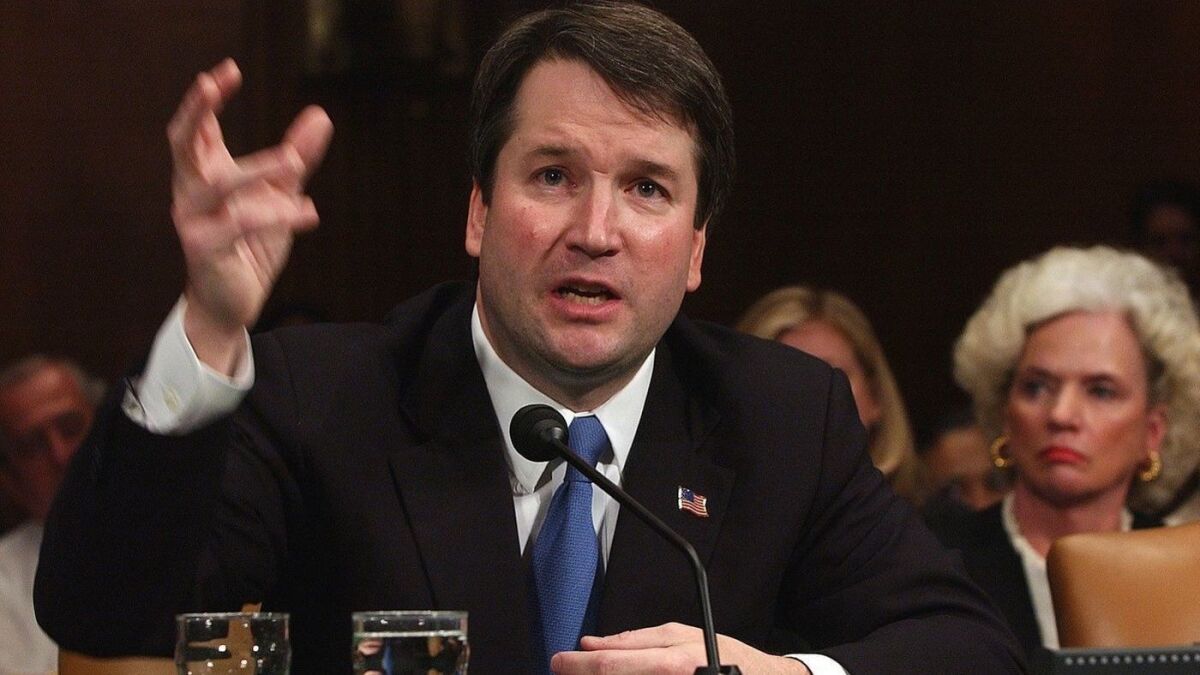 President Trump has picked a conservative stalwart to replace Supreme Court Justice Anthony M. Kennedy, and the battle over his confirmation has begun.
TOP STORIES
'Incredibly Qualified' or 'Conservative Ideologue'?
President Trump has unveiled his second nominee for the Supreme Court: Judge Brett M. Kavanaugh, a well-credentialed Washington insider and Yale graduate who declared that his "judicial philosophy is straightforward. A judge must be independent and must interpret the law, not make the law." The reaction? Republicans mostly cheered, though some conservatives have said Kavanaugh's rulings were not hardline enough. Democrats seized on Kavanaugh's work in the aggressive investigation of President Clinton and a litany of other conservative causes that once led Sen. Richard J. Durbin to call him the "Forrest Gump of Republican politics." Here is a closer look at the man who could move the high court to the right on abortion, gun rights, affirmative action, religious liberty and environmental protection, among other issues.
Another Blow to Trump's Border Policy
Yet another federal judge has sent a message to the Trump administration over its "zero tolerance" policy. This time, a judge in Los Angeles has rejected the Trump administration's attempt to indefinitely detain immigrant children caught crossing the border illegally with their parents. It comes after a judge in San Diego had ordered the reunification of children forcibly separated from their parents, with a deadline of today for children younger than 5. Government lawyers say just over half of 102 children in that category will be reunited by the end of day.
More Politics
-- Trump's former national security advisor Michael Flynn is scheduled to return to federal court today for the first time since he pleaded guilty on Dec. 1 to one count of lying to federal agents about his contacts with the Russian ambassador during the presidential transition.
-- Trump is heading to Europe this week amid frayed alliances with the other NATO countries and their worries about his meeting afterward with Russian President Vladimir Putin.
-- Secretary of State Michael R. Pompeo made a previously unannounced visit to Afghanistan and offered support for the Kabul government's peace talks with Taliban insurgents.
Is It Just a Tattoo?
In a recent deposition, one Los Angeles County sheriff's deputy acknowledged he and 10 to 20 of his colleagues at the Compton station have matching skull tattoos. "Working hard" on the job was the only requirement for getting one, he said, denying that the ink signified membership in a club. But given the department's long history of battling secretive cliques of deputies who got matching tattoos as they bonded over often violent police work, experts say it's important to find out what is going on.
Hot Under the Collar
First, the heat came in. Then, the power went out. For tens of thousands of people in Los Angeles, the record-breaking temperatures that hit last week became all the more insufferable because of power outages. The city's Department of Water and Power blamed aging infrastructure, rather than a lack of electricity. But some of those left without air conditioning or a working refrigerator say the DWP added insult to injury by not communicating enough.
Sign up to get Today's Headlines delivered to your inbox. »
MUST-WATCH VIDEO
-- Racing to save Florida's coral from climate change, scientists are turning to a once-unthinkable strategy: "assisted evolution."
-- LeBron James likes to bike to work. We tested his potential route from Brentwood to Staples Center, and it's dangerous.
CALIFORNIA
-- A prosecutor in the San Bernardino County district attorney's office has been placed on administrative leave after writing offensive social media comments targeting Rep. Maxine Waters, former First Lady Michelle Obama, Mexican immigrants and a police shooting victim.
-- The final voter turnout for the June primary has been tabulated. The good news: It was the highest for a non-presidential primary since 1998. The bad news: Only 37% cast ballots.
-- Californians are big on recycling, but columnist George Skelton says they probably don't realize that much of the stuff they put in the bin is headed to a landfill.
-- Those fuzzy (or icky, as many would say) fabric seats on L.A. Metro trains and buses are finally being replaced with vinyl seats featuring a drainage hole to prevent liquids from pooling.
HOLLYWOOD AND THE ARTS
-- Harvey Weinstein remained free on bail after pleading not guilty to new criminal charges that he sexually assaulted a woman and had committed a pattern of sex crimes.
-- The Emmy nominations will come out Thursday. Here are five races we'll be watching.
-- What to make of "The Outpost," a new series premiering tonight on the CW? TV critic Robert Lloyd calls it a revenge fantasy you've dreamed before but with a few surprises.
-- For the touring musical "On Your Feet!" Christie Prades and Mauricio Martínez have been on the road eight months playing Gloria and Emilio Estefan.
CLASSIC HOLLYWOOD
Tab Hunter became a teen heartthrob in the 1950s in movies such as "Island of Desire" and "Battle Cry," and as a chart-topping crooner with the song "Young Love." He also was the perfect arm candy for Natalie Wood and Debbie Reynolds, all while hiding his homosexuality. "It was more important that Tab was known for being a good human being," said Allan Glaser, Hunter's husband of 35 years, after Hunter died this week at age 86. "That was most important to him."
NATION-WORLD
-- As officials look to rescue those who remained trapped in a cave in Thailand, a medical expert looks at the health challenges the young soccer players and their coach might face after being removed.
-- In Britain, Prime Minister Theresa May's government was plunged into disarray with the resignation of her foreign secretary, Boris Johnson, who quit in protest of May's plans for a so-called soft Brexit.
-- In Centralia, Wash., the renovation of a bar called the Olympic Club has been credited with helping to revitalize the entire town.
BUSINESS
-- University researchers say the nuclear power industry is on the verge of collapse.
-- A Marina del Rey woman known as "Bitcoin Maven" was sentenced to a year in federal prison after pleading guilty to money laundering.
SPORTS
-- At the World Cup, Belgium will take on France today for a spot in the finals. Meanwhile, host country Russia has been given a global makeover thanks to the games, but how long will that last?
-- Former USC football coach Steve Sarkisian says he won't fight on after losing a dispute over his firing.
OPINION
-- Can the Supreme Court confirmation process in the Senate ever be repaired?
-- The Trump Doctrine? It might be "Permanent destabilization creates American advantage."
WHAT OUR EDITORS ARE READING
-- Should media start ignoring Trump's rallies? Discuss. (CNN)
-- Is Silicon Valley creating an "informal caste system"? (Wired)
-- Fighting crime with TV, movies and sports: It's an intriguing theory, at least. (The New Yorker)
ONLY IN L.A.
San Francisco may be where little cable cars climb halfway to the stars, but how do you get all the way to the Hollywood sign? The latest proposal comes from Warner Bros., which says it would foot the bill for a $100-million aerial tramway to take visitors to the sign, starting from a parking structure next to its Burbank lot. But that's not all, folks.
If you like this newsletter, please share it with friends. Comments or ideas? Email us at headlines@latimes.com.
---