Newsletter: Today: On Russia, 'No' Means … Uhhhh
President Trump's comments about Russia continue to confuse.
TOP STORIES
On Russia, 'No' Means … Uhhhh
When a reporter asked on Wednesday if Russia is still targeting the U.S., President Trump looked at her and said, "No." He went on to say, "We are doing very well, probably as well as anybody has ever done with Russia." And thus began another round of confusion and contradiction over Trump's stance on Russia. His statement appeared to contradict his top intelligence advisor's warning days ago that "the lights are blinking red" about cyberattacks by Russia on America. Two hours later, White House Press Secretary Sarah Huckabee Sanders maintained that Trump was not responding to the question, but instead was saying he would take no more questions. Confused? Watch the exchange here.
More Politics
-- Would the U.S. really let Russian authorities question former Ambassador Michael McFaul? The State Department says it's absurd, but the White House says it's under consideration.
-- Federal prosecutors want suspected covert Russian agent Maria Butina kept in jail while she awaits trial.
-- Why is Trump going after the small NATO ally of Montenegro? This may help explain it.
-- A week before a court-ordered deadline for the Trump administration to reunite more than 2,500 migrant children and parents separated at the border, immigration officials had few answers for Congress on what is next for the families.
Cal 3 Strikes Out
The Cal 3 initiative to split California into three states is no longer on the ballot in November, after the state Supreme Court took the rare step of removing it. The reasoning: "because significant questions have been raised regarding the proposition's validity" and sending it to voters now could do more harm than delaying it. Though the court said it would eventually rule on the measure's constitutionality, the eccentric entrepreneur behind the initiative called the decision a case of "corruption."
Growing Older on the Streets
A fall. A job loss. A medical crisis. For older adults living on a limited, fixed income, it doesn't necessarily take much to push them over the edge and into homelessness. In the latest count of L.A.'s homeless population, the number of those 62 and older shot up 22%, versus a slight decline overall. Here's the story of one 70-year-old transgender woman's struggle.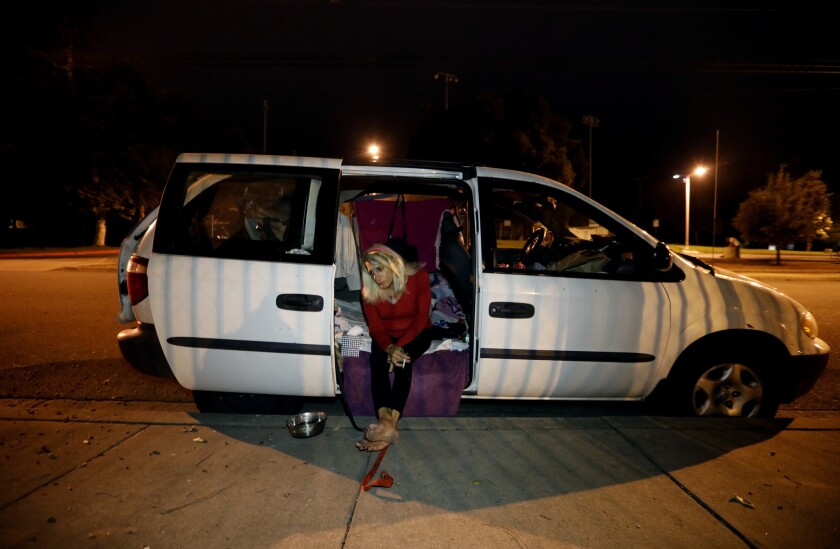 'We Tried Not to Think of Food'
The story of the Thai soccer players and their coach being trapped and rescued from a water-filled cave captivated the world, but until now, relatively few details had emerged about how they got there and managed to survive. Upon their release from the hospital, the boys and coach have begun to shed some light — and apologize for their wandering ways.
Mannywood, the Sequel
A decade ago, hitter Manny Ramirez thrilled Dodgers fans before trouble set in. Can Manny Machado bring even more excitement (without the negative drama)? Machado is one of baseball's most dangerous hitters, and the Dodgers gave up only minor leaguers to acquire him from the Baltimore Orioles. On the downside: He's eligible for free agency after the season, and to keep him, the Dodgers would probably need to give him the richest contract in franchise history.
Sign up to get Today's Headlines delivered to your inbox. »
MUST-WATCH VIDEO
-- After cooling off in Granada Hills pool, a wayward black bear got a tranquilizer dart.
CALIFORNIA
-- Harvey Weinstein's lawyers have asked a judge to dismiss a defamation lawsuit brought by actress Ashley Judd, claiming they had a "bargain" that allowed him to touch her if she "won an Academy Award in one of his films." Her attorney reacted with a denial, outrage and disgust.
-- A wildfire burning outside Yosemite National Park continued its push south toward nearby rural communities as hundreds of firefighters flooded into the area.
-- At last! After more than a year, scenic Highway 1 has fully reopened in Big Sur. Workers had to move a mountain of mud. But by Wednesday afternoon, a wildfire forced the closure of a 15-mile stretch near Lompoc.
-- A serial lobster-poacher is in hot water: He'll spend more than a month in jail after admitting to removing more than a dozen lobsters from the South La Jolla State Marine Reserve, officials say.
HOLLYWOOD AND THE ARTS
-- Does the film "Mamma Mia! Here We Go Again" improve on the original? ABBA-solutely, according to our pun-loving critic.
-- Superheroes are thriving in movies and on TV, but in comic books, not so much. As Comic-Con International gets underway in San Diego, the industry that started it all is struggling.
-- John Williams' early life: How a kid growing up in North Hollywood became the movie music man.
-- OK, so here's a thing: A massive statue of a shirtless Jeff Goldblum has popped up in a London park to mark 25 years since the movie "Jurassic Park" was released.
CLASSIC HOLLYWOOD
James Garner often played mavericks on TV and in film. Offscreen, he had much the same attitude. One time, an executive told him to tone down his humor in "The Rockford Files." His response: "I'm not going to change at the whim of somebody with no experience and no judgment, so either fire me or don't mess with it." Garner died on this date in 2014 at age 86.
NATION-WORLD
-- Amid immigration restrictions under Trump, several refugee agencies are closing or contracting, while others are re-branding as immigration clinics and volunteer centers.
-- Carol Hafner is on the Democratic primary ballot for an Alaska congressional seat, even though she's never been to the state.
-- Turkey has lifted a two-year state of emergency during which thousands were jailed or stripped of their livelihoods. But it may just be symbolic.
-- Facial tattoos were once banned in Taiwan by Japanese colonists. Today they're seen as vivid reminders of the island's aboriginal culture and something to preserve.
-- Researchers have found no difference between kids raised by two moms and kids raised by a mom and dad in the U.S.
BUSINESS
-- After the European Union levied a record $5-billion fine on Google, the pressure is on American regulators to take a look at the company.
-- Boeing has officially landed the $3.9-billion contract for the next generation of Air Force One jumbo jets. Did Trump save taxpayers money on the deal? It depends on whom you ask.
SPORTS
-- NBA All-Star Kawhi Leonard was traded to the Toronto Raptors instead the Lakers, but he may end up in L.A. after a year anyway.
-- In 1968, long before Colin Kaepernick, NFL player David Meggyesy was being called un-American for his protest during the national anthem.
OPINION
-- When are California Republicans going to stop covering for Trump?
-- The IRS found a way to make "dark money" spent on politics even darker.
WHAT OUR EDITORS ARE READING
-- Republican Rep. Devin Nunes is running ads claiming the Fresno Bee "has worked closely with radical left-wing groups to promote numerous fake news stories about me" but offering no evidence. (Politico)
-- Facebook founder Mark Zuckerberg is clarifying comments he made about Holocaust deniers. (Recode)
-- Inside the Chile Pepper Institute at New Mexico State University, said to be the only research institution in the world solely dedicated to chiles. (Atlas Obscura)
ONLY IN L.A.
It doesn't have that open staircase or a room for Alice the housekeeper, but the Brady Bunch house in Studio City has the famous exterior seen in the classic TV show. And it just hit the market for $1.885 million. Of course, it also comes with a steady stream of 30 to 50 fans per day.
If you like this newsletter, please share it with friends. Comments or ideas? Email us at headlines@latimes.com.
---