Too Hot Tamale Chef Susan Feniger to open new restaurant Street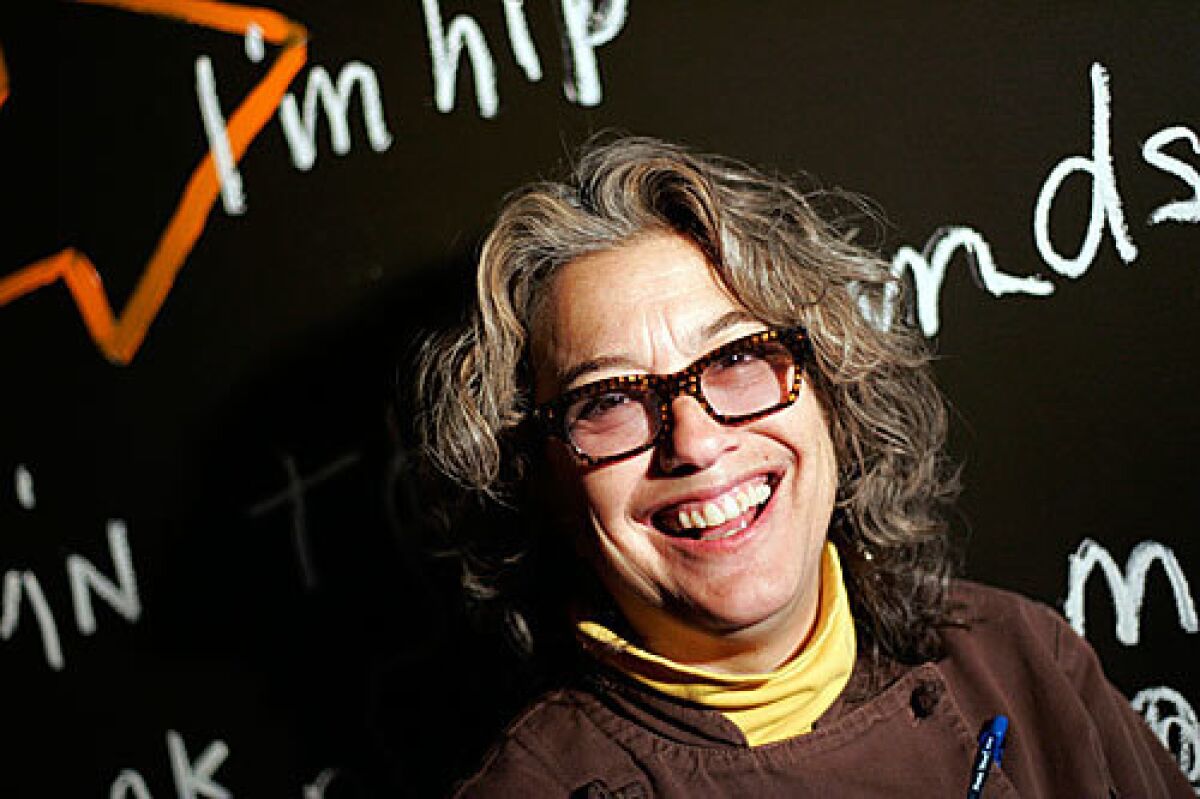 Susan Feniger reaches out for the white pepper, but her hand hovers, fingers twitching -- which one is it?
Feniger certainly knows what pepper looks like. But right now, the 5-foot-square island in the center of her home kitchen is a tangle of plates, food-stained notebooks, tasting spoons, an industrial strength blender and spice grinder, a kitchen scale, and a sea of prep bowls brimming with exotics such as anardana (dried and ground pomegranate from the Middle East), resham patti (an Indian chile) and graceful ribbons of Thai pandan leaves.
It's another day of testing recipes and fine-tuning the menu for Feniger's first restaurant venture without longtime business partner Mary Sue Milliken -- Susan Feniger's Street -- slated to open later this month.
As originally envisioned and pitched to investors, the restaurant was just, simply, Street. It was a name chosen to reflect a menu inspired by global street foods -- the finger foods, cheap eats and tradition-steeped delicacies you'd find walking down the street in far-flung locales such as Singapore, Mumbai and Beirut.
But, Feniger says, it turns out you can't copyright a common term like "street." Which may be just as well: When Susan Feniger's Street opens later this month, it will be as much about a 55-year-old celebu-chef who decided she still had something to prove after nearly 30 years in the business as it is about the food.
Proving herself
"The choice was to be on my deathbed, saying I 'shoulda, woulda, coulda,' and I just said, 'What am I scared of?' and I realized I needed to do this," Feniger says above the din, courtesy of friends who have stopped by and Street staffers who are using Feniger's hillside home above Sunset Boulevard as their base of operations.
Pepper located, Feniger uses it to season a soft-boiled egg that she's also drizzled with soy sauce. Alongside, she plates sandwich points made of Malaysian white bread. The trick here, she explained, is toasting two slices stacked one on top of the other so that just the outsides go golden brown, and then slathering the still-warm insides with coconut jam and thin slivers of butter.
She hands the plate to a clutch of somewhat skeptical onlookers. Granted, this is chef Susan Feniger, she of Too Hot Tamales, City, Ciudad and Border Grill fame. It's going to be good, right? But still. A coconut jam and soy sauce?
"Go ahead," Feniger urges. "You use the bread to break the yolk."
At first, the bite is more about texture and sensations than flavor. The light crunch of the toast, the bread's still-pillowy insides, the silkiness of the coconut and the gentle heat coming off the yolk.
The rest? Rich, salty-sweet decadence.
The dish, on the menu as kaya toast, is something you'd eat in Singapore if you happened to find yourself out wandering the streets in the middle of the night, hung over, and looking for relief. It's also the kind of dish that finds itself front and center on the snacks menu at Street.
New and 'relevant'
While it's hard to imagine a worse time to open a new restaurant, Street's best shot at survival could rely on the fact that it eschews the fancy-schmancy, fine-dining experience one might expect from a Westside restaurant helmed by an instantly recognizable chef in favor of something more "relevant" and "equalizing."
One of her favorite items on the new menu is pani puri. Feniger recalls being in Bombay, and watching a crowd including men in business suits as well as impoverished youngsters lining up at a street-side stand. They all wanted a taste of the crispy-fried rounds stuffed with a savory potato mixture and then plunged into a pungent chile sauce.
"It's more important to me to serve a delicious dish, in a comfortable, vibrant environment, than it is to do something formal," she says. "I'm way more drawn to this idea, conceptually, that you have people who are from all walks of life enjoying the same exact thing. There's something to seeing someone with no money enjoying the same exact thing as someone with a bunch of money."
But "relevant" and "recognizable" are two different things.
The menu hopscotches the globe and includes Egyptian baked fish, South Indian spinach paneer, Moldavian meatballs, Lebanese chicken kebabs, Vietnamese pho and Malaysian black pepper clams. There's also Cantonese radish cakes and savory breakfast dishes such as spicy tapioca, a South Indian dish sautéed with curry leaf, chiles and spices, or utma semolina, with caramelized onions, peas and tomatoes.
"The food pushes people a bit," Feniger says. "The idea is to experience something new without having it be risky. . . . I love to have people learn about things that they've never eaten before."
But enough about the menu already.
What about Mary Sue?
That, of course, is the question that Feniger has answered on a near daily basis since making public her plans to launch a solo restaurant, which will be in the old Highland Grounds space on Highland Avenue, just north of Melrose Avenue. Feniger and Milliken have forged a trailblazing partnership ever since they burst onto the L.A. culinary scene in the 1980s with City Cafe and then City Restaurant. It was a time when women chefs running a restaurant were practically unheard of. "The girls" became household names with their popular show on the Food Network, "Too Hot Tamales," and helped introduce authentic Latin food to the masses here in America. They wrote five cookbooks. They built a brand: the popular Border Grill restaurants in Santa Monica and Las Vegas (two other Border Grill expansions, in Pasadena and Green Valley, failed to catch on).
But something happens when success is served up this way. One partner, or the other, or both, can be filled with a nagging fear. "There's a voice in your head that says, 'Is my success tied to my partner? If I did this solo, would I be a failure, a bag lady on the street?' " Milliken said in a phone interview.
That's in part why Feniger made the decision to forgo any assistance from her corporate staff at Ciudad and Border Grill. She needed to prove to herself, no one else, just herself, that she could build this thing from the ground up. To that end, she has personally handled every detail of Street, including planning the exterior and interior designs, deciding where the dish station would go and hand-selecting chairs, candleholders and dining soundtracks.
Milliken says she is proud of Feniger's bold decision to slay any dragons of self-doubt: "It's just the perfect concept," she says of Street. "It's going to be a huge success."
Feniger adds, "The reason our partnership has lasted this long is that we both have given each other the space to grow and change and be who we are."
Dynamic trio
That's not to say Feniger is doing it alone. Her life partner, Liz Lachman, helped wrangle a business plan and has been a "powerful force" in making Street a reality. (A filmmaker and an Emmy-winning composer, Lachman has also documented the ups and downs of the process in several funny Webisodes available at the restaurant's website, www.eatatstreet.com.) And a former Ciudad and Border Grill employee, Kasja Alger, has poured herself into the new restaurant alongside Feniger and is its co-owner and co-chef.
Feniger says she's always wanted to expand her scope beyond Latin American cuisine and go global. She's an avid world traveler. India alone has been a destination on five occasions.
"Ask anyone. It's something I have talked about for years . . . for forever," she says. Lachman says she told Feniger on numerous occasions: "Stop talking! Do it already!"
About five years ago, Feniger said, she "got really clear" on her goal. It was after suffering a string of devastating personal losses that she was powerless to do anything about. When she talks about pursuing Street because she didn't want deathbed regrets, she's speaking from a place of knowledge.
"I lost my oldest and best friend, who had scleroderma . . . three months later, my mother passed away, and five months later our 14-year-old dog passed away and then eight months later, my father. It was just like a series of brutal, brutal times."
Loss turned to action.
Because what else was there?
"I got to this place of just feeling like, life is just so fragile."
It was nothing more dramatic than that.
Feniger just turned the corner.
"I went from 'I want to do this, I've been wanting to do this,' to 'I'm going to do this.' "
---