Editorial: Despite a hopeful election, full democracy is still uncertain in Myanmar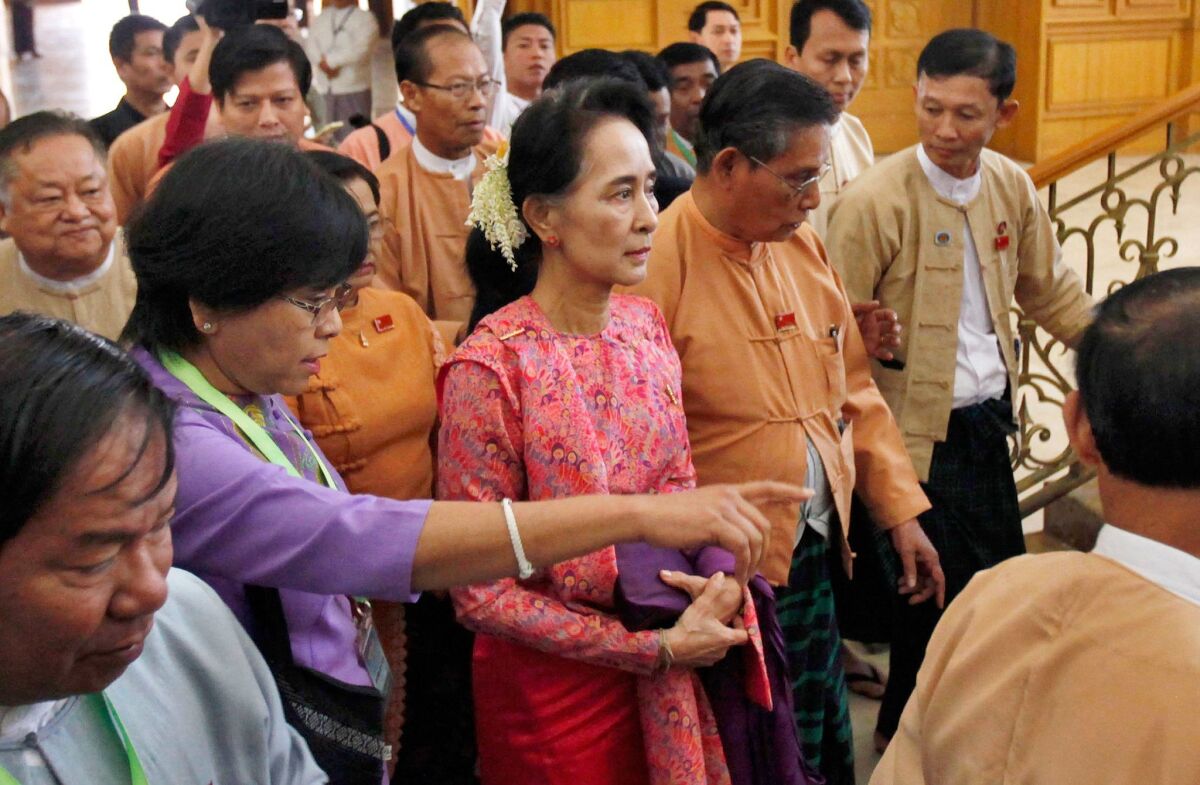 The sight of hundreds of freely elected members of Myanmar's Parliament — former political prisoners among them — at the opening of its legislative session earlier this month was testament to the Southeast Asian country's extraordinary journey from military-run pariah state to would-be democracy. Only five years ago, Myanmar was under the control of a military junta with little respect for elections. But last November, the opposition National League for Democracy Party, led by the Nobel Peace Prize winner Aung San Suu Kyi, won an astonishing 80% of the contested seats in Parliament.
This transition is far from complete, however, and its most difficult tests lie ahead. Per Myanmar's constitution, the military still controls 25% of the seats in Parliament and three top ministerial posts. The constitution also forbids anyone with a spouse or child of foreign citizenship from becoming president. This stricture was intended to bar Suu Kyi — a former political prisoner whose late husband was a British citizen and whose two sons are as well — from becoming president, even though she has been the face of Myanmar's democracy movement for nearly three decades. Suu Kyi's party certainly has the votes in Parliament to pick the president it wants — except Suu Kyi. A member of Parliament herself, she has made no secret of her desire to be president. In fact, she has indicated that if she isn't chosen, she intends to exert great control over whoever is.
The rule preventing her from running is absurd, and the constitution needs to be amended. But as she and her party negotiate with the military to form a government, they must be careful not to cede even more authority to the military in their eagerness to open the presidency to Suu Kyi. For instance, the military should not be granted more high-level posts, as some analysts have suggested they might be. That's not a compromise, that's a sacrifice of the trust that Myanmar voters put in the pro-democracy party to move the government further away from military control and toward a fully democratically run government.
For now, the Democracy Party must work with the military to ensure that the new president comes to power peacefully. But that should not deter the new government from immediately stopping a variety of ongoing human rights violations in Myanmar. Laws that restrict freedom of association and expression should be repealed. And, above all, the oppression of the 1 million Rohingya Muslims in Myanmar should cease. It would be unconscionable for this new government, with or without Suu Kyi as president, to continue disenfranchising the Rohingya and relegating so many of them to squalid refugee camps.
Follow the Opinion section on Twitter @latimesopinion and Facebook
---
Life is stressful. Our weekly mental wellness newsletter can help.
You may occasionally receive promotional content from the Los Angeles Times.