Op-Ed: CEO's resignation can't make up for VW's misdeeds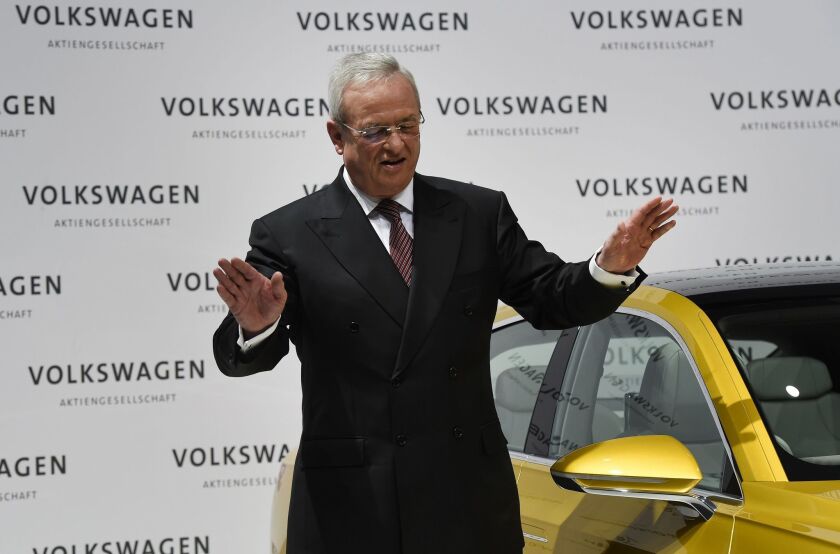 Saying he was "not aware of any wrongdoing on my part," Volkswagen CEO Martin Winterkorn resigned Wednesday, less than a week after U.S. environmental regulators revealed that the company had secretly installed software in its diesel-powered cars to cheat on emissions tests. His departure did not satisfy investors; by the end of trading Wednesday on the Frankfurt exchange, Volkswagen's stock price remained down about 25% from last week. Nor should it forestall what needs to happen next: a vigorous criminal investigation.
By coming down hard on VW, the government can display in no uncertain terms that there is a penalty for trying to evade regulation.
VW's deception came to light Friday when the Environmental Protection Agency and the California Air Resources Board accused the automaker of using software on nearly 500,000 diesel-fueled cars sold in the U.S. to detect when the vehicle's emissions were being measured and to direct the otherwise nonconforming engine to operate in a way that met pollution limits. The EPA estimated that the subterfuge resulted in smog-producing nitrous oxide emissions of up to 40 times the allowed level — a shameful impact on the environment. VW has since admitted that the software was installed on 11 million vehicles worldwide, exposing the corporation to tens of billions of dollars in potential fines, lawsuits by consumers fooled into believing they had bought efficient "green" cars, and a public relations nightmare.
Winterkorn's resignation should not deflect those who seek to hold VW responsible. Criminal investigations have already begun in Germany and the United States, which is appropriate given the scope of the transgressions.
VW's misdeeds coincidentally came to light a day after U.S. prosecutors announced that GM would pay $900 million to resolve criminal charges stemming from an ignition-switch defect linked to at least 169 deaths. The Justice Department is continuing to look at whether charges are warranted against individuals involved in alleged coverups by GM's engineering and legal departments. Without presupposing guilt, that is the right step to take against both GM and VW, if for no other reason than to make it clear that people who commit crimes in their company's name bear personal culpability — the concept behind Atty. Gen. Loretta E. Lynch's recent directive that prosecutors go after individual executives in corporate crimes as well as the institutions.
Businesses often criticize government regulations as burdensome, unnecessary drags on profits. That may be the case in some instances, but the solution is through political or legal challenges, not rogue codes and lies. By coming down hard on VW, the government can display in no uncertain terms that there is a penalty for trying to evade regulation. In the meantime, the damage to VW stock is just the first price the company will pay, not for cheating its regulators but for deceiving its customers and tarnishing its brand.
Follow the Opinion section on Twitter @latimesopinion and Facebook
---
Life is stressful. Our weekly mental wellness newsletter can help.
You may occasionally receive promotional content from the Los Angeles Times.