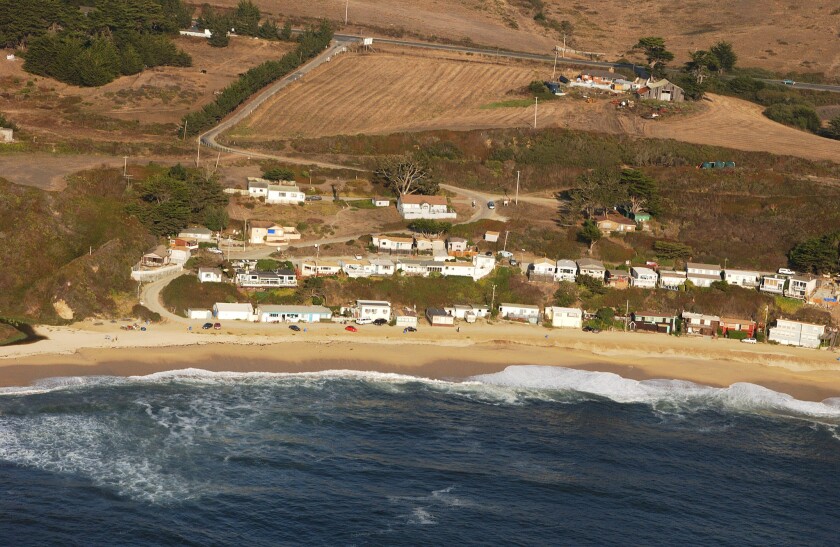 South of Half Moon Bay, billionaire venture capitalist Vinod Khosla is fighting the California Coastal Commission and the Surfrider Foundation, an environmental group, over a half-mile road that snakes across his 53-acre rural property. The road is the only dry land access from Highway 1 to what's known as Martins Beach. Since the 1920s, people have walked or driven it to the beach to fish, surf and swim. The previous owners even did a little business with the beachgoers, charging for parking, running a convenience store near the shoreline and maintaining restrooms.
Khosla, who bought the property in 2008 for $32.5 million but does not live on it, says he initially kept the road open but closed it intermittently — as, he says, the previous owners did. But in 2009, he ran afoul of San Mateo County officials who said the access was intended to be year-round, and ordered him to keep the gate open or apply for a permit to do otherwise. Khosla went to court. A San Mateo County Superior Court judge ruled that Khosla should either get permission to close the gate or work out an alternative. Instead, Khosla closed the gate and halted all public access.
Khosla says it's an outrage, that his land is private and there's never been an official easement on it; the previous owners simply allowed the public to use the road as part of their car-park business. Environmentalists argue that Khosla is just one in a long series of wealthy property owners who think that coastal access laws don't apply to them, and have the wherewithal to fight indefinitely.
Up and down California, public access is constantly under siege as beachfront property owners battle with the Coastal Commission over pathways, parking, decks and fire rings. But unlike many of these fights, which are over easements already agreed to but which property owners want to renege on, Khosla's is different: Can he be forced to keep open a road that has no easement just because the previous owners ran a business there for beachgoers?
That argument misses the point. The reason the pathway should stay open is that the public has been using it for nearly 100 years. The Coastal Commission has begun a survey to make a case that the public has "prescriptive rights" to it by virtue of that long tradition. Already, dozens of beachgoers have submitted declarations documenting — sometimes with photos — their use and their families' use of the pathway going back to the 1920s.
The road should not be closed. At the very least, Khosla should apply for a permit and then negotiate with the commission over what exactly he is required to do. Property owners in the California coastal zone do not have an automatic right to tamper with the public's access to the water.
Follow the Opinion section on Twitter @latimesopinion
---