Editorial: Local polystyrene bans are good; a statewide California ban would be better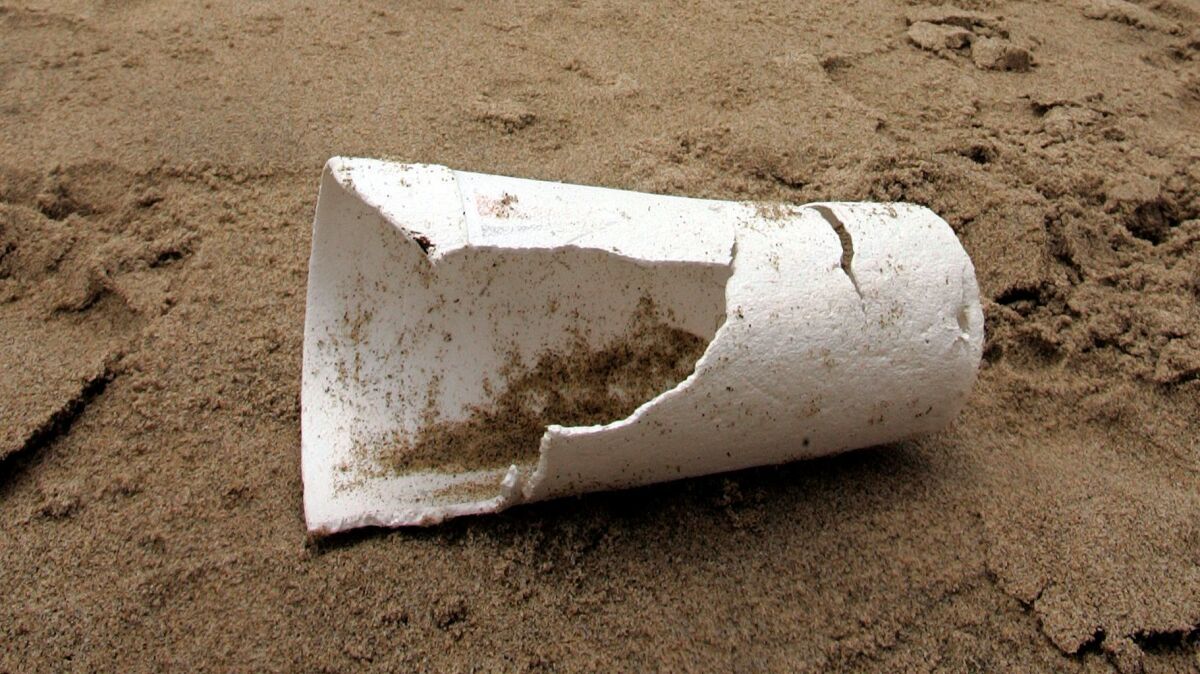 Now that a statewide ban on single-use plastic bags is in place, polystyrene is the next front in the battle against ubiquitous and harmful plastic waste.
Culver City entered the fight this week, joining about 100 cities and counties in California that have enacted some kind of limit on polystyrene use. The Culver City council voted to ban restaurants from using disposable polystyrene takeout containers and retail stores from selling polystyrene foam coolers and other food-related products. Also, food service businesses will be required to ask patrons before handing out any kind of disposable cutlery.
Good for Culver City for trying to stop the flow of trash into the adjacent Ballona Creek and, ultimately, the Pacific Ocean. Polystyrene plastic is one of the most ubiquitous forms of plastic litter found in the oceans, according to environmentalists.
But what would be even better is a single, uniform ban across the state to replace the growing patchwork of slightly different bans from city to city. Sound familiar? That was the situation with single-use plastic bags when lawmakers decided in 2014 it would be better to adopt a statewide ban. The headache of complying with different rules in 151 different cities or counties is a big part of the reason the California Grocers Assn. signed on to support the statewide bag ban.
Polystyrene doesn't biodegrade the way organic material does, but turns into smaller and smaller bits that are gobbled up by sea birds and other creatures.
As a result, the spigot was turned off on a big source of plastic waste. But the tap is still open for disposable polystyrene in its plastic foam form (which is often referred to incorrectly as Styrofoam, one polystyrene manufacturer's brand name) and as hard-plastic straws, sporks and beverage tops. And it is just about as bad for the environment as single-use plastic bags. Maybe worse, because polystyrene products don't get reused as, say, garbage or dog waste bags and are less likely to be recycled than plastic bags.
And there's so much of it. Americans toss an estimated 2.5 billion polystyrene foam cups every year. That's just cups! The typical takeout meal also comes with an assortment of clamshell containers, plates, straws and beverage container tops, all of which follow the cups into landfills or onto streets. Scientists estimate that some 5 trillion particles of plastic, weighing a total of about 250,000 tons, are floating around in the Earth's oceans. That's unhealthy and unsightly. Polystyrene doesn't biodegrade the way organic material does, but turns into smaller and smaller bits that are gobbled up by sea birds and creatures, much to their detriment.
The main complaint about polystyrene bans is the cost — to businesses and to consumers. Though there are many alternatives to petroleum-based polystyrene, including paper and other types of plastic, these replacements can cost several times more per unit. Culver City estimates that its ban will cost each of its 337 food service businesses (including brick-and-mortar restaurants, farmers markets, catering firms and food trucks) $3,000 to $5,000 per year. At least some of the increased cost will likely be passed on to consumers.
But there are hidden costs to everyone embedded in every piece of thrown-away plastic product. In this case, they include the cost of cleaning up the litter on streets and waterways (polystyrene foam is lightweight and has a tendency to float) and the incalculable damage to the marine environment.
Also, the lack of a uniform statewide rule forces businesses to spend more time figuring out how to comply with a growing assortment of local polystyrene bans. On the one end are cities such as Los Angeles that ban the use of polystyrene only at city facilities. At the other there's San Francisco, which earlier this year adopted the nation's most extreme polystyrene ban, restricting the use of polystyrene packing materials and the sale of foam retail products (think cheap white foam beverage coolers). This checkerboard of requirements is going to create a nightmare, if it hasn't already, for businesses that operate in multiple cities.
A better way to go is to bring the entire state under the same rules. The state Legislature flirted with a statewide polystyrene ban in 2011. But that effort was shut down in the Assembly after it drew heavy resistance from restaurants and the plastics lobby.
Many things have changed in the intervening years, however. Dozens more cities and counties adopted their own bans, and new studies have shown the dangers to marine life posed by plastic trash in the ocean. It's the right time for state lawmakers to give a statewide ban on disposable polystyrene products another try.
Follow the Opinion section on Twitter @latimesopinion and Facebook
Our six-week newsletter will help you make the right decision for you and your property.
You may occasionally receive promotional content from the Los Angeles Times.