Sharing the Road: Can L.A. be a cyclist's town?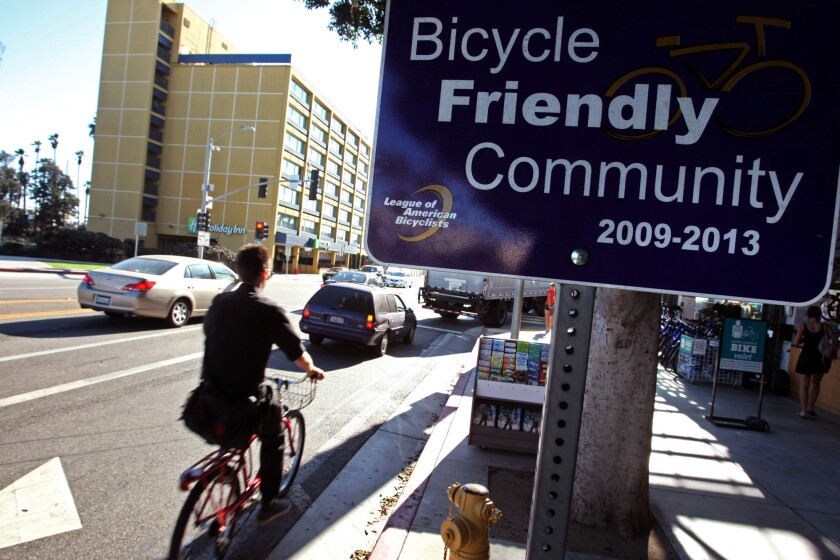 Colorado Boulevard is going on a diet. The section of the six-lane street that runs through Eagle Rock has begun a serious reducing regimen, with city transportation workers removing one motor vehicle lane in either direction, adding a landscaped median, improving crosswalks and re-striping the street for bike lanes.
Other parts of Los Angeles, from Porter Ranch to Venice to South L.A., have already been put on similar "road diets," and other slimming programs in every part of the city are slated for the near future. The same thing is happening up and down California — in fact, across the nation — as cities reallocate their asphalt to accommodate and encourage cyclists.
In many cases, the changes make cars move more slowly, and not by accident. It is the culmination of decades' worth of re-envisioning public space and re-imagining the use of public money.
FULL COVERAGE: Sharing the road in L.A.
Still, the new street thinking — road diets, bike lanes, bike trains (companion bike commuters), bike libraries (check out a bike, ride to your destination and check your bike in), CicLAvia — strikes many Angelenos as shockingly new and subversive in a city that just four years ago was still arguing over how best to turn parking lanes into commuter traffic lanes and which streets — Pico? Olympic? — should be remade as virtual freeways by adding as many lanes as could fit to get as many motorists from the Westside to downtown and back again as quickly and seamlessly as possible.
Even as the Orange Line whisked riders across the Valley, there remained talk of packing in more cars on other boulevards. Sherman Way, for example. Victory Boulevard. And even as most big cities have stopped building freeways, car-dependent — car-crazy? — Los Angeles is still grappling with the possible extension of the 710 through Alhambra, South Pasadena and perhaps Northeast L.A. on its way to Pasadena and the 210. More cars on more streets feeding to more freeways.
After all, isn't that what streets are for? Aren't they paved for cars, signed and signaled for drivers, paid for by motoring taxpayers? Aren't we built around drive-ins, drive-throughs, drop-offs? That's what Los Angeles has grown up to believe. The distances are so great, the hills are so steep, the commutes are so long. Road diets notwithstanding, there are so many cars, driving so fast and hogging space, leaving little margin for error for cyclists.
Can L.A. ever be a biker's town?
It's a question not just for the growing number of cyclists who commute to work and back on L.A. streets, or for the drivers who pass them (and are passed by them, at least during rush hour). It's a question that touches on the expenditure of tax money, the crafting of transportation and planning policy, the best and broadest use of city streets, Los Angeles' very identity — its inner psyche — and the shape of its future.
If we moved so quickly from a speed-the-traffic orientation to a just-slow-down approach, how sure can we be that we won't just switch back in another year or two? Is cycling a major shift in L.A.'s urban lifestyle, analogous to the resurgence of downtowns and the reversal of the commuter flow between the dense urban core and the single-family suburbs? Or is it a passing fancy, with barely more staying power than the Segway, or the formerly green bike lane that marked several blocks of downtown's Spring Street before the paint was stripped off this month? How could we, as one City Council candidate asked in the recent campaign, devote so much time, money, attention and road space to a cycling population that accounts for less than 4% of the city's street users? Or, as other candidates asked, how could we not — given the city's younger population, its demand for faster commutes, its insistence that not every traffic dollar go to making the streets more car-oriented?
How well does city government have its eyes on the road? As we create more bike lanes, for example, is there a commitment to step up citations of drivers who veer into them? Or of cyclists who ignore stop signs? What in the world is a "sharrow," and why does the symbol look so similar to the one that marks bike lanes? Have cyclist fatalities increased along with the number of bikes, and what should we be doing about that? Can we make riders, walkers and drivers all safer? And all get along? Can we make the road diet into more of a road buffet?
These questions are raised in conversations that bike groups, city officials and state lawmakers, motorist organizations and others have been having among themselves for years, but it is past time to mainstream that discussion, to share the ideas, critiques and complaints with the broader community.
The discussion necessarily is an intimate part of, and not separate from, the debate over whether to sell bonds to repair and repave streets, or whether drivers should be ticketed for parking at broken meters, or who should pay to fix the city's broken and dangerous sidewalks.
The Times' editorial page is pro-bike. We have noted repeatedly and with approval that cycling reduces traffic, cuts fossil fuel use and pollution and improves the health of those who do it; in fact, it's beneficial in so many ways that cities, especially those such as Los Angeles that are beset by automotive-related problems, should go to great lengths to encourage it. But we intend to consider in greater depth the particular policy issues that arise from greater bike use. We seek a dialogue with cyclists, drivers, pedestrians, taxpayers and others about where we're going collectively. And on how many wheels. Follow the conversation, and join in, at latimes.com/roadshare and #roadshareLA.
---
A cure for the common opinion
Get thought-provoking perspectives with our weekly newsletter.
You may occasionally receive promotional content from the Los Angeles Times.