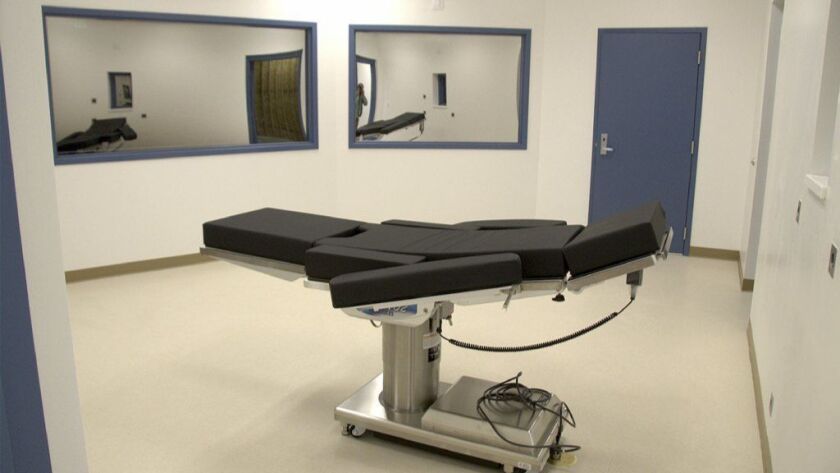 Nebraska's execution of convicted double-murderer Carey Dean Moore Tuesday morning came despite opposition from an unusual source: a pharmaceutical company, Fresenius Kabi, that believed it manufactured two of the drugs Nebraska uses in its three-drug lethal injection protocol.
Federal courts rejected the company's legal challenge, which accused Nebraska of using surreptitious means to obtain the drugs despite Fresenius Kabi's efforts to block their use in executions. But the challenge — and others like it — raise important questions about the ability of a company to circumscribe the use of its products long after the goods have left the warehouses. And they spotlight the growing lengths drug companies are going to distance themselves from executions, and by states to find ways to obtain drugs.
There have been similar challenges in at least two other planned executions since last year in Nevada and Arkansas, with mixed results (the Nevada execution is on hold; the Arkansas executions eventually took place). According to the pharmaceutical companies, states encouraged drug distributors to breach contracts that bar the sale of drugs for executions.
The drugmakers' basic argument is that they create and market their products to alleviate suffering and heal the sick. Using them to kill runs counter to their intent, stigmatizes the drugs as lethal, and links the companies — against their will — with the intentional killing of human beings. The drug companies should be lauded for taking what is, in many instances, a moral stance in trying to keep their products out of execution chambers — yet another front in the multipronged effort to end capital punishment.
Enter the Fray: First takes on the news of the minute from L.A. Times Opinion »
Meanwhile, states facing shortages of drugs have turned to nefarious measures to obtain them. Federal agents have seized execution drugs ordered from overseas by Georgia, Texas and Arizona after determining they had been illegally imported or intentionally mislabeled. (European nations, which long ago banned the death penalty, do not allow the export of drugs used in lethal injections to the United States.)
The court fights with drugmakers and the dubious means that states are using to mix their toxic cocktails add a practical dimension to the case against capital punishment, in addition to the moral and legal arguments. Given the ease with which police and prosecutors can game prosecutions, the errors and lies told by witnesses, and the disproportionate impact on the poor and people of color, this is a system that cannot be fixed, yet states insist on relying on it to determine whether someone should die.
California is wrangling over its new lethal injection protocol that relies on either thiopental or pentobarbital. Thiopental is unavailable in the United States and manufacturers ban the use of pentobarbital in executions, which means California will have to make like Nebraska and either skirt the law or violate contract terms to use either drug. The more elegant solution: End the death penalty.
Follow the Opinion section on Twitter @latimesopinion or Facebook.
---