Endorsement: Déjà vu: Vote for measures E and EE to consolidate local, state and federal elections. Again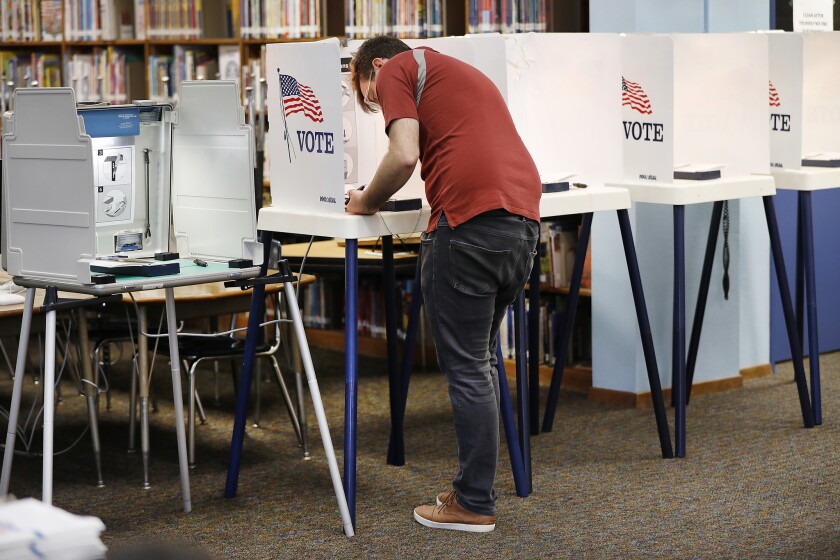 Three years ago, Los Angeles voters decided overwhelmingly to move city election dates to coincide with higher-turnout presidential and gubernatorial elections. This November, city voters will get to move those dates again — with Charter Amendments E and EE.
These are cleanup ballot measures. They are necessary because the changes approved in 2015 (Charter Amendments 1 and 2) required Los Angeles to hold a primary in June 2020 and a runoff in November 2020 for City Council and school board seats. But last year, California lawmakers moved up the state's primary to March 2020 in an attempt to give California more sway in the presidential primaries.
Charter Amendments E and EE would again move the local primary election date — this time to March 2020 — to bring the city and state back into alignment. The amendments would also give the City Council the authority — with no need to go back to the voters — to change future election dates if lawmakers decide to move the statewide primary again.
Enter the Fray: First takes on the news of the minute from L.A. Times Opinion »
In hindsight, city officials should have written Charter Amendments 1 and 2 to say that city and school board elections would be held concurrent with state and federal elections, without setting specific dates. That didn't happen, so now voters have to fix it — at a cost of $3.1 million to place the two measures on the ballot.
As annoying as that may be, Charter Amendments E and EE are still worth "yes" votes.
The fact is, 77% of Los Angeles voters in 2015 supported changing the election calendar. That is a clear mandate for merging local races with state and federal elections. Requiring fewer trips to the ballot box is not only more convenient for voters, it's also proven to significantly boost turnout for local races, particularly among minority, low-income and younger voters. Plus, deciding local, state and national races on the same day saves money.
That's an important change for local elections, which can sometimes draw fewer than 15% of eligible voters. Democracy is not served when so few Angelenos vote. Low turnout allows the few to make decisions for the many and gives extra power to well-organized special interest groups that know how to get out their vote.
Opponents of Charter Amendment E and EE argue that March 2020 is too early for a local primary. A candidate who secures more than 50% of the vote in March would win outright, but not take office until December. That could leave lame duck officials in office for nine months, unaccountable to the voters. Opponents also argue the city should pursue more radical reforms, such as ranked choice voting.
Neither ballot measure would stop city officials from pursuing other election options in the future. For now, the voters have spoken. They want to punch their ballots for local, state and federal elections all at once.
Follow the Opinion section on Twitter @latimesopinion and Facebook
---
A cure for the common opinion
Get thought-provoking perspectives with our weekly newsletter.
You may occasionally receive promotional content from the Los Angeles Times.