Editorial: Sorry, Gab. Businesses have the right to avoid associating with anti-Semitic screeds, racism and hate speech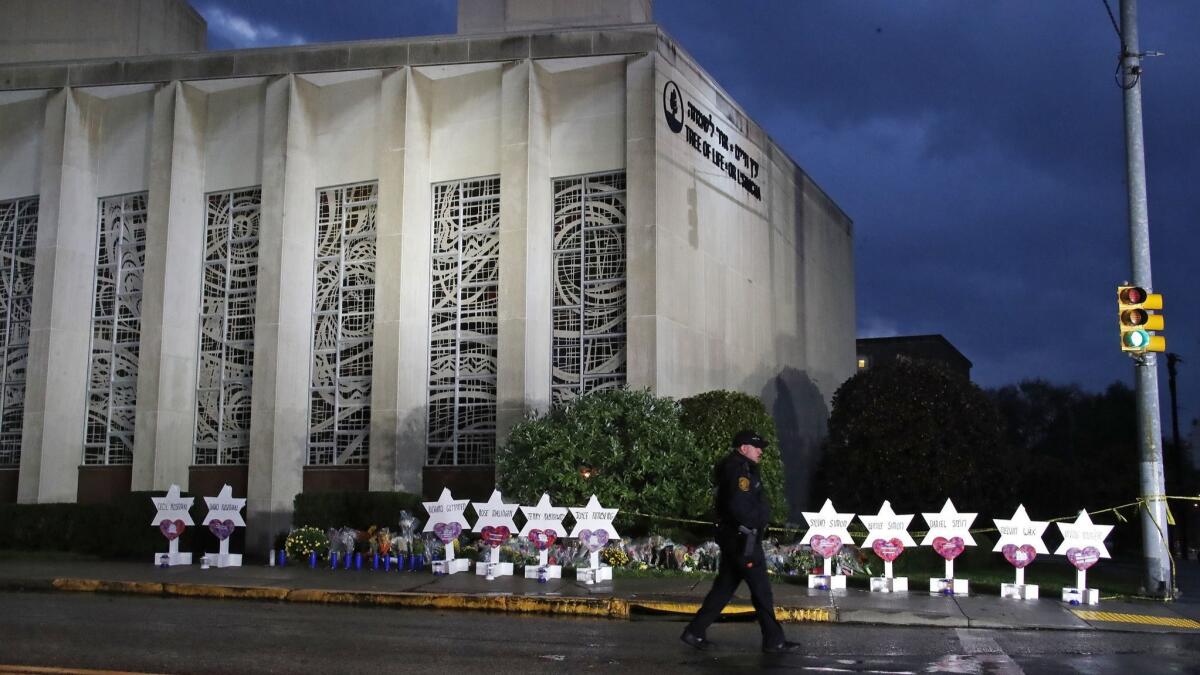 The social network Gab.com styled itself as a defender of right-leaning and provocative speech that mainstream social networks couldn't stomach. In that role, it blithely gave Robert Bowers, the man accused of shooting up a Pittsburgh synagogue during Saturday morning services, a place to complain openly about "the overwhelming Jew problem" and the threat it poses to white Americans.
Bowers was hardly a fish out of water on Gab, although his posts may have been more virulently hate-filled than most offerings on the site. Yet as offensive as his screeds were, none of them violated Gab's permissive guidelines, which drew the line only against clearly illegal acts. And Gab could post Bowers' words with relative impunity, thanks to the 1st Amendment and the protections that federal law offers to sites that publish users' offerings without editing them.
But now Gab finds itself cut off from the Internet, at least for the time being. The companies that hosted Gab's site, steered internet users to its domain and processed payments from subscribers and donors have told Gab that it violated their terms of service by publishing content they considered threatening. It's hard to be an outlet for uncensored speech when no one will let you set up shop.
This page has vigorously defended free speech against efforts by the government or its agencies to stifle it. Gab's dilemma raises a different issue because it's been bounced off the internet by private businesses, not government bureaucrats. Gab founder Andrew Torba casts this development in sinister terms, writing, "We are the most censored, smeared, and no-platformed startup in history, which means we are a threat to the media and to the Silicon Valley Oligarchy."
Enter the Fray: First takes on the news of the minute from L.A. Times Opinion »
But companies doing business with Gab have a right to make their decisions individually about whom to do business with, just as the Los Angeles Times has the right to decide which advertisements to run and which op-eds to publish. Gab argues that Silicon Valley is doing too much to censor the internet, when in fact companies like Facebook and Twitter have the opposite problem — they are unable to keep up with the hate, violence and deception spewed by some of their users.
Gab will most likely find other suppliers of the bandwidth and services it needs, and even if it doesn't, its users will find other outlets to carry their views. Cyberspace has no real boundaries, after all. But no company should be forced to do business with Gab if the content that Gab embraces violates its terms of service and threatens its brand. If a business doesn't want to be associated anti-Semitic screeds, unabashed racism or other forms of hate speech, it has the right to steer clear.
Follow the Opinion section on Twitter @latimesopinionand Facebook
A cure for the common opinion
Get thought-provoking perspectives with our weekly newsletter.
You may occasionally receive promotional content from the Los Angeles Times.