Editorial: Putting the brakes on hit and runs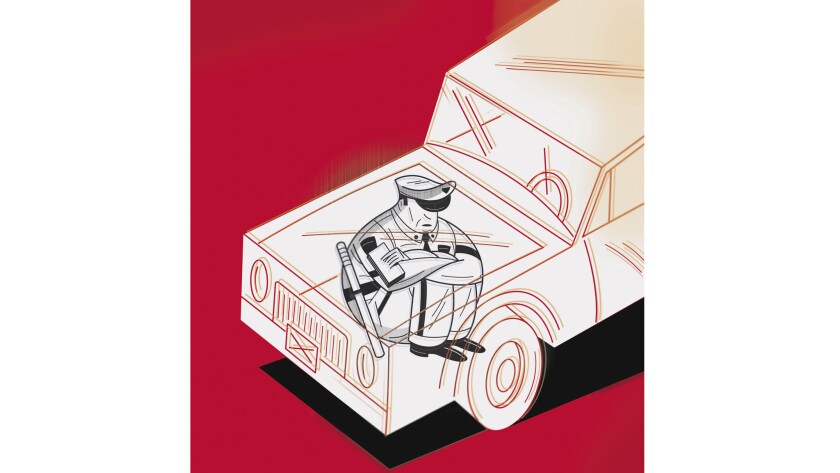 California law is clear: If a driver hits someone, he must stop the car, assist the victim, call 911 if necessary, and provide his name, address and vehicle information. Failure to stop is a hit and run, and if convicted, the driver could face prison or a fine of $1,000 or more.
The problem, according to Los Angeles City Atty. Mike Feuer, is that drivers rarely face such penalties for fleeing the scene of a non-serious injury collision. For one thing, only one in five hit-and-run drivers are caught. But even those who are caught and then prosecuted for a misdemeanor can have their criminal charges dismissed by a judge if the driver and victim agree to a "civil compromise," which is usually a financial settlement. And the consequences agreed upon in the civil compromise are often no more severe than they would have been if the driver hadn't left the scene in the first place. The result is a slap on the wrist and little deterrent for drivers.
Feuer has sponsored Assembly Bill 2673, which was introduced by Assemblyman Steven Bradford (D-Gardena), to prohibit the use of civil compromise in misdemeanor hit-and-run collisions that result in injury or death. About 16% of all injury collisions in Los Angeles from 2008 to 2012 were hit and runs, according to the Police Department, and many resulted in misdemeanor filings. Feuer's office said a judge can dismiss the charges when a victim tells the court that he's received a satisfactory settlement for his injuries, even if the prosecutor still wants to pursue the criminal case.
Feuer's proposal is a good one. Lawmakers have already determined that certain crimes are matters of public concern and should not be treated as private disputes that can be resolved by an agreement between the perpetrator and the victim. Misdemeanor domestic abuse and elder abuse, for example, are among the crimes that are off-limits for civil compromise because of concern that the victim will be bullied into accepting a financial settlement. But there is also a recognition that crimes that have a larger effect on society ought to have meaningful consequences so as to deter other criminals.
Hit and runs undermine the safety of the streets and the rules of the road. A driver who flees the scene of an injury crash has committed a crime against the public and must answer to more than the victim. Lawmakers should support AB 2673 and ensure that hit-and-run drivers face proper punishment.
---
A cure for the common opinion
Get thought-provoking perspectives with our weekly newsletter.
You may occasionally receive promotional content from the Los Angeles Times.