Editorial: More shelters for homeless are good but permanent housing is better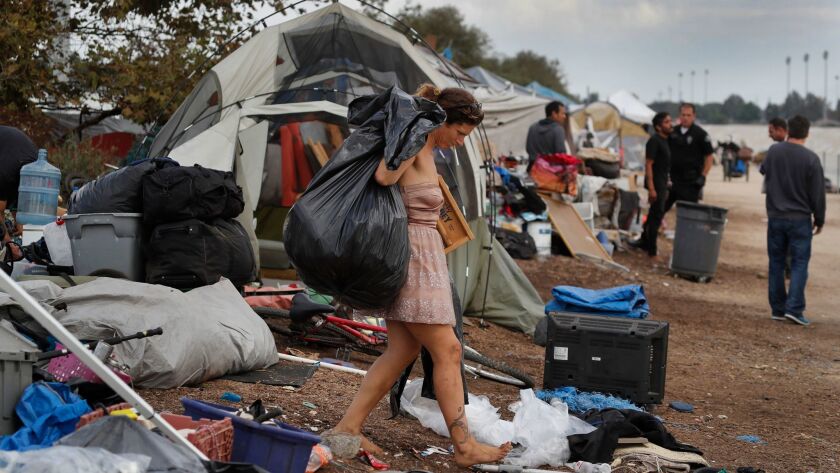 In the city of Los Angeles, there are more than 34,000 homeless people and a shortage of overnight shelter beds. As a result, nearly three-quarters of those people are "unsheltered" — meaning that they are sleeping at night on a sidewalk, in a tent, in a makeshift shelter or in a vehicle rather than under a roof.
So Los Angeles City Councilman Jose Huizar's motion this week to set up and finance several trailers to offer short-term shelter to homeless people on a city-owned parking lot downtown near the El Pueblo Historical Monument is a good idea. The trailers — each 60 feet long — will offer a bed and personal, private storage space to each person and will do away with common restrictions that often make homeless people reluctant to stay in shelters. For example, homeless people will be allowed to bring their pets. In another trailer, there will be onsite case management to — one hopes — connect people with services for, among other things, mental illness or drug addiction, and to start them down the path toward permanent supportive housing.
The problem, of course, is obvious: There are more than 25,000 people living unsheltered on the city's streets every night — more than 40,000 countywide — and the three proposed trailers will house only 60 of them. Still, a start is a start. The price is $2 million to set up and operate the trailers for six months. City officials say they will open within six months. (Ojalá...)
There's no question that there is a shortage of shelter beds in the city of Los Angeles — that's the reason homeless people have been allowed by the police and the city to sleep on sidewalks overnight in the first place. Creating shelters where homeless people feel safe and have even a little personal space is important.
Of course, most people are aware by now that emergency shelters designed, among other things, to house homeless people for short periods are not a long-term solution to the problem. That answer is permanent housing — which is why city voters passed Proposition HHH in 2016 to raise $1.2 billion to build 10,000 units of housing for homeless and low-income people over 10 years.
The trailers are intended to house the homeless people who have camped out around the historic district of El Pueblo — which is a big tourist draw. We understand that city officials would love to move them out. And we like the idea that the trailers will house individuals for about six months, according to Huizar, and that the occupants will then, hopefully, be moved on to interim or permanent supportive housing.
More — and better — shelters are a good idea as long as setting them up doesn't take away focus from building permanent housing as quickly as possible.
Follow the Opinion section on Twitter @latimesopinion or Facebook
---
A cure for the common opinion
Get thought-provoking perspectives with our weekly newsletter.
You may occasionally receive promotional content from the Los Angeles Times.