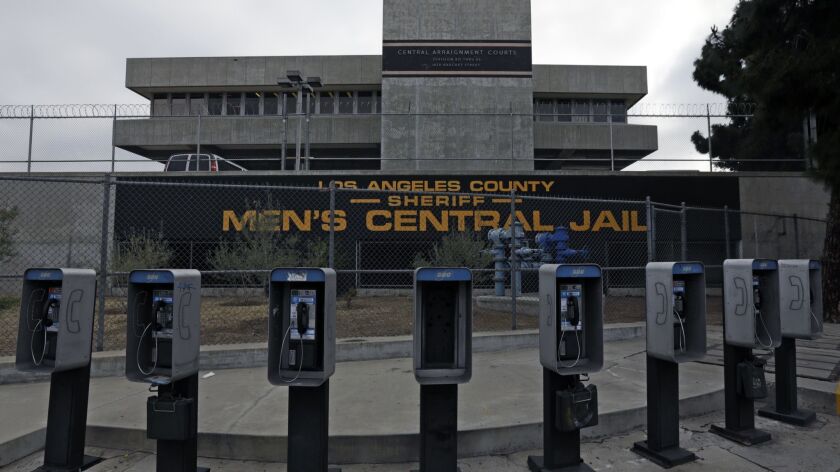 The Los Angeles County Board of Supervisors moved boldly and wisely in February when it rejected longstanding plans to build a jail for inmates with psychiatric and medical problems and instead called for providing better mental health care in a non-jail setting — and buildings that would accommodate a plan to treat sick people more like patients than inmates.
But the board hedged. Although it said "no" to building the so-called Consolidated Correctional Treatment Facility, it nevertheless said "yes" to a contract with the construction firm that was going to build it. We will build something, the supervisors said in effect, we just don't know yet what it is.
Now the bills are coming home to roost. At its Monday budget hearing, the supervisors approved a $30 million payment to the contractor, which is preparing a cost and scope-of-work plan for some kind of inmate mental health facility downtown. But they still don't know what they're building.
That's jaw-droppingly backward. The board congratulated itself for not paying the entire $121.7 million it has set aside for the first phase of the project — not yet anyway — but it still seems to be moving down the wrong road.
The supervisors are correct to want to demolish the decrepit, dangerous, dungeon-like Men's Central Jail, and to replace it — but with what?
Supervisor Hilda Solis got it right when she urged the board not to pay the contractor until it gets a better handle on its plan to move forward with alternatives to incarceration. How can we do this, she properly asked, when we don't yet know how many people accused of crimes can be diverted to healthcare, and how many can be safely released before trial pursuant to bail reform?
Meanwhile, a panel studying the care-first, jail-last approach for ill or addicted arrestees and offenders that the board approved four months ago has presented a preliminary report that emphasizes the importance of a network of decentralized, community-based treatment facilities close to the homes of patients. Constructing such a network will require a lot of money — the same money the board is now starting to spend on a large, centralized facility to be built on the downtown site of Men's Central Jail.
Solis had voted against the scope-of-work contract in February, but on Monday even Janice Hahn, who had supported it, said the plan that county staff recently presented to some of the supervisors did not comport with what she'd voted for.
What is it that the county is building? Is it a treatment-centered jail? That's the $2.2 billion CCTF, which the supervisors already rejected. Is it a large, locked mental hospital on the jail campus where patients are inmates, and both they and the psychiatric staff are under the authority of law enforcement? That's CCTF by another name. Is it the same thing under the authority of psychiatric staff? Maybe, but who knows? Is it a small, locked mental health facility on the jail campus networked with other facilities around the county that include both secure beds and unlocked ones as circumstances, including public safety, require? That's what some supervisors may have thought they were going for.
That's what they should be g
Enter the Fray: First takes on the news of the minute »
oing for. From the time that deinstitutionalization of psychiatric patients began a half century ago, experts have called for community-based mental health care. As the mentally ill began to fill up jails instead, most law enforcement officials have agreed that they are more properly handled by doctors and other healthcare workers.
And the supervisors are correct to want to demolish the decrepit, dangerous, dungeon-like Men's Central Jail, and to replace it — but with what? They still need more information on a full care-first plan before moving ahead.
As Solis and Hahn expressed their objections at the budget hearing, county staff gently explained that if they didn't pay an average of around $7 million a month, they could be in breach of their contract, which calls for essential pre-construction planning. But after they've burned through that money, they may well find themselves obligated to pay the other $90 million — which would be fine, if the money was going toward building whatever it is that they believe ought to be built (a cluster of facilities, perhaps).
But the program must come first. The buildings follow. As it is, the county runs the risk of letting its contract obligations, rather than its health, public safety and criminal justice needs, dictate its path forward.
The Board of Supervisors has taken an impressive step forward in demanding health-based alternatives to incarceration, especially for psychiatric patients. But it still has one foot firmly planted in the old, jail-based approach to health and safety. It's time for it to pick that foot up and take another step in the right direction.
Follow the Opinion section on Twitter @latimesopinion and Facebook
---