Editorial: The last thing L.A. should be spending resources on is rousting homeless people from the sidewalks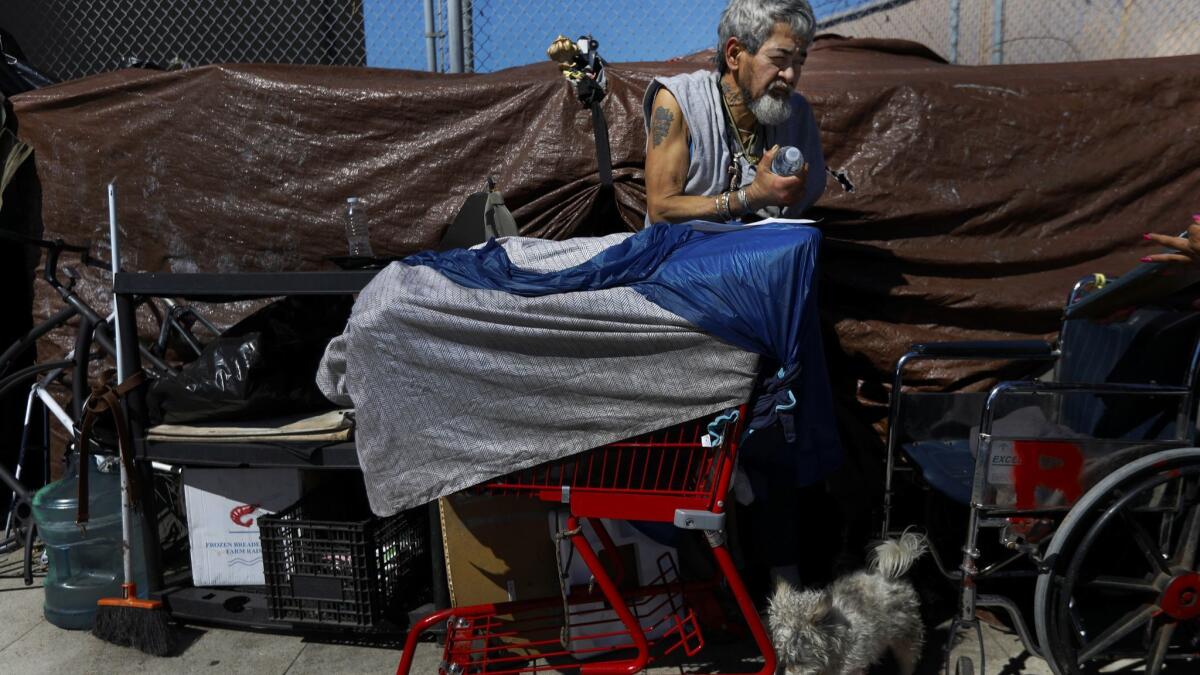 Homeless people hunkered down in tents and swaddled in blankets on sidewalks have been grim fixtures of the Los Angeles landscape for years. Technically, it's against a city ordinance to sit, lie, or sleep in a street or public walkway. But for more than a decade, Los Angeles police have rarely enforced it from 9 p.m. to 6 a.m. as part of the Jones settlement, a court agreement between the city and a group of homeless men and women who had been busted for sleeping on sidewalks when they could find no housing or shelter. The settlement is named for lead plaintiff Edward Jones, a homeless man who slept on the streets with his mentally ill wife, who required constant care.
A federal appellate court held that it was a violation of the 8th Amendment prohibition against cruel and unusual punishment to forbid people to sleep on the sidewalks of Los Angeles when they had literally no place else to go. In the settlement, the city agreed not to enforce the ordinance — Section 41.18(d) — until it had provided 1,250 new units of permanent supportive housing for chronically homeless people. Half of those units had to be in skid row or in the downtown area around it.
Now, Mayor Eric Garcetti says that the city has surpassed that number. City housing officials calculate that 1,534 supportive housing units have been created since the settlement took effect, with 655 of them in the downtown area. Carol Sobel, one of the attorneys who represented the plaintiffs and worked on the settlement, strongly disputes the city's tally, arguing that only a fraction of the necessary downtown units have been provided.
The bigger issue here is whether the city will use the construction of a modest number of housing units as an excuse to start rousting homeless people off streets across Los Angeles at night. That's the last thing the city should be doing right now.
The solution is not to have police officers chase homeless people from corner to corner.
Whether the city has reached what amounts to an arbitrary number of housing units set 11 years ago, there are still — and this should not come as a news flash to city officials — thousands more homeless people than there are available housing units or beds in decent shelters. And until we can solve that problem, police should not be breaking up homeless encampments wholesale at night.
To his credit, the mayor has said he has no immediate plans to enforce the ordinance at night, particularly in skid row, where there is simply not enough shelter and permanent housing. Consider the numbers: There are 31,516 homeless people in the city, according to the 2018 homeless count, almost three-fourths of whom are unsheltered. Meanwhile, an estimated 6,300 shelter beds were available in L.A. at the end of last year; some 1,115 new units of supportive housing are in construction or in development, with a goal of 10,000 to be funded by Proposition HHH; and Garcetti is pushing for 1,500 new beds of bridge housing (nicer, longer-term shelters).
Even if the city hits all those goals, there will not be enough units to house 30,000 homeless people. It's also worth noting that the existing shelters vary dramatically in quality. A recent study by KPCC found that some were so infested with vermin or otherwise unsafe that homeless people said they preferred to stay on the sidewalk.
Enter the Fray: First takes on the news of the minute from L.A. Times Opinion »
Los Angeles should not resign itself to being a city full of squalid encampments; that future would be as miserable for homeless people as it would be for the other residents of the city. Already, residents who live in communities with large homeless populations — such as Venice and South L.A. — have had their patience tested by tent cities and the problems they can create.
But the solution is not to have police officers chase homeless people from corner to corner. Instead, L.A. needs more permanent supportive housing in the long run, with more bridge housing in the form of longer term and more accommodating shelters in the interim. As neighborhoods provide those kinds of shelters and as outreach workers persuade homeless people to enter them, then authorities can start paring back encampments and finding ways to discourage other homeless people from camping in those spots.
But to begin rousting people today without offering them sufficient or satisfactory places to go is a prescription for failure.
Follow the Opinion section on Twitter @latimesopinion or Facebook
A cure for the common opinion
Get thought-provoking perspectives with our weekly newsletter.
You may occasionally receive promotional content from the Los Angeles Times.