Editorial: What really happened to Jussie Smollett in Chicago? We still need to know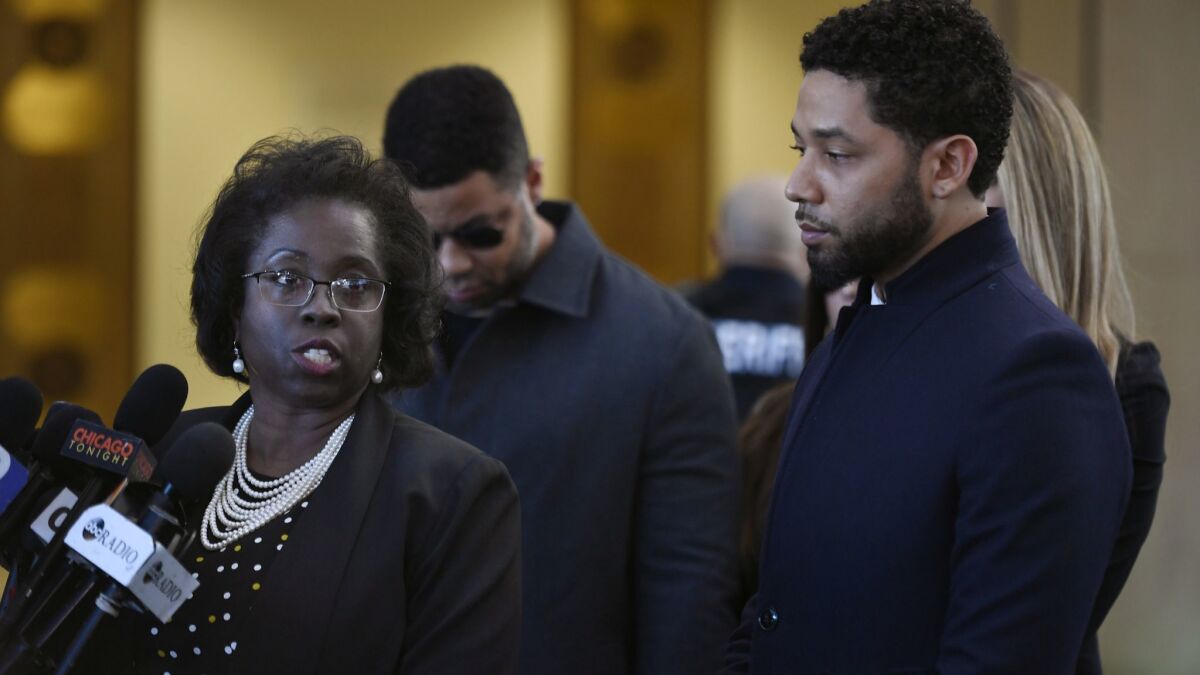 The Jussie Smollett affair has followed as convoluted a story arc as something out of his hit television show, "Empire."
If the actor, who is black and gay, was assaulted on a Chicago street late at night by two masked men who hurled racial and homophobic slurs at him and looped a rope around his neck, that's heinous. If, on the other hand, he paid two brothers to stage the assault, as the pair told police, that's heinous and bizarre. If the brothers lied about what happened, that's despicable. And if Smollett concocted this scheme thinking it would somehow jack up his TV salary, as police suggested, that's just pathetic.
Now, suddenly and stunningly, the Cook County state's attorney's office has dropped all the charges it had brought against Smollett for allegedly filing a false police report. The prosecutors didn't explain why, although they injected a strange note into this tawdry mix Tuesday by saying they acted after "reviewing all of the facts and circumstances of the case, including Mr. Smollett's volunteer service in the community and agreement to forfeit his bond to the City of Chicago."
Enter the Fray: First takes on the news of the minute »
So are they saying he didn't commit the crime they initially accused him of? Or do they still think he did it? And how are his volunteer service and $10,000 in bond money "facts and circumstances" of the case they thought they had against him? Do they think he is guilty of the charges they brought but they're cutting a deal because he's done some volunteering and forfeited some money?
The statement was so suspect that even Chicago Mayor Rahm Emanuel publicly howled that it was a "whitewash of justice." Smollett's attorney said at one news conference, "There is no deal." Meanwhile, Emanuel and Police Supt. Eddie T. Johnson both lashed out at Smollett for besmirching the city.
The saddest thing about this whole affair — regardless of who is at fault — is that it made a circus out a hate crime report, and almost certainly will make things more difficult for legitimate victims in the future. The way Chicago officials spun the case certainly didn't help.
There's no question that Chicago officials had a lot of publicity to manage. Smollett was a captivating figure, and his accusations prompted an outpouring of support from stars, fans and politicians, as well as a culture-war dispute between the right and the left involving issues of race, violence, victimhood and believability. The public has the right to know what exactly happened here that changed things so dramatically. Transparency is what's called for — not more drama.
Follow the Opinion section on Twitter @latimesopinion or Facebook
Our six-week newsletter will help you make the right decision for you and your property.
You may occasionally receive promotional content from the Los Angeles Times.