Editorial: If the judiciary won't crack down on political corruption, it's up to Congress to act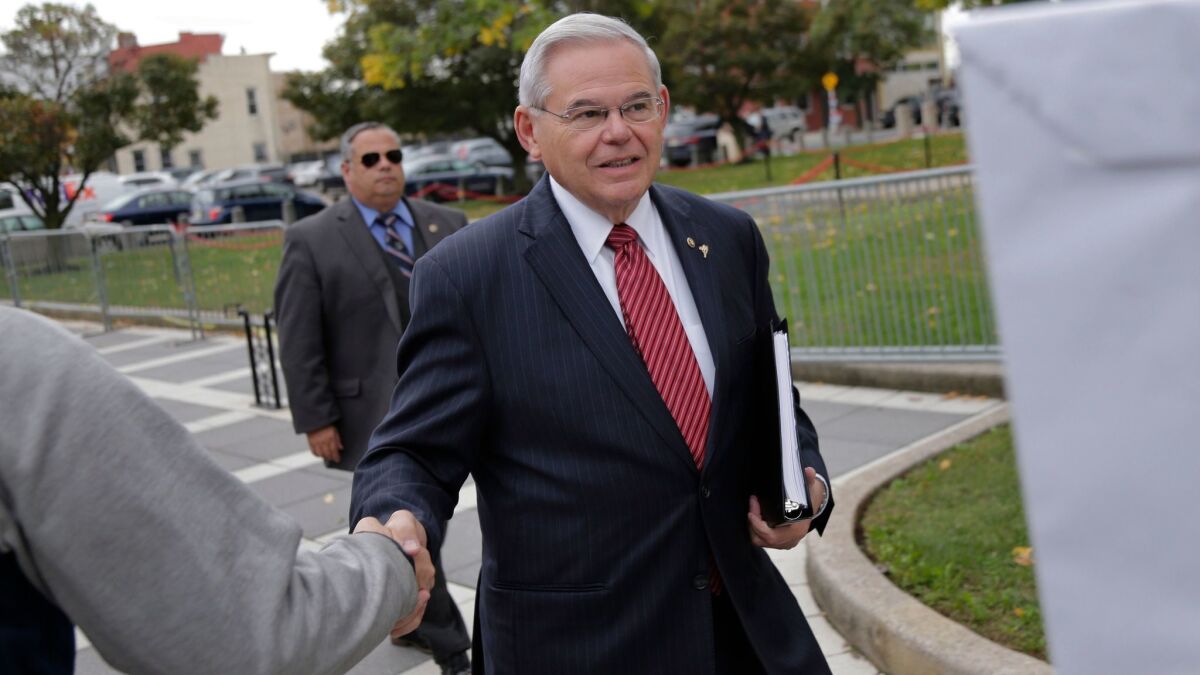 Should federal prosecutors just give up trying to convict politicians of public corruption? That question is likely to be asked anew after the Justice Department announced Wednesday that it would not retry Sen. Robert Menendez (D-N.J.) on multiple corruption charges growing out of his relationship with a Florida eye doctor.
Menendez, who faces reelection this year, had been accused of interceding on behalf of Dr. Salomon Melgen in exchange for campaign contributions and gifts, including plane rides, a stay in a five-star Paris hotel and visits to a resort in the Dominican Republic. The senator was tried in federal court last year, but a mistrial was declared after jurors failed to reach a verdict.
Although the Justice Department had planned to retry Menendez, it had second thoughts after a judge last week acquitted him and Melgen of seven charges arising from campaign contributions the physician made to the senator. On Wednesday the Justice Department asked the court to dismiss the remaining charges, including a claim that the senator filed financial disclosure forms that omitted gifts from the doctor. Menendez exulted in the news, saying, "I never wavered in my innocence and my belief that justice would prevail."
The decision to drop the charges against Menendez can be viewed narrowly, as a response to a series of setbacks in a specific case. But it also reflects a broader legal environment in which federal prosecutors increasingly have to think twice about proceeding with any prosecution for political corruption. And the responsibility for that state of affairs rests with the U.S. Supreme Court.
In 2016, the court overturned the corruption conviction of former Virginia Gov. Bob McDonnell, a decision that has reverberated in other public-corruption cases across the country. For example, it figured in a federal appeals court ruling that overturned the conviction of the former speaker of the New York state Assembly; he is set to be retried with different jury instructions.
McDonnell, a Republican, had opened the doors of state government wide to Jonnie R. Williams Sr., a businessman who admitted he lavished gifts and loans on the governor and his family in hopes of obtaining state support for a nutritional supplement developed by his company. The largesse, whose total value exceeded $175,000, included a $6,500 Rolex watch for McDonnell and $15,000 in catering expenses for his daughter's wedding.
For his part, McDonnell sought to arrange meetings for Williams with state officials and hosted a luncheon event for Williams' company at the governor's mansion. Prosecutors convinced a jury that, in exchange for financial support from Williams, McDonnell had taken "official acts" to benefit the entrepreneur. It seemed a clear case of a corrupt quid pro quo.
It isn't routine for constituents to ply elected officials with Rolex watches and other expensive gifts in exchange for access to the halls of government.
But writing for a unanimous court, Chief Justice John G. Roberts Jr. disagreed. He held that an "official act" under federal anti-corruption laws "must involve a formal exercise of governmental power that is similar in nature to a lawsuit before a court, a determination before an agency, or a hearing before a committee." He worried that if what McDonnell did for Williams could be considered an official act, prosecutors could criminalize the routine business of government. Roberts noted that "conscientious public officials arrange meetings for constituents, contact other officials on their behalf and include them in events all the time."
True, but it isn't routine for constituents to ply elected officials with Rolex watches and other expensive gifts in exchange for access to the halls of government. And juries should be trusted to tell the difference between innocuous interventions on behalf of constituents and sustained, self-interested efforts by politicians to assist those who line their pockets or shower them with luxuries.
Although the Supreme Court left open the possibility that McDonnell might be retried under its narrower reading of federal law, the Justice Department chose to dismiss the charges. The flawed decision that bears his name continues to haunt every attempt by federal prosecutors to prosecute public officials suspected of selling their office.
Fortunately, good-government groups and some members of Congress have been studying ways to revise federal statutes dealing with bribery and the acceptance of "gratuities" by public officials. Those amendments would make it clear that officials commit a crime when they use their position to arrange a meeting that is intended or expected to result in something of value to a donor or free-spending "friend." In the name of ethics and integrity in government, lawmakers should make that change without delay.
Follow the Opinion section on Twitter @latimesopinionand Facebook
---
Life is stressful. Our weekly mental wellness newsletter can help.
You may occasionally receive promotional content from the Los Angeles Times.