Editorial: L.A. needs a fresh analysis of the effects of a minimum-wage hike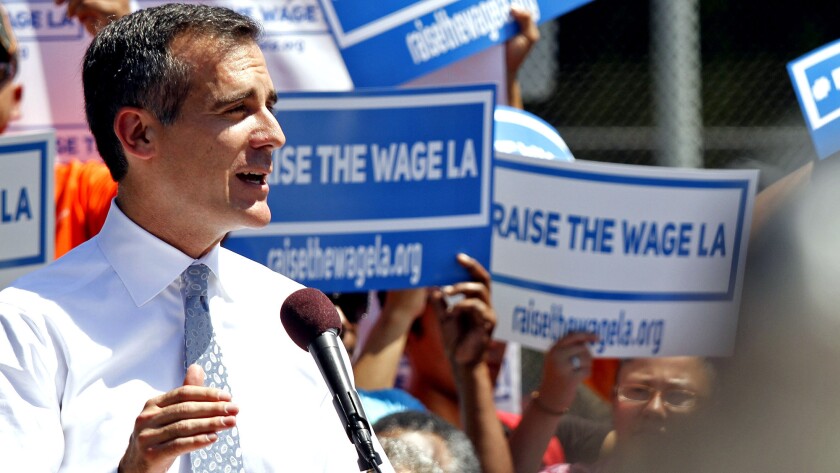 Last year, several Los Angeles City Council members asked for an independent analysis of two proposed initiatives: Mayor Eric Garcetti's suggested hike in L.A.'s minimum wage to $13.25 in 2017 and their council colleagues' motion to further increase it to $15.25 by 2019. The study was supposed to address the potential economic impacts of the two proposals, with a focus on employment opportunities, the effect on small businesses and nonprofits, as well as whether the city should consider exemptions, delays or mitigation measures for certain hard-hit industries.
The Times supports a gradual increase in the minimum wage, but we also want to see a thorough analysis before the city passes a significant, untested government mandate. After all, the proposals would affect more workers and raise wages higher than increases that have previously been studied. If the city goes to $15.25, that would be among the highest minimum wages in the country. Los Angeles leaders should be deliberate and well-informed as they make these decisions.
Which is why it makes no sense to hire UC Berkeley's Institute for Research on Labor and Employment to conduct the new study, as city staff has recommended. This is the same institute that Garcetti asked last year to analyze his wage proposal; the institute did so and concluded that $13.25 would have little negative impact on the city's economy. Economist Michael Reich, who heads the institute, spoke to business groups about his findings at the behest of the mayor's office, and he accompanied Garcetti when he pitched the proposal to the media.
But business groups, along with council members Mitch O'Farrell and Felipe Fuentes, had wanted a new and independent review, one that drilled deeper into what the effects would be of these significant minimum wage hikes. How can the public possibly expect a new, unbiased review of the two proposals when the institute has already concluded that the mayor's proposal will be good for L.A.? It makes no sense to seek a second opinion from the same doctor. And even if the UC Berkeley economists do a completely fresh analysis, their results simply won't have the same credibility as a new research group that has not yet opined on the city's proposals.
City leaders need credibility if Los Angeles hopes to persuade neighboring cities to raise their minimum wages as well. If they don't, L.A. could become an island of high wages, putting it at a competitive disadvantage in attracting and retaining businesses. The City Council should direct its staff to start over and solicit new firms in order to preserve the integrity of this important analysis.
Follow the Opinion section on Twitter @latimesopinion
---
A cure for the common opinion
Get thought-provoking perspectives with our weekly newsletter.
You may occasionally receive promotional content from the Los Angeles Times.