Editorial: Despite bungled debut of 'motor voter' law, it's delivering new voters as promised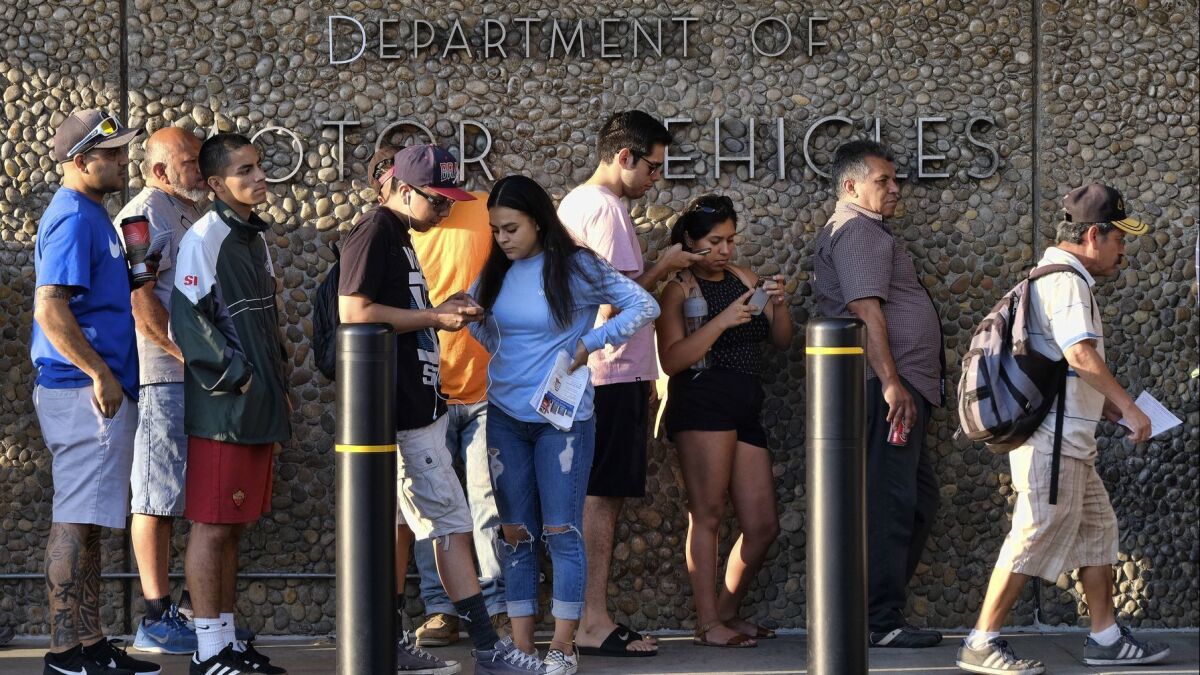 The rollout of California's promising "motor voter" program a year ago was a disaster in many ways.
Just months after the system started automatically registering people to vote when they came to the Department of Motor Vehicles to get driver's licenses, the problems became apparent. Thousands of people were registered with faulty information about their choices of political party, mail-in ballots and other voting preferences. Some chose not to be registered at all, but were signed up anyhow. Worst of all, DMV employees mistakenly registered 1,500 people who were not eligible to vote, including noncitizens. It was a conservative conspiracy theorist's dream come true.
And all of it might have been avoided if state officials had heeded some pretty big red flags. A Times examination of more than 1,000 state documents showed that there were adequate warnings months in advance that the new motor voter system and the DMV itself weren't ready. And then there was the incident less than a week before the launch suggesting that the software might have been attacked and compromised by hackers in Croatia. Meanwhile, the DMV was already struggling to keep up with the onslaught of people seeking Real ID-compliant licenses, which will be needed to board domestic planes starting in 2020. Lines, and customer anger, were building.
If every state instituted automatic voter registration, it would add an estimated 50 million voters to the rolls.
It's incredibly frustrating that bureaucratic ineptitude clouded the debut of the motor voter program and gave critics a reason to call to end it. It is important that the details of what happened continue to be examined. But, so far at least, there's no good reason to scratch such a successful initiative.
That's right: Despite its inauspicious beginning, California's motor voter program is doing just what it was supposed to do. Overshadowed by the revelations about registration snafus was the fact that 1 million new voters were successfully registered to vote in the program's bumpy first year. And the system will continue to register large numbers of new voters annually, if the Legislature stays the course. These are people who might not otherwise have registered and thus would not have had an opportunity to engage in the most important exercise of democracy.
The nonpartisan Brennan Center for Justice says that automatic registration programs are the single most important tool to increase voting in America. If every state instituted automatic voter registration, it would add an estimated 50 million voters to the rolls. In fact, it's already paying dividends in the 15 states that employ some version of it. A report released by the center last week found that the voter rolls increased significantly in the last five years in states with automatic voter registration, from 9% in Washington, D.C., to a whopping 94% in Georgia.
Enter the Fray: First takes on the news of the minute »
After the Times article last week, state Sen. Patricia Bates (R-Laguna Nigel) called again for the DMV to go back to its former practice of simply asking driver's license applicants if they want to register to vote, rather than registering them automatically. It seems like a minor change, but studies show that if people are required to opt in before being registered, then the number of registrants drops dramatically. In the three years before California switched, the opt-out rate was about 80%, compared with just 15% in the last year. Bates' proposal seems to be little more than an attempt to gut the motor voter program.
In any case, the secretary of state's office says that a new level of scrutiny has been added to the registration process since the problems were exposed last year. Now every registration is printed out and must be signed by the registrant, which gives him or her time to check its accuracy. Then the printout is reviewed by a DMV employee. This extra review needs to continue until it is clear that the DMV systems are correctly processing information.
Admittedly, this isn't the best time to be adding to the DMV's workload. The federal government informed California last week that all 3.4 million Real IDs processed in the state over the last year failed to meet the program's requirements, which means 3.4 million people may have to provide more proof of residency. But to restore public confidence in motor voter, the DMV has to take whatever steps are necessary to get this important program right.
Follow the Opinion section on Twitter @latimesopinion and Facebook.
---
Life is stressful. Our weekly mental wellness newsletter can help.
You may occasionally receive promotional content from the Los Angeles Times.