Editorial: Texas has no business billing U.S. taxpayers for their own silly border patrols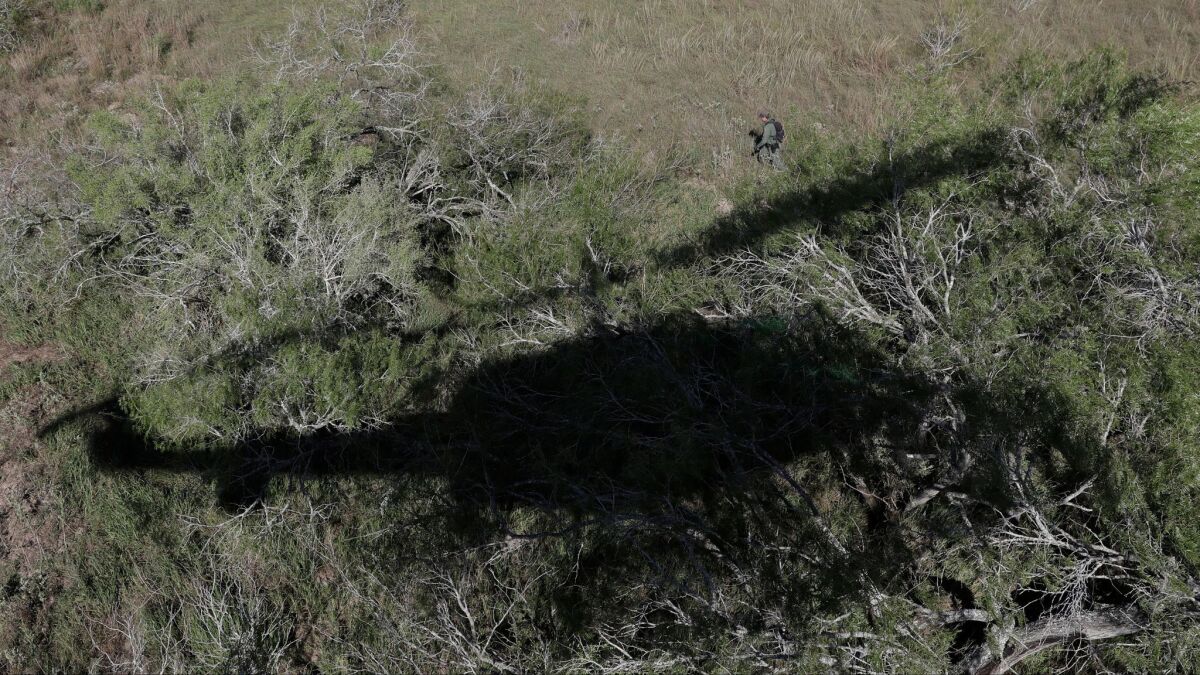 Maybe everything is bigger in Texas — including political grandstanding.
Texas Republicans have worn their disdain for the Obama administration, and the federal government in general, as a badge of honor. They have led efforts to kill the Deferred Action for Parents of Americans and Lawful Permanent Residents program, which would grant relief to parents of legal U.S. residents, and to rein in expansion of the Deferred Action for Childhood Arrivals. They have found inventive, yet transparently unconstitutional, ways of limiting women's access to abortions. And they have challenged the administration's authority to change the threshold under which white-collar workers must be paid for overtime hours worked.
Now they are trying to get the nation's taxpayers to foot a $2.8-billion bill for Texas' decision — unbidden by the federal government — to send National Guard troops and state law-enforcement personnel to protect the Mexican border. The answer should be: No.
Texas' decision to take the law into its own hands on the border was a political choice.
Texas' border surge was couched as a security move, an effort to counter the cartels ferrying guns, drugs and people across the border, but the idea was always that the state forces would, in addition to stopping criminals, "deter and refer" to federal immigration officers other people it found crossing the border without proper documents. In truth, it was little more than political posturing. The program began at a time when border crossings were actually going down, but coincided with with Rick Perry's campaigns for state governor. The program was expanded as he ran for the presidency, and it has grown even more under current Gov. Greg Abbott.
Texas's deployments were made without prior agreement by federal officials to underwrite any of the costs, and the program exceeds state responsibility. Border security and immigration control are indisputably federal jurisdictions, and if a state dislikes how the federal government is handling such responsibilities, it should press political levers, not just decide unilaterally to step in where it doesn't belong.
And even if Texas could make the case that the patrols fall under the state's police powers, that's hardly a reason for the nation's taxpayers to foot the bill. Some Texas Republicans themselves have begun to question the viability of the patrols, given the cost and a lack of evidence that they've had much impact. Critics such as the ACLU say the added police presence has turned border communities into "racially profiled, over-policed, over-militarized occupied territories that foment insecurity and fear in the hard-working people who live there."
Texas' decision to take the law into its own hands on the border was a political choice. And Congress and the incoming Trump administration should stamp "return to sender" on whatever invoice Texas may ultimately deliver to Washington.
Follow the Opinion section on Twitter @latimesopinion or Facebook
---
Life is stressful. Our weekly mental wellness newsletter can help.
You may occasionally receive promotional content from the Los Angeles Times.