Editorial: LAPD's cadet scandal may sound like a bad 'Police Academy' sequel, but it isn't funny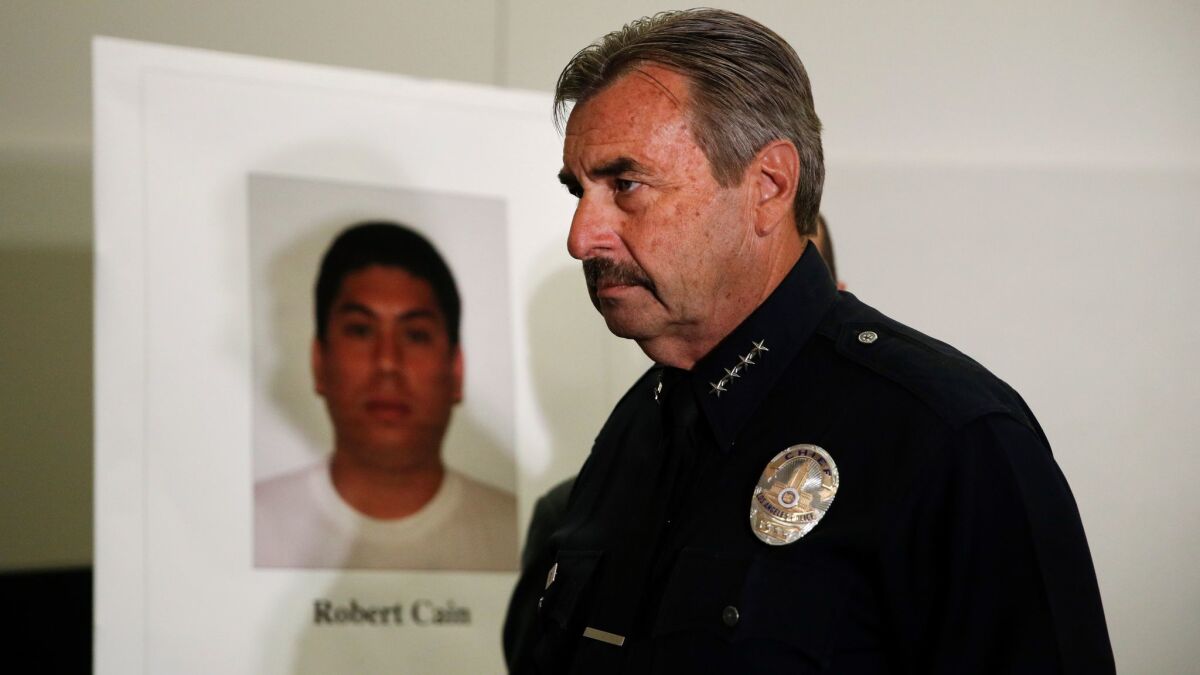 At first, it seemed mildly amusing. On June 14, three teenage cadets in an LAPD youth program stole a couple of police cruisers and ended up on the wrong end of a car chase. It was like something out of a bad "Police Academy" sequel.
Of course car chases are dangerous and besides, how is it that a program that is supposed to instill a respect for the law in young volunteers instead produced cadets who stole police equipment? The chases ended in crashes, and although no one was seriously hurt, they could have been. On apprehending the cadets, it was discovered that they or someone else had stolen not just the cars but police radios, stun guns and bulletproof vests.
Each day, reports in The Times brought new and increasingly alarming information. One of the cars had apparently been driven more than 1,000 miles, powered by city-supplied fuel. One had been missing for weeks. Then it turned out that a third police car had been stolen, but it was quickly recovered.
Police Chief Charlie Beck told reporters that the cadets may have been impersonating officers. They pulled over at least one driver. They apparently made fake LAPD uniforms.
Then four more cadets were arrested. Now others have been suspected of participating, if only as joy-riders in the stolen cruisers.
LAPD has a long and storied history of leadership and excellence in policing, but it has an equally well-documented history of corruption and mismanagement.
And then on June 22, Beck himself arrested LAPD Officer Robert Cain on charges that he had sex with a 15-year-old cadet who is among those suspected in the misconduct. The chief said Cain may have taken part in the thefts. A search of Cain's home revealed an enormous collection of firearms, including at least 35 weapons that had been illegally modified.
So no, this isn't funny.
The Los Angeles Police Department has a long and storied history of leadership and excellence in policing, but it has an equally well-documented history of corruption and mismanagement. We do not want to make more out of the still-unfolding cadet episode than it is, but we cannot help but remember that the Rampart corruption scandal of the 1990s came to public attention when an officer was caught stealing cocaine from a department property room. At the time, it struck some as rather amusing that an officer would steal evidence from the department — after all, can't the LAPD keep its lockers locked? But the ensuing investigation uncovered crimes by LAPD officers, including framing and attempted murder of suspects. Rampart outdid most novels or movies about corrupt cops. So forgive us if we get a little nervous about lax controls over cruisers, equipment and kit rooms, a suspected mastermind within LAPD ranks who was allegedly involved sexually with a minor, and the apparent corruption of a highly regarded cadet program.
Beck's response has been good. He suspended the cadet programs at the two divisions in which the misconduct occurred while defending the program at large. He spoke frankly and emotionally to graduates of the 18-week cadet program about responsibility and integrity. He ordered an investigation into how and why the thefts and other misconduct took place.
The LAPD's inspector general, who reports to the civilian Police Commission, is also reviewing the cadet program and the department's procedures for tracking its equipment.
Separately, Councilman Mitchell Englander called for a city audit of all of the LAPD's other youth programs and the procedures used to monitor the interactions between underage participants and officers.
These responses are all fine, as far as they go — but they don't go far enough. The problem here is not merely that one LAPD officer may have had sex illegally with a participant in a youth program. Nor is it merely that the cadet program did a lackadaisical job keeping track of its property. Nor is it merely that there was something about the cadet program — its selection of participants, its oversight, its culture — that somehow permitted or enabled a chain of behavior that put the public at risk.
When at least seven teenagers and young adults with access to LAPD stations and equipment can don fake LAPD uniforms, steal bullet-proof vests and stun guns, and commandeer, gas up and drive police cruisers for weeks without being discovered or stopped, a more thorough and department-wide review of LAPD procedures and oversight is needed. Even if the cadet actions were just a really bad prank aided by a sex-offender police officer, the public is owed some assurance that its police department will do a better job in all of its divisions and all of its programs of monitoring its equipment and its officers.
Follow the Opinion section on Twitter @latimesopinion and Facebook
---
Life is stressful. Our weekly mental wellness newsletter can help.
You may occasionally receive promotional content from the Los Angeles Times.