Editorial: A power vacuum on safety oversight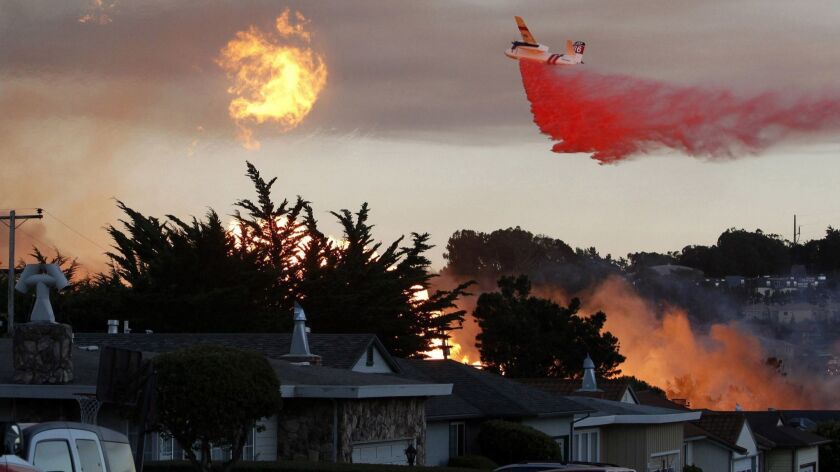 California's largest provider of electricity puts profits before safety. So proclaimed a federal judge Wednesday during a hearing in which he excoriated representatives of Pacific Gas & Electric for their company's lack of investment in safety measures and its shameful history of sparking wildfires so deadly and destructive that the expected claims have driven the company to bankruptcy.
U.S. District Judge William Alsup oversees the case in which the company was convicted and put on probation in connection with the San Bruno pipeline explosion that killed eight people in 2010. On Wednesday, he found the company in violation of its probation, and said he may force it to trim trees around hundreds of thousands of power poles, inspect thousands of miles of power lines and take other more drastic actions before the 2019 fire season gets started if the company doesn't do so itself.
Alsup is right to get tough. The string of catastrophes associated with the state's investor-owned utilities is troublingly long: the deadly San Bruno explosion, the nation's worst-ever methane leak at Aliso Canyon in Los Angeles County that sickened hundreds and polluted the air, and more than 2,000 fires in just the last three and a half years.
Why does it take a federal judge to raise the alarm about power line safety?
Authorities have not yet determined the causes of the Camp, Woolsey and Thomas fires last year, but it is very likely that unusual power-line activity immediately preceding these three ultra-destructive fires was involved. Despite that, no one seems to be preemptively policing safety by overseeing the behavior of the for-profit companies that have a monopoly on providing power to most Californians. (It's worth noting that Southern California Edison and San Diego Gas & Electric have much better safety track records than PG&E.)
Enter the Fray: First takes on the news of the minute »
Californians might reasonably assume that the state's utility regulator — the Public Utilities Commission — is on the job, inspecting power lines and issuing correctives where dangerous conditions are found. It is not. The PUC only steps in to fine utilities for violations after the fact. If that ex post facto model ever worked, it certainly does not any longer, given the increasing frequency and severity of wildfires.
Michael Picker, the PUC's president, said in an interview that its primary responsibility is to examine and approve rate increases. For the commission to oversee 250,000 miles of power lines the way it oversees railroad safety is simply not practicable, in his opinion. Instead, he says, technology such as drones or smartphone apps ought to be employed to inspect and report problems. OK, fine. But why is this still in the blah-blah-blah stage at this point? And why does it take a federal judge to raise the alarm about power line safety?
Gov. Gavin Newsom must address this lack of leadership immediately, before the 2019 fire season begins. If he does not, he risks more death, more damage and a public backlash that will make last year's Department of Motor Vehicles crisis seem like a day in the park.
Follow the Opinion section on Twitter @latimesopinion and Facebook
---
A cure for the common opinion
Get thought-provoking perspectives with our weekly newsletter.
You may occasionally receive promotional content from the Los Angeles Times.