California's prison break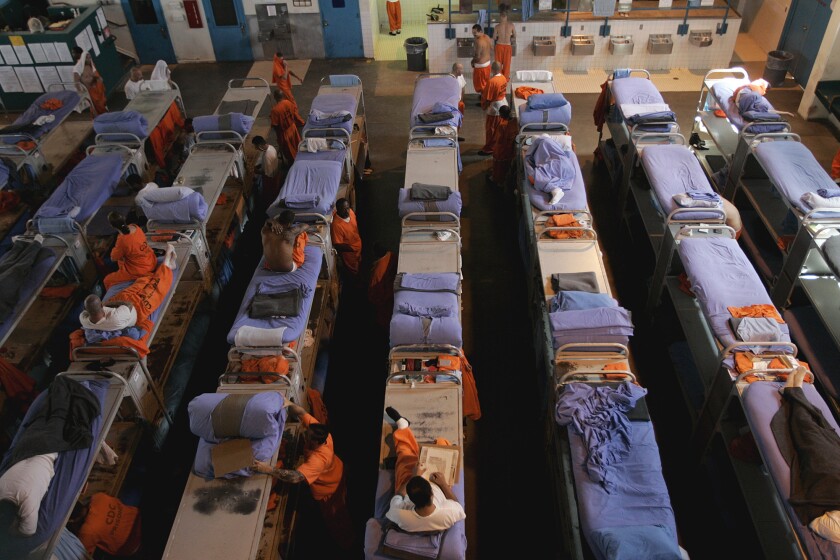 The three federal judges who have ordered California to dramatically reduce its prison population have now pushed back their deadline by 30 days. The delay is both less and more than it seems.
It's less, because it's nothing close to the three extra years that Gov. Jerry Brown said he would need to reduce overcrowding and to keep the number of inmates capped. Instead of facing a Dec. 31 compliance date, the governor and the Department of Corrections and Rehabilitation now have until late January. That's not enough time to reduce crowding by attrition, or even by assigning newly convicted felons to leased cells in and outside of California.
But it's also more, or at least it could be. It's a signal from the judges that they believe, perhaps for the first time since the reduction order was handed down four years ago, that California may be ready to devote considerable thought and resources to reducing the flow of felons into the system.
The original inmate reduction order in 2009 followed findings by several federal courts that California prisons were so crowded — with inmates bunking in gymnasiums and libraries — that the state was violating the U.S. Constitution's prohibition against cruel and unusual punishment. Crowding, the courts found, was the direct cause of inadequate medical and mental health care. The judges have insisted on an inmate population that represents 137.5% or lower of the prisons' "design capacity."
Brown has argued that his 2011 "realignment" program, which has sent many new felons to county jails instead of state prisons, has substantially alleviated the crowding and that new investments in health services mean the state is no longer violating the 8th Amendment.
But in increasingly impatient rejections of Brown's requests for relief, the judges ordered the state to get on with inmate reductions, even if that meant the release of some felons before their sentences would normally have run out. It may have taken some reading between the lines of their orders, but it became apparent that the judges wanted evidence not merely that California was operating its prisons by a constitutional standard but that it could be expected to continue doing so in the future.
And that means coming to grips with random sentencing laws, foolishly punitive laws on minor drug crimes, cruel treatment of the mentally ill and insufficient alternative sentencing programs.
What seems to have given the judges pause, and persuaded them to give the state a month of relief, was Senate President Pro Tem Darrell Steinberg's (D-Sacramento) insistence on creating a recidivism reduction fund instead of, or in addition to, renting new cell space. An extra 30 days will allow the Legislature, when it reconvenes in January, to demonstrate with budget amendments a continuing commitment to changing the way this state administers criminal justice.
---
A cure for the common opinion
Get thought-provoking perspectives with our weekly newsletter.
You may occasionally receive promotional content from the Los Angeles Times.