Editorial: Alex Villanueva has an even tougher challenge after unseating Jim McDonnell: being sheriff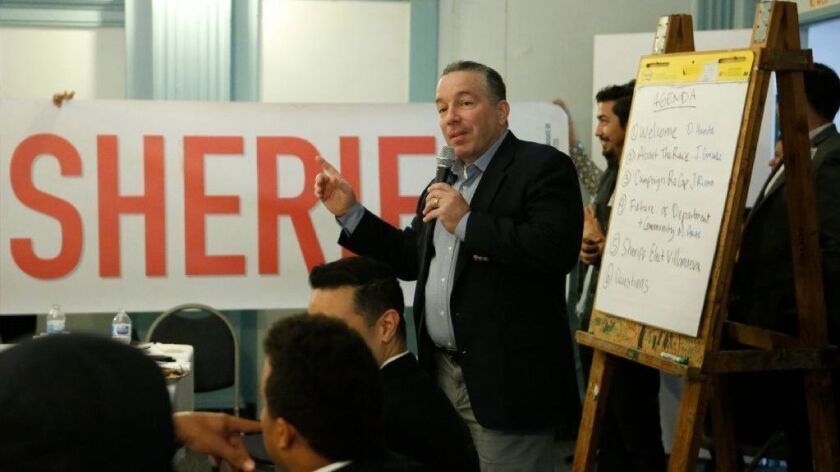 Sheriff-elect Alex Villanueva has made history even before taking office, becoming the first challenger to oust a living incumbent Los Angeles County sheriff in more than a century (challenger Lee Baca defeated incumbent Sherman Block in 1998 — but Block had died in the final days of the campaign).
Villanueva beat Jim McDonnell, who conceded Monday after having lost an early election-night lead. Each successive report showed a wider margin in Villanueva's favor.
There is no shortage of theories on how Villanueva pulled off the stunning upset. As a Democrat — a rarity among elected sheriffs in California — perhaps he was buoyed by the nationwide blue wave in this bluest of states. Maybe McDonnell's fundraising was too lackadaisical or his message too amorphous. It could be that in this time of stepped-up enforcement against the undocumented and pushback among immigration activists, Latinos turned out to elect a Spanish-surnamed sheriff (although the county has historically had several — most recently Baca). It might be that L.A. County voters rejected McDonnell because he opposed many of the criminal justice reforms they embraced. Or it might be that Villanueva drew support from interest groups generally at loggerheads — progressive reform advocates and rank-and-file sheriff's deputies.
That latter phenomenon could provide a key to the new sheriff's success or failure. In his campaign, Villanueva was able to tap into dissatisfaction with the status quo without delving too deeply into practical details. If he can retain his newly earned support across interest groups as he gets into the nuts and bolts of policy and leadership, he may prove to be a good sheriff.
In his campaign, Villanueva was able to tap into dissatisfaction with the status quo without delving too deeply into practical details.
But that's a tall order for someone with no prior experience in command positions. Villanueva would help his department and himself by picking his top staff from among the nation's most accomplished law enforcement professionals and its brightest rising stars, inside or outside the department.
He might be able to use his own lack of a record in top positions to his advantage, bringing new light or new goodwill to challenges that vexed McDonnell.
For example, he could forge a better relationship with the Sheriff Civilian Oversight Commission. He could try to win funding from the county Board of Supervisors for body cameras without waiting for the results of yet another study, given that virtually everyone agrees on the need. He could welcome some serious scrutiny of the proposed new women's jail at Mira Loma in the Antelope Valley, which is too far away from supportive services — and potentially a multiday trip for family members using public transit. He could make the Sheriff's Department a leader, rather than a resister, in implementing criminal justice reforms that seek to lock up fewer people and instead achieve lasting changes in behavior by treating rather than punishing substance abuse, mental illness and trauma.
Above all, he can be a better communicator. McDonnell was not always the model of clarity in his public statements. For example, when he said that U.S. Immigration and Customs Enforcement agents weren't in L.A. County jails, it was never clear whether he meant they were never physically present, or that they no longer had their own office there but still were granted occasional access. Villanueva has also sent confusing signals about working with ICE, saying for example that he would kick agents out of the jails — suggesting a policy of complete noncooperation — but also pledging to turn inmates over to ICE after they were released.
Enter the Fray: First takes on the news of the minute from L.A. Times Opinion »
Since election day, Villanueva has made some disconcerting statements. He said he had no intention of returning donations that may have been unlawful because he was not involved in any wrongdoing. That's hardly an inspiring message from the incoming leader of one of the nation's largest local law enforcement agencies.
Of even more concern is that he said he would do away with constitutional policing advisors — civilian attorneys and other experts who counsel the sheriff on internal practices and accountability. Creating the positions was one of McDonnell's most important innovations, giving the sheriff an internal counterpart to champion reforms like the oversight commission and the inspector general.
Eliminating the positions would look an awful lot like trying to turn the clock back to the Baca era. Such a move would be an early unforced error — and a poor way to launch a new beginning at the Sheriff's Department.
Follow the Opinion section on Twitter @latimesopinion and Facebook
---
Life is stressful. Our weekly mental wellness newsletter can help.
You may occasionally receive promotional content from the Los Angeles Times.