Editorial: How sick is too sick to be executed?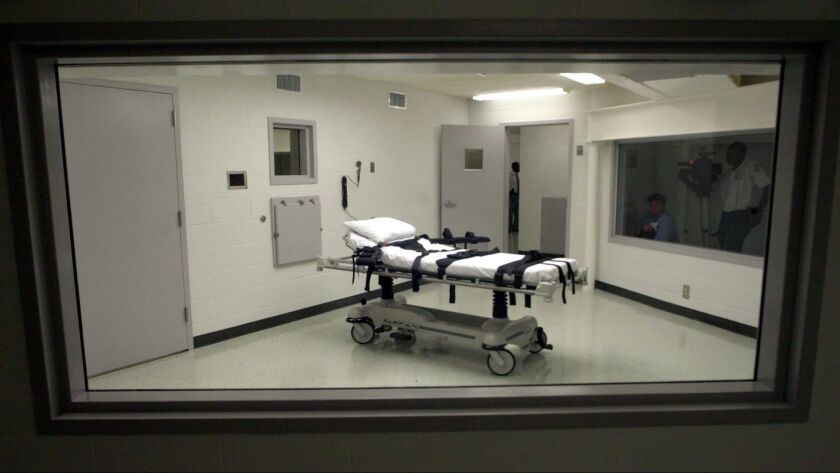 The Supreme Court last week agreed to hear a death penalty case that hinges on a fine point. The court has ruled in the past that it is unconstitutional to execute people who can't understand why they face death at the hands of the state — usually people with mental illnesses or diminished intellectual abilities. Vernon Madison, who killed a Mobile, Ala., police officer in 1985, knows the state intends to execute him for committing a murder, but a series of strokes and other ailments have left him incontinent, barely able to walk and unable to recall the crime itself. So the question for the court is whether it is acceptable to execute someone who knows he was convicted of murder but can't remember what he did.
This is how far into surrealism our death penalty system has fallen. In another Alabama case, the Supreme Court decided not to delay or cancel the execution of Doyle Lee Hamm, who argued that the procedure would amount to torture because cancer and a history of drug abuse had compromised his body so much that there would be trouble finding a vein for the lethal-injection catheter. Turns out he was right. After 2 1/2 hours and 11 attempts to insert the catheter — leaving, by one account, a bloody mess in the death chamber — the warden finally called off the execution a half-hour ahead of a midnight deadline. Which raises the question, how ill is too ill to be executed?
But wait — there's more. Florida continues to try to execute people sentenced to death by non-unanimous juries because the state Supreme Court ruled the practice unconstitutional only for defendants whose cases have been decided since 2002 (it involves a fine legal distinction that defies common sense). And in yet another case, on Monday, the U.S. Supreme Court rejected an appeal from Todd Wessinger who argued, among other things, that his inexperienced appellate lawyer never investigated mitigating factors, such as childhood abuse and severe brain injuries (including a hole in his brain) — a failing that Justice Sonia Sotomayor, writing in dissent, said was "deeply unjust and unfair."
The list of absurdities runs on, but arguing over the fine lines and legal distinctions of specific cases tends to obscure the core unfairness and inhumanity of capital punishment itself. Death sentences fall disproportionately on minorities and the poor. Executions do not deter others from committing murder. Witnesses, police and prosecutors lie or make mistakes, leading to wrongful convictions. Executions occur decades after the crimes, which serves no penological purpose, yet due process requires a deliberate pace. The clearest solution for all of these issues would be to end a practice that diminishes us all and indicts our collective sense of humanity.
Follow the Opinion section on Twitter @latimesopinion or Facebook
---
A cure for the common opinion
Get thought-provoking perspectives with our weekly newsletter.
You may occasionally receive promotional content from the Los Angeles Times.