Editorial: Closing the border is yet another bad idea from the Trump administration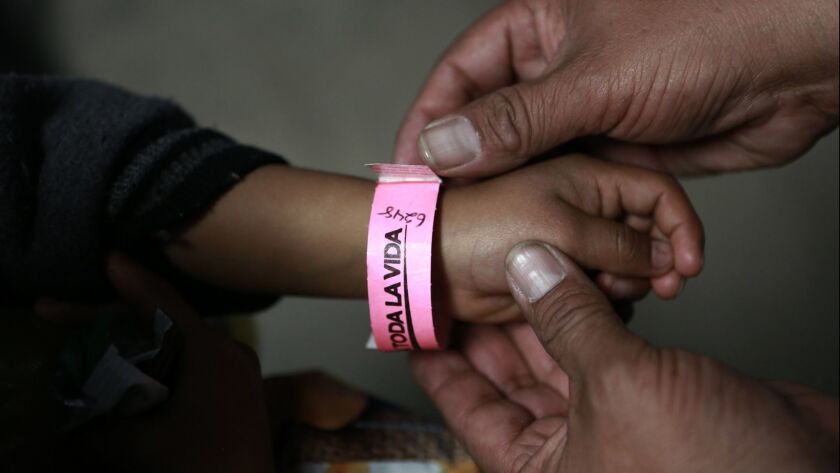 The president has once again been going into paroxysms of rage and anxiety over migrants at the U.S.-Mexico border, and as usual, it has led him to some bad decisions. Not only is he expanding his legally dubious policy of forcing asylum-seekers to wait in Mexico as their claims proceed, but he is freezing humanitarian aid that was supposed to improve living conditions in Central America, and he is even threatening to shut the border entirely unless Mexico somehow miraculously finds a way to stop migrants from moving north.
The president is flailing. His moves endanger the safety of people exercising the legal right to seek asylum, and will only worsen conditions in Central America that have sent so many migrants fleeing in the first place. What's more, it could put a big hit on the U.S. economy by disrupting the flow of $1.5 billion of goods a day across the border.
All of this is predicated on a lie. It's true that border agents are apprehending thousands more unaccompanied minors and migrant families at the border, the vast majority of whom are intentionally seeking out border agents so they can apply for asylum, a right recognized by U.S. law and international agreements. But the number of apprehensions — 320,000 so far this year — remains a fraction of the 1.5 million a year during the Clinton administration. Border crossers formerly were predominately Mexican men seeking work. Now border crossers tend to be unaccompanied minors and families fleeing violence and poverty. That calls for a different response than wholesale deportation.
Enter the Fray: First takes on the news of the minute »
What's more, many experts argue that improving the dangerous conditions in the home countries is the best way to address the problem. Yet the president has ordered a freeze on more than $500 million in humanitarian aid to El Salvador, Honduras and Guatemala because those governments, he says, have failed to keep migrants from leaving. How does shutting off aid help?
The U.S. immigration system is broken, and was long before Trump became president. Congress has failed to meet its responsibility to fix the problems, from updating visa categories and work permits to reconsidering priorities for whom to let in to revamping the immigration courts so that they can handle the work they are charged with performing. But presidents play a role in this, too, and Trump's failure to make any meaningful moves to work with Congress, or to craft reforms of his own, tells the nation that his interest lies not in fixing immigration, but in narrowing it as far as he possibly can. His draconian policies are inhumane to those he targets, and bad for a nation that owes so much of its success to those who have come here to mesh their futures with ours.
Follow the Opinion section on Twitter @latimesopinion or Facebook
---
A cure for the common opinion
Get thought-provoking perspectives with our weekly newsletter.
You may occasionally receive promotional content from the Los Angeles Times.