Editorial: Surprise us, Mr. President, and embrace the Paris climate agreement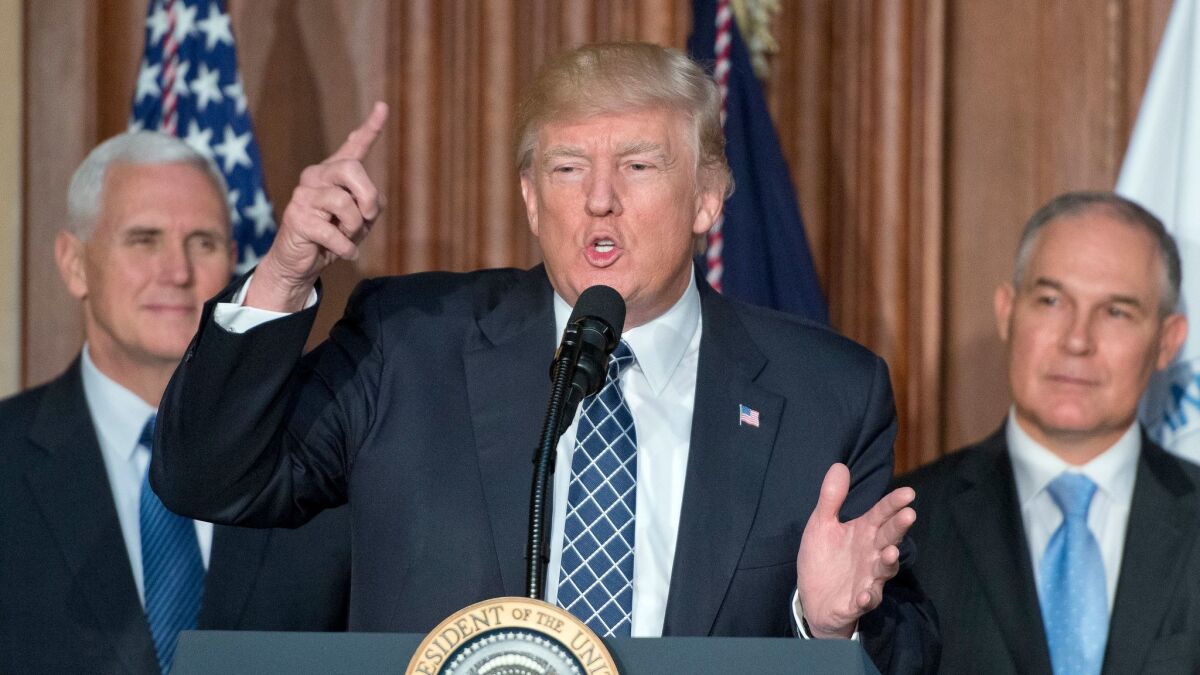 Donald Trump has been president for only three months and already he's given up or reversed course or been stymied on a wide range of campaign promises. Given how awful some of those ideas were — ending Obamacare, declaring China a currency manipulator, ordering a blanket federal hiring freeze (done, but since lifted) — it is not necessarily a bad thing for the country that he's fallen down on the job.
Now, we're mildly heartened to learn that Trump also may be moving away from his ill-advised campaign pledge to withdraw the U.S. from the Paris climate agreement of 2015, under which nearly 200 nations pledged to reduce emissions of the greenhouse gases that cause global warming.
Climate change, of course, is viewed skeptically by the new president. He once described the idea that human activity is heating up the oceans and atmosphere in potentially catastrophic ways as "a total, and very expensive, hoax" that was "created by and for the Chinese" in order to make U.S. manufacturing non-competitive. He appointed a climate skeptic, Scott Pruitt, to run the Environmental Protection Agency, a department Trumps hopes to reduce by 31%, according to the budget proposal he sent to Congress. The administration also is pushing plans to roll back Obama-era limitations on methane emissions from oil and gas wells on public lands (an effort that, fortunately, may die in the Senate), and to consider weakening the aggressive fuel-efficiency standards for motor vehicles established under Obama.
Trump also has drawn a target on the Clean Power Plan, which was designed to significantly reduce emissions from primarily coal-fired power-generating plants responsible for a third of the nation's greenhouse gases.
That the Trump administration is even debating the issue rather than blindly carrying out its ill-conceived campaign promise offers a hopeful sign.
His hostility to the science of climate change poses a global risk. The U.S. is the world's largest economy and second-largest emitter of carbon and other greenhouse gases. It was instrumental in crafting the Paris agreement, a milestone in international environmental cooperation even if experts say its goal of capping the rise in temperatures by 2100 to less than 2 degrees Celsius isn't ambitious enough if the world is to avoid the worst effects of global warming.
It's slightly encouraging that there seems to be an internal debate underway between a set of Trump advisors who want the president to keep his promise to withdraw the U.S. from the Paris agreement and another set urging him to stick with the pact but loosen the Obama goal of reducing by 2025 U.S. emissions by up to 28% of 2005 levels. That the Trump administration is even debating the issue rather than blindly carrying out its ill-conceived campaign promise offers a hopeful sign that the president's position could change, and that he might still join the rest of the world in trying to address the potentially existential threat of global warming. For the United States to back off from the Paris accord now not only would imperil the chances of global success, but would marginalize the U.S. as a leader in a defining issue of our era.
At the same time, if the U.S. were to stay in the Paris agreement while weakening the United States' commitments, that still would be a losing proposition for the nation, and the world, given that emissions need to be even more sharply curtailed than already planned. Reducing reliance on fossil fuels is a difficult challenge, but it needs to be done. Yes, there will be economic hits to the oil and gas industries, but alternative renewable energy already has become a significant part of the global economy and it is growing quickly. Given the worldwide damage that will be caused by rising seas — one estimate puts it at $1 trillion a year by 2050 — insuring jobs today at the expense of the future is the definition of penny-wise, pound-foolish.
The president is in a position to prove his critics wrong — to demonstrate that he can weigh (actual, not alternative) facts and frame positions based on reality and in the best interests of the nation. We invite him to do so by sticking with the Paris agreement and the Clean Power Plan, and by directing the government to find ways to reduce U.S. emissions even further. Those are steps that a sagacious and respected world leader would take.
We hope Trump moves in that direction, away from his reckless campaign stance on this enormously important issue.
Follow the Opinion section on Twitter @latimesopinion or Facebook
---
Life is stressful. Our weekly mental wellness newsletter can help.
You may occasionally receive promotional content from the Los Angeles Times.