Editorial: Philippine President Duterte is a self-professed killer. Why did Trump invite him to a cozy White House schmooze?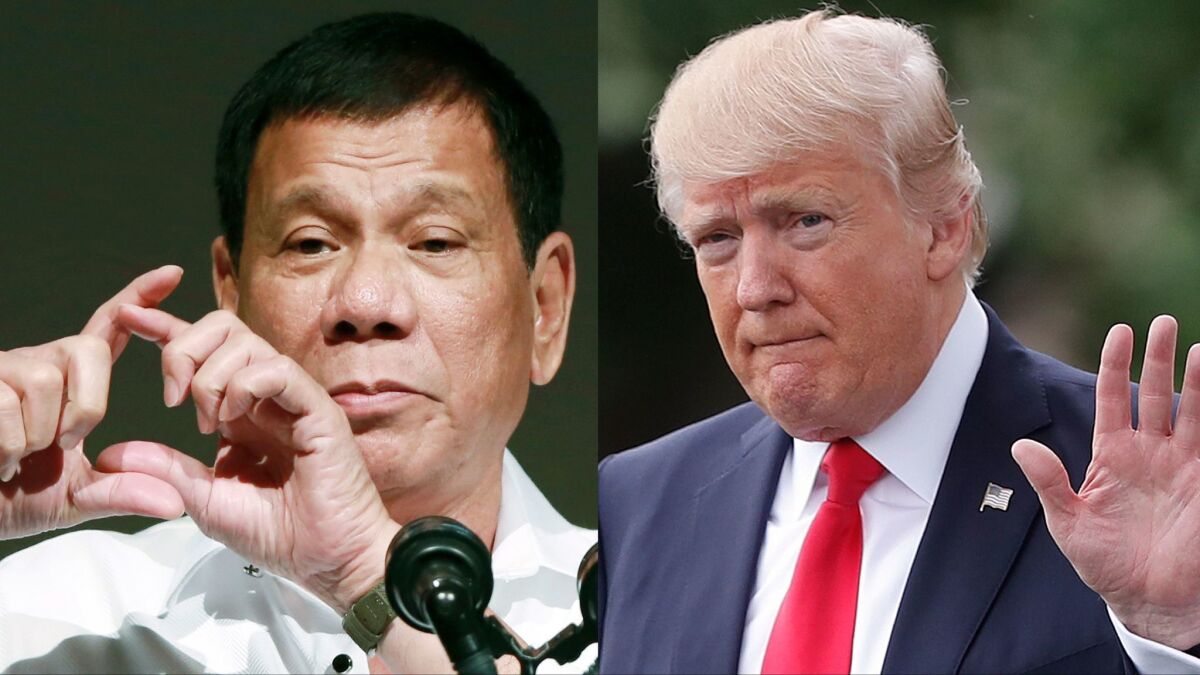 President Trump's decision to invite Philippine President Rodrigo Duterte to the White House is problematic in at least two ways. Since taking office nearly a year ago, Duterte has overseen a campaign of extrajudicial executions of suspected drug addicts and drug dealers that has claimed more than 7,000 lives. International human rights groups have condemned him, and the United Nations High Commissioner for Human Rights urged a criminal investigation after Duterte claimed to have killed at least three people himself while serving as mayor of Davao City. Duterte's response? He called the high commissioner an "idiot," threatened to torch the United Nations headquarters in New York City and called President Obama a "son of a whore." Obama condemned the assassinations and canceled a planned one-on-one meeting that was to have taken place in Laos.
The second problem with Trump's invitation to Duterte has to do with the new 250-luxury unit, 57-story Trump Tower in Manila that is nearing completion and set to open soon. Trump's developer in the project is Jose E.B. Antonio, whom Duterte recently appointed as the Philippines' trade envoy to Washington. As with many of Trump's hotels, it appears the Trump Organization licensed the name and brand to the project developed by Antonio, but that brand's value in the Philippines now relies on the good graces of the Philippine government. That's a problem.
Despite these two problems — the Philippine leader's abysmal human record and the American president's conflicts of interest — Trump has spoken warmly about Duterte, as he has about other world leaders with bad human rights records. While some claim to see a measure of realpolitik in Trump's invitation, suggesting that perhaps he's trying to build solidarity among Southeast Asian nations to counter China's efforts to increase its influence in the region, the truth is that his easy embrace of authoritarian leaders is troubling.
Duterte's encouragement of a violent vigilante culture to repress drug addiction and trafficking is indefensible.
The United States' effort to include a respect for human rights in its foreign policy determinations has always been a bit of a juggling act. The cold reality of the modern world and the demands of diplomacy can make it difficult to maintain a consistent moral position. China, for instance, has a long record of repressing political dissent, but little is to be gained and much could be lost by pursuing a policy of disengagement with such an enormous, nuclear-armed economic powerhouse. Similar concerns affect the U.S. relationship with Russia. Turkey hosts a major U.S. air base and is a key partner in trying to combat Islamic State, but President Recep Tayyip Erdogan embarked on a purge — including the imprisonment of thousands of journalists and political opponents — following a failed coup last year. Yet the U.S., for the sake of world stability and our national interests overseas, maintains relations with all those nations' leaders.
The U.S. has enjoyed a long alliance with the Philippines. The two nations have been entwined since the U.S. annexed the Philippines at the end of the Spanish-American War, and Philippine immigrants now account for 4.5% of the 41.3 million immigrants living in the U.S. As a chain of islands marking the eastern edge of the China Sea, the Philippines is also strategically important in an increasingly tense region of the world. We do not mean to suggest that Trump should cut off communication with Duterte or that there might not eventually be a time when the two have to meet to discuss serious matters of mutual interest. But Trump's seemingly impulsive invitation appears to lack substance or urgency. He would be mistaken to reward Duterte's murderous campaign with a White House visit.
Trump previously hosted Egyptian President Abdel Fattah Sisi, despite the jailing of tens of thousands of political opponents, journalists and others (including some Americans) that made Sisi unwelcome in the Obama White House. In that visit, the Trump administration said it would not raise human rights abuses in public, but would consider discussing them with Sisi in private. Whether that ever happened is unknown, but it certainly should have.
Duterte's encouragement of a violent vigilante culture to repress drug addiction and trafficking is indefensible. That Trump is willing to embrace him is worrisome. Defending human rights has been part of American foreign policy for four decades. Inviting the likes of Duterte over for a schmooze does not reflect well on the White House, or the nation.
Follow the Opinion section on Twitter @latimesopinion or Facebook
Our six-week newsletter will help you make the right decision for you and your property.
You may occasionally receive promotional content from the Los Angeles Times.