Editorial: A long overdue end to a totally unnecessary shutdown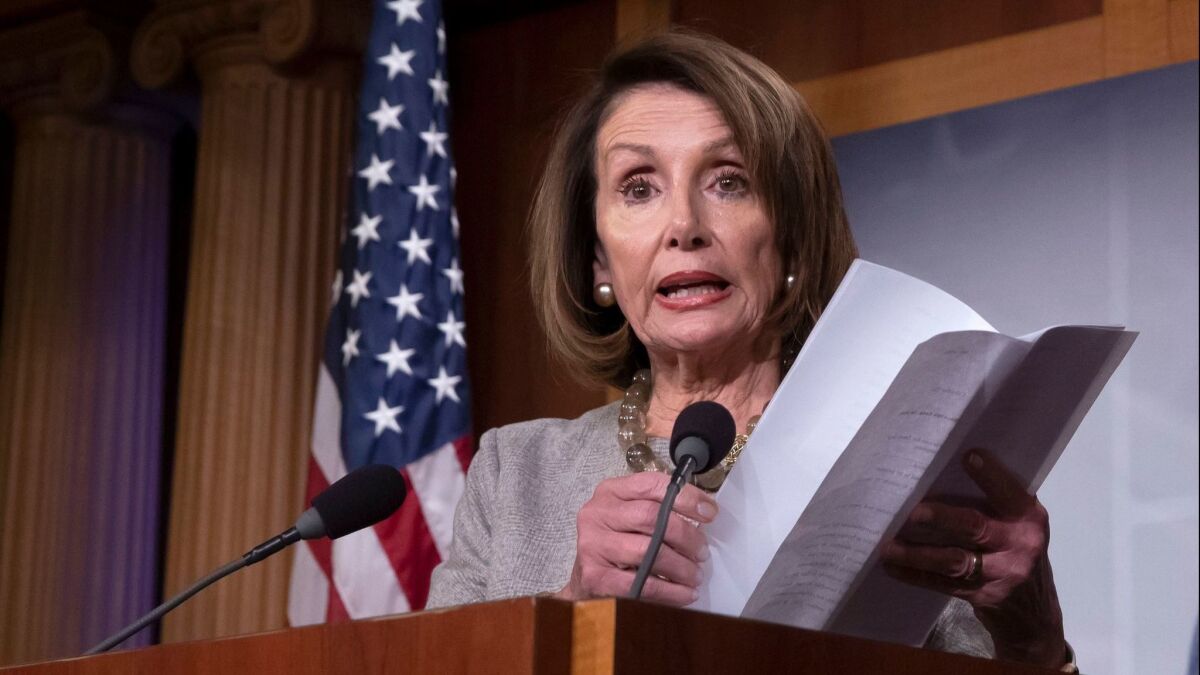 The longest federal government shutdown in history came to an end — at least temporarily — on Friday after President Trump agreed to do what Democrats and numerous Republicans had been urging him to do for quite some time: approve a temporary funding measure and negotiate over border security after the government reopens. The House and Senate were expected to pass a bill by the end of the day to fund nine shuttered federal departments and dozens of agencies through Feb. 15, with no money yet provided for Trump's coveted border wall.
That was the right, woefully overdue, result. In addition to causing hardship for federal workers, whose last two paychecks were put on indefinite hold, the shutdown damaged the economy and disrupted the lives of the general public — witness, for example, the major delays Friday at LaGuardia Airport in New York that were caused by a shortage of air traffic controllers. Worse, it was gallingly unnecessary.
Trump triggered and sustained the shutdown by insisting that Congress provide billions of dollars for his wasteful and costly pet wall project, along with hundreds of millions of dollars for other border-security needs. Trump could easily have gone back to Congress in October and asked for an emergency spending bill to address those priorities, as presidents do seemingly every year when they run into unanticipated problems. Rather than bargaining in good faith over how best to secure the border and address the increase in families seeking asylum, however, Trump took 800,000 federal workers hostage to try to force lawmakers to bend to his will.
Trump took 800,000 federal workers hostage to try to force lawmakers to bend to his will.
The fight was often portrayed as a battle between Trump and House Speaker Nancy Pelosi (D-San Francisco) and other Democrats who'd dug in their heels about the wall. Yet as an institution Congress couldn't afford to let Trump's shutdown tactic succeed, because that would only invite him to repeat it. Besides, the public has shown again and again that it doesn't like shutdowns, and that it will blame whichever entity took the government hostage to advance a policy goal. Such was the case here, as numerous polls showed a growing majority of Americans disapproving Trump's conduct as the shutdown stretched on.
Now it's imperative that the two sides reach a deal on effective, not symbolic, border security. That won't happen if Trump stays wedded to his wall — and Democrats to defying him. Trump threatened Friday to pursue either of two bad courses of action if he didn't get his way in the negotiations: shutting down much of the government again in mid-February, or using emergency powers to fund the project even though Congress will not.
The president sought to present himself Friday as the soul of reasonableness, saying he was looking to build the wall only "in predetermined high-risk locations that have been specifically identified by the Border Patrol to stop illicit flows of people and drugs." Yet he continued to portray the wall as a magical crime-fighting solution while painting a hyperbolic picture of criminals and terrorists pouring over the southern border.
The debate can't be grounded in scare tactics. Walls and fences make sense in places, and the border already has nearly 700 miles of them. Does it need more? Do we need more electronic surveillance? More agents? Let's base those answers on sound professional assessments adapting to the changing situation along the border — where illegal crossings are way below modern peaks despite the recent increase in Central American migrants — not on the president's reflexive resistance to immigration and his cynical fanning of passions among immigration hard-liners.
Enter the Fray: First takes on the news of the minute »
The immigration system, on the other hand, has been undeniably broken for years, and Trump has remarkably managed to make it even worse. According to the Transactional Records Access Clearinghouse at Syracuse University, the backlog in the immigration courts has more than doubled under Trump, if you include the more than 300,000 previously closed cases that this administration has reopened. But there are many interlocking and complex issues to be resolved, including whether to change the country's priorities in determining who gets visas, how to accommodate the need for seasonal workers and what to do about the estimated 11 million people already living in the country illegally, including the "Dreamers" who arrived as minors and in many cases have been raised as Americans.
Trump has sought to draw some of those issues into the negotiations over the wall, among them his contentious proposal to bar minors who come to the United States from seeking asylum. It's hard to see how lawmakers could reach agreement on all these issues in three weeks; what's needed is a comprehensive approach to the web of immigration issues, and Congress has yet to prove itself up to that job despite years of trying. Trump can and should hold lawmakers' feet to the fire on the need for immigration reform. But that's a far bigger job than building a wall, and he must not take the government hostage to try to force the outcome he desires.
Follow the Opinion section on Twitter @latimesopinionand Facebook
---
Life is stressful. Our weekly mental wellness newsletter can help.
You may occasionally receive promotional content from the Los Angeles Times.