Editorial: In voting, will California finally enter the 21st century?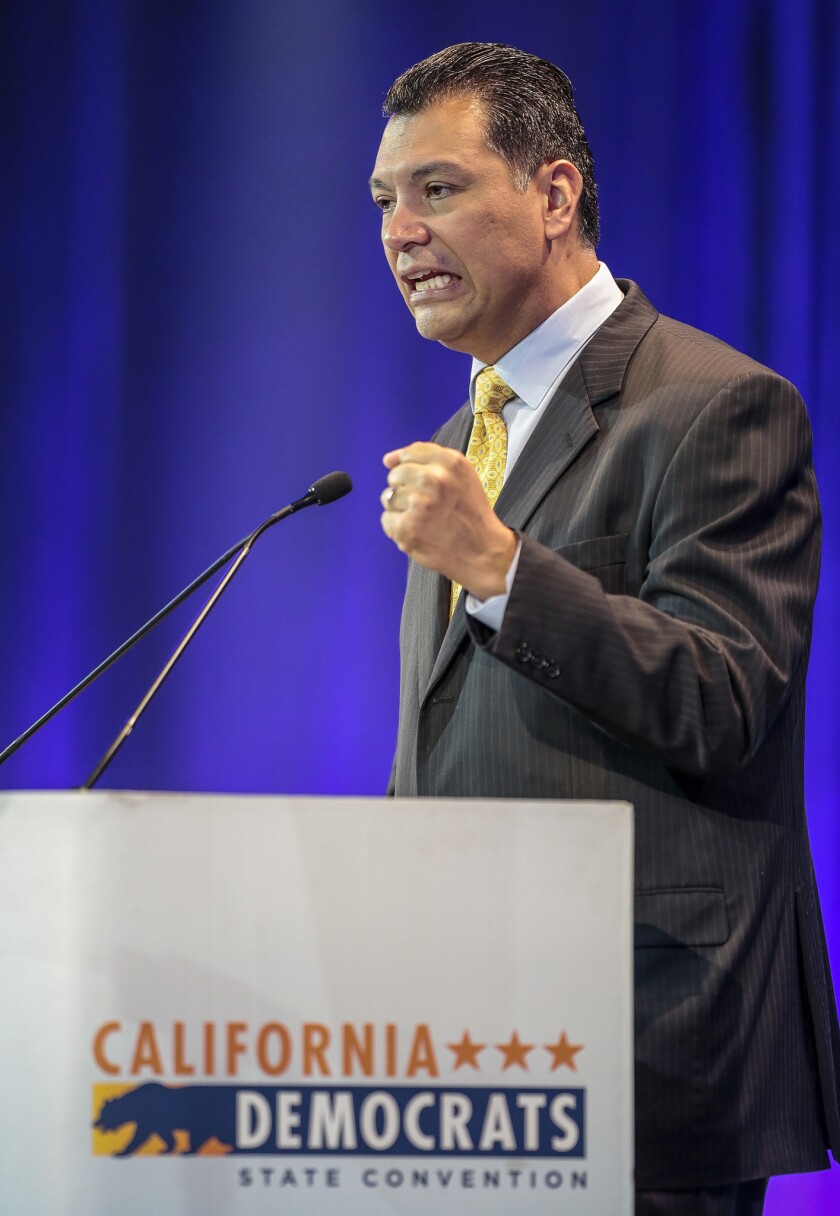 The era of the neighborhood polling place with its paper voter rolls and rickety booths isn't quite over, but it is well on its way out in California. No tears will be shed here: It's high time the state entered the 21st century.
That's the opinion of new Secretary of State Alex Padilla as well. Last week he unveiled his second proposal to encourage voter participation in California: a plan to send mail-in ballots to every registered voter and to encourage counties to set up voting centers for their voters to use, regardless of precinct, up to 10 days before election day.
These may sound like incremental changes, but they reflect a significant shift in thinking about the state's shamefully backward elections system. Padilla is understandably eager to restart reforms that his predecessor let languish, but he must not, in his haste, place too much burden on the state's 58 counties too quickly.
Gearing up to send ballots to every registered voter in time for the next general election would be a challenge in and of itself. It would be all the more daunting if another of Padilla's proposals, a "motor voter" bill, passes. The bill would automatically register people to vote when they get or renew a driver's license, adding as many as 5.8 million to California's voting rolls.
A higher registration rate, which invariably means more people voting, is a laudable goal. So is making it more convenient and easier to vote. But maybe not all at once. That's why it's important that legislators build adequate implementation time and resources into SB 450, the bill by Ben Allen (D-Santa Monica) and Bob Hertzberg (D-Van Nuys) that is being amended to include the mail-in ballots and vote centers.
Also, why not be bold? Although the language of the bill is not yet finalized, Padilla said it would not require that counties set up voting centers. Instead, he would expect them eventually to be adopted voluntarily. If Padilla thinks voting centers and early voting are steps toward the future of elections — and he and other elections officials do — then he should either require them or build in incentives for them. If this comes with a cost to the state, well, it's an investment with a substantial payoff down the road in higher voter turnout.
Padilla's proposals are based on reforms in Colorado that have had great success in the last decade. Voting turnout surged from 48.5% in 2006 to 56.9% in 2014 — one of the highest rates in the nation. California, by contrast, hit a near-record low last year, with just 30.9% of eligible voters turning out.
Election officials and voting advocates agree that this dismal trend can't continue. So kudos to Padilla for wanting to modernizing the state's out-of-date elections system, with just one caveat: Don't rush it.
Follow the Opinion section on Twitter @latimesopinion and Facebook
---
A cure for the common opinion
Get thought-provoking perspectives with our weekly newsletter.
You may occasionally receive promotional content from the Los Angeles Times.