Endorsement: Mike Bonin should be re-elected to the L.A. City Council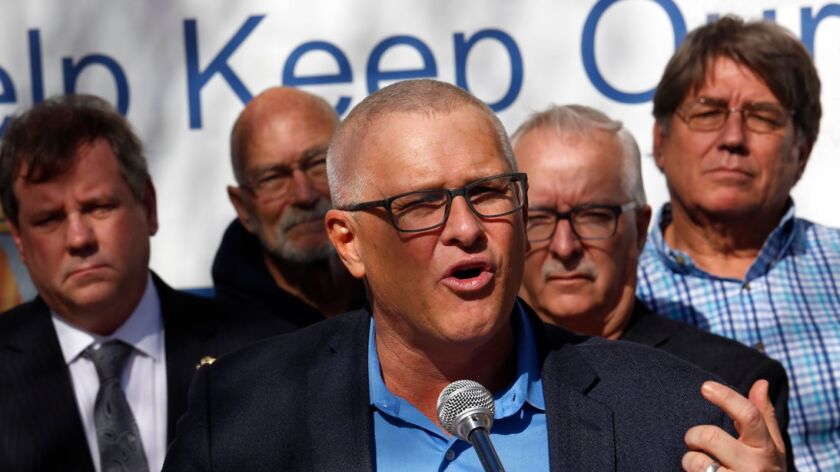 Mike Bonin has represented Los Angeles City Council District 11, a chunk of the Westside, for the past four years with energy and fortitude and intelligence. He deserves to be re-elected.
The 11th district hugs the coast and extends from Pacific Palisades and the rugged canyons to the north all the way down to Venice and the Playas (Vista and del Mar) and Westchester near Los Angeles International Airport. It is a district of affluent and middle class homeowners as well as modestly situated apartment dwellers.
Bonin has been an articulate voice on the city council for many issues such as the $15 minimum wage and Measure M, the sales tax measure passed in November to fund transit projects. Bonin also helped pass the city's "mobility plan," helped settle a key lawsuit over the northernmost runway of Los Angeles International Airport and, with input from the community, has launched a widely praised transformation of Venice Boulevard in a portion of his district from a fast-moving highway into a user-friendly street for pedestrians and bicyclists.
The entire City Council has become focused on homelessness, but Bonin, particularly, has infused that cause with a sense of urgency.
But nowhere has he exhibited more political courage than in his push to launch projects to help and house homeless people. Of course, the entire City Council has become focused on homelessness, but Bonin, particularly, has infused that cause with a sense of urgency. In his own district, he helped identify city-owned properties that could be used for housing or as a place for homeless people to store their belongings. And he has found funds for more rental subsidy vouchers as well as for service organizations that provide temporary housing for people in need. He has proposed a citywide safe parking program that would allow non-profit groups to open their parking lots to homeless people living in their vehicles.
Homelessness, development and traffic are issues that bedevil the entire city, but in Bonin's district they are particular flashpoints. Bonin has supported controversial but necessary projects. He has not backed down in the face of residents of Venice — which has one of the largest concentrations of homeless people in the city — who accuse him of caring more about homeless people than about his constituents. That is a false choice, as he rightly says. What best serves everyone is getting homeless people permanently off the streets by finding them permanent housing. But that takes time.
Bonin has supported several development projects that have angered neighbors. For instance, he supports a controversial building project on the site of a car dealership at the heavily trafficked intersection of Bundy and Olympic that will have about 500 residential units along with commercial and office space. But this parcel was going to be developed eventually no matter what happened; the question was what kind of development it would be. Bonin pushed to ensure that 20% of the units were built as affordable housing. And the city desperately needs more housing, especially near transit stops, which this will be. So it was the right call.
That said, the problems of this area are real. The Westside is paralyzed by traffic from mid-afternoon into the evening. Homeless encampments, especially in Venice, are something many residents live with all day long outside their homes. And even worthy development may end up overshadowing a neighborhood of bungalows and small apartment buildings.
Both of Bonin's challengers are community activists from Venice. Robin Rudisill, a former member of the Venice Neighborhood Council and a coastal protection advocate, is energetic and capable but has neither a citywide perspective nor the experience necessary to represent the entire district. Mark Ryavec has experience in politics as well as activism, but his resistance to certain development projects in the district and his approach to homelessness are misguided. He is against building housing for the homeless at a city-owned site in Venice which Bonin and advocates for the homeless support. And he would have social workers give people camped on sidewalks offers of shelter — but if they turned them down, he would have police cite them for camping on sidewalks and after a few citations, issue them legal orders to stay 300 feet from residences. That's not the right approach to fighting homelessness.
Bonin's instincts are right, but he must continue to listen to his constituents and work on helping them in the short term. In Venice, it's imperative that there be more short-term housing solutions for people on the streets. In West L.A., it's imperative that development projects be held to a high standard — if they don't provide more housing for the area, they don't get approved. Bonin is capable of tackling all these challenges.
Follow the Opinion section on Twitter @latimesopinion and Facebook
---
A cure for the common opinion
Get thought-provoking perspectives with our weekly newsletter.
You may occasionally receive promotional content from the Los Angeles Times.