Endorsement: Rent control isn't the answer to California's housing crisis, but it could help. Yes on Prop 10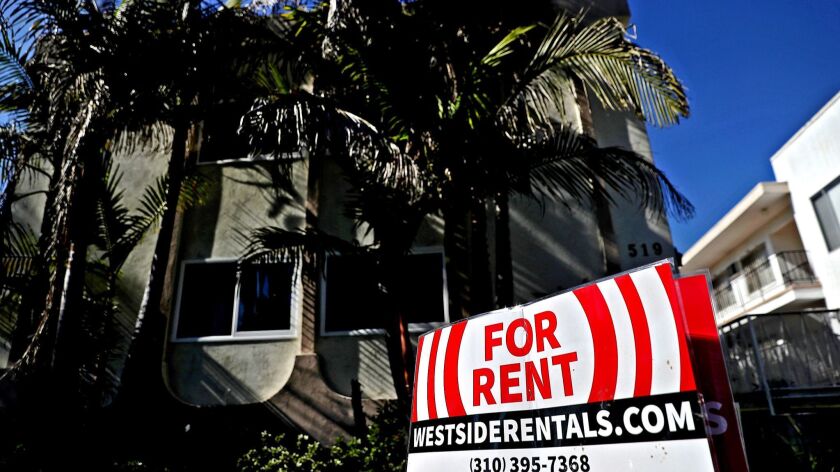 In the middle of a housing crisis, California voters are being asked to consider a ballot measure that would, depending on whom you talk to, either keep struggling renters from being kicked to the curb or cause rents to climb even higher.
Actually, the reality of Proposition 10 is far less dramatic and more nuanced, and that's one of the reasons The Times editorial board supports it.
Proposition 10 would repeal the Costa-Hawkins Rental Housing Act, a 1995 law that restricted cities' ability to enact or expand rent control. Costa-Hawkins bars cities from imposing rent control on apartments built after 1995 (or earlier in cities that already had rent control in place), forbids rent control on single-family homes and condominiums, and prohibits "vacancy control," which is when a unit's rent stays capped even after the tenant moves out. Under Costa-Hawkins, Los Angeles cannot impose rent control on apartments built after 1978, when the city's rent stabilization ordinance was adopted.
Although the housing crisis is widespread, each city has its own challenges and needs the flexibility to adopt its own remedies.
For years, tenant advocates have complained that Costa-Hawkins ties the hands of local officials so that they cannot respond when rents and displacement surge in their community. There is no question that California is in a housing affordability crisis; nearly 1 in 3 households statewide spend more than half their income on rent, leaving many families one rent increase or missed paycheck away from losing their homes. And in much of California, rents are rising far faster than incomes. But state lawmakers have repeatedly failed to enact even modest tweaks to Costa-Hawkins that would have given cities the option to prohibit exorbitant rent increases, permanently or temporarily.
Frustrated activists are now taking their case to the voters with Proposition 10. The ballot measure would wipe Costa-Hawkins off the books and allow cities and counties to enact rent control measures — or not.
Fifteen cities across the state currently have some form of rent control. Nobody knows how many other cities would follow suit, or how cities might broaden their existing rent control laws. One possibility some cities have looked at is "rolling rent control," which would slowly expand the number of regulated units by applying rent control to apartment buildings as soon as they turn 20 years old.
Still, any predictions that Proposition 10 would either save or devastate the housing market are overstated. If passed, the measure would allow local communities to debate and decide what renter protections to adopt, if any. That's important. Although the housing crisis is widespread, each city has its own challenges and needs the flexibility to adopt its own remedies.
Opponents argue that rent control has the perverse effect of discouraging the development of new housing, limiting supply and driving up rents. That's the risk, but not necessarily the result. Research has shown that moderate regulations that allow modest rent increases and let landlords raise a unit's rent to the current market rate when the tenant moves out do not stymie housing production. Proposition 10 also would codify what the U.S. Supreme Court has already decided: Landlords have a right to a "fair rate of return," which means they must be allowed to raise rents enough to make a profit each year.
Granted, if Proposition 10 passes, cities would have the freedom to adopt more stringent rent limits, including vacancy control and rent caps on new construction (though property owners would surely sue). But any measure that takes regulatory power from the state and gives it to local governments carries a similar risk that it would be used unwisely.
Enter the Fray: First takes on the news of the minute from L.A. Times Opinion »
The root of California's housing crisis is the lack of supply. The state needs to build 1.8 million more homes by 2025 just to keep pace with population growth; it would need 1.7 million new homes on top of that to satisfy pent-up demand and stabilize prices. To even get close to that number would require a building boom unlike any California has seen since the 1960s.
In the meantime, cities need to be able to respond to upheaval and suffering caused by rapidly rising rents. Just look at Los Angeles County. In the last few years, a record number of homeless people have been placed into housing, yet there hasn't been a meaningful decrease in people living on the street. Why? Because more people are becoming homeless, often for the first time, because of economic stress, such as rising rent, a lost job or an eviction.
Local governments are on the front lines of managing homelessness, displacement and gentrification. They need the ability to stop the bleeding. Proposition 10 would give them an additional option for helping those at risk of losing their homes. Proposition 10 isn't the solution to the state's affordable housing crisis, but it is a valuable tool to manage the consequences.
Follow the Opinion section on Twitter @latimesopinion and Facebook
---
Life is stressful. Our weekly mental wellness newsletter can help.
You may occasionally receive promotional content from the Los Angeles Times.