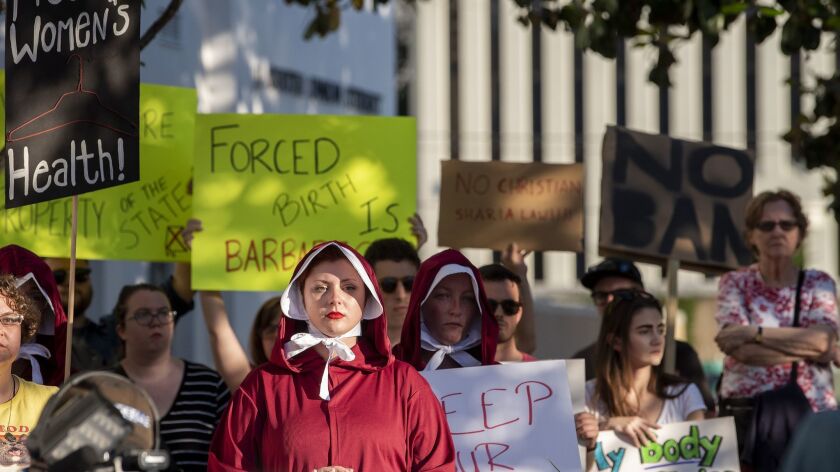 "You should write about what's going down in Alabama," my mom said Tuesday afternoon over the phone. She was incensed — and right, as she tends to be. Hours after we spoke, the state Senate passed a near-total ban on abortion, including criminal penalties and long prison terms for doctors who dare to perform them.
Here's one problem: I had written about what was going down in states with similar sociopolitical makeup, Louisiana and Mississippi, a year ago, for a site primarily read by young women. I shared the piece to my Facebook page with a desperate preamble, urging my friends to take seriously the state lawmakers' machinations to overturn Roe vs. Wade.
The piece was not, in the parlance of digital media, "a high performer." In normal people language, no one cared. I've written about the anti-abortion legislation being hammered through state legislatures many times before and since, but no one cared then either. One book I adore, by poet Filip Marinovich, is "Zero Readership." That title always makes me laugh. There are truer purposes for writing, anyway. To say what happened or is happening. To build the record.
And how could I truly expect people to care, when we were talking about one or two or several hundred wild bills stuffed among tens of thousands of wild bills, sitting in committees in states where they probably didn't live? There was so much other dystopian creep to flip out about. The government was mirthfully scraping protections off our rapidly heating planet, for instance.
The best time to get angry is earlier, when the local advocates and organizers who do the hard work of securing freedoms in red states could use the support.
Plus, people are broke; they have student loans and a patchwork of gig jobs and awful health insurance. People are busy; they have kids and aging parents and communities to care for. They can't be bothered; they might not have uteruses or imaginations that contain what it was or might have been like to be stranded at a terrible time. One of the features of social control is that the more pervasive it becomes, the more tempting it can feel to check the hell out of the political process, to go home and chill with a "Real Housewives" episode. Deep same, I very much get it.
Or maybe we told ourselves a story about how that didn't happen to us, but if it had we would have had the kid and finished the education and gotten the solid job and made a big piece of happiness for ourselves. That's just a story; you cannot solve this problem in the abstract. If you weren't 17 and scared, or 26 and with the wrong person, or 41 with teenagers at home already, you don't know. If you were and you did not have an abortion, then you made a choice, as you deserved to, as others deserve to make theirs. The right to not get an abortion is included in, not at odds with, a reproductive rights agenda.
Other reporters likely wrote all that better and maybe their pieces garnered more than zero readership, but the bills in those states eventually passed, and a lot of folks do seem surprised by that now. Unfortunately, the best time to get angry is earlier, when the local advocates and organizers who do the hard work of securing freedoms in red states day in and day out could use the support. Not when the governor is uncapping his or her pen.
Enter the Fray: First takes on the news of the minute »
Forcing women to endure unwanted pregnancies is framed as a religious thing. For some religious people, including some Christians, that is deeply felt. But many Republican politicians who affect Christianity while making life ever harder for the poor and downtrodden are focused on man, not God, though they would have you conflate the two. These men don't want women in the rooms of power, and if women have children at the wrong time for them, they're far less likely to get in those rooms. They don't finish school or take a job where people who work punishing hours advance faster and farther than those who don't. Some do, and those are the exceptions, not the rule. Most fall off the treadmill that leads you there. Those men stay in the room and pay for the legislation to be written or write the legislation that ensures those men will always stay in the room.
But here's the last problem, or more precisely, the last I can squeeze into this piece: Republicans aren't after the small fries. Alabama, with a population of 4.9 million, isn't the endgame, just as Louisiana (4.6 million), Mississippi (3 million), or even Georgia (10.5 million) weren't. They're after Roe. They want to get these cases kicked up to the Supreme Court. "If we put another two or perhaps three justices on, [Roe being overturned] will happen," President Trump said in his third televised debate with Hillary Clinton. "And that will happen automatically, in my opinion, because I am putting pro-life justices on the court."
It can't happen automatically, exactly; the justices aren't able to reconsider decisions unless relevant cases reach their desk, hence the absolute spate of anti-abortion state bills. When one gets to the Supreme Court — maybe it'll be Alabama's — that game's over. The public can't lobby judges.
So if you're going to try to protect Roe, try now, on the state and community level. It's already too late, but if there's anything we should have faith in, it's that we have not yet seen the bottom of what this party and its money are after. It will get darker.
Melissa Batchelor Warnke is a contributing writer to Opinion. Follow her on Twitter @velvetmelvis.
---