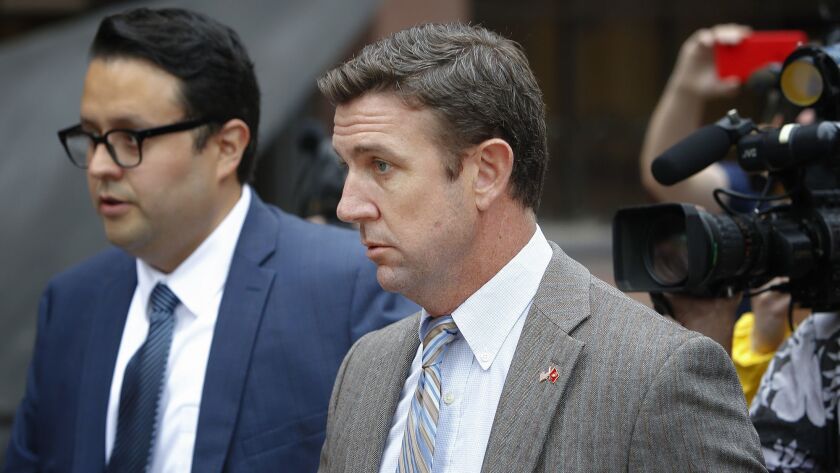 It almost seems like Rep. Duncan Hunter (R-Alpine) is trying to lose his seat in the U.S. House.
The Republican congressman from San Diego County is facing federal charges for allegedly using campaign donations as a family slush fund and trying to hide the misuse. His defense so far? His wife did it. Classy.
Though Hunter won reelection in November against Ammar Campa-Najjar — a progressive Democrat of Mexican and Palestinian heritage who was a political neophyte — in the strongly conservative 50th Congressional District, it was by only a slim margin. And even that took some despicable campaign mailers to accomplish.
And this weekend, he admitted to taking a photo with a dead enemy at some point while serving in the U.S. Marines in Afghanistan and Iraq between 2002 and 2012.
The admission came during a town hall in Ramona on Saturday along with his father, former Rep. Duncan L. Hunter (who probably now wishes he had named his son Joe or Harvey or something), when the congressman defended Edward Gallagher, a Navy SEAL accused of war crimes. Gallagher goes on trial next month on a number of charges, including allegedly texting a photograph of himself next to a dead ISIS fighter and bragging that he killed him with his hunting knife.
"Eddie did one bad thing that I'm guilty of, too — taking a picture of the body and saying something stupid," Hunter said, adding that everyone was doing it.
Eeesh, dude. It's bad enough to take the side of a man accused of war crimes, but then to implicate yourself in the process? Not helping yourself here.
For some context, the charges against Gallagher go far beyond creepy selfies. He is accused of murdering the young ISIS fighter he photographed as well as killing a young girl and an elderly man. President Trump is considering pardoning him and other members of the U.S. armed forces accused or convicted of war crimes. For obvious reasons, the Los Angeles Times editorial board thinks that's a terrible idea.
Even if Hunter's photo admission doesn't rise to the level of a war crime (the Geneva Convention requires that the bodies of those who died in war be respected, but there seems to be no rule against taking pictures of them), it certainly counts as a crime against decency — and yet another reason for voters to question Hunter's judgment as a lawmaker come election time.
---