Opinion: With Saudi arms deal, the president uses a Trumped-up emergency to sidestep Congress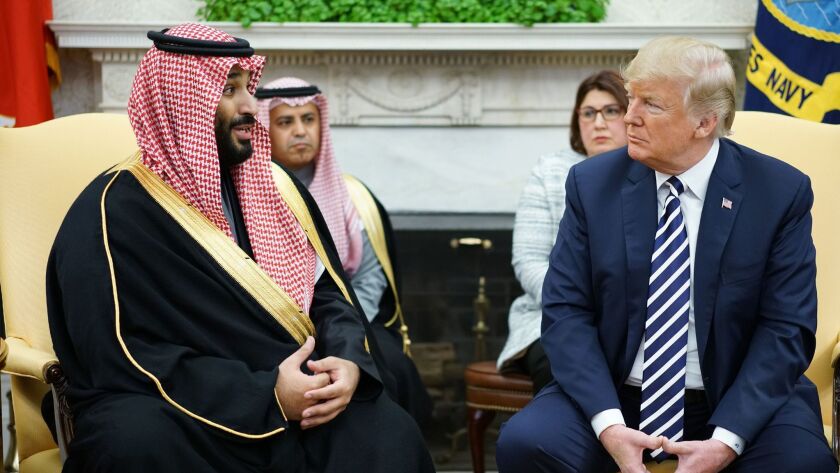 The Trump administration, apparently not happy with the carnage in Yemen and elsewhere in the Middle East, is sidestepping the wishes of Congress and pushing through $8 billion worth of arms sales to Saudi Arabia and the United Arab Emirates (some of which are eventually destined for Jordan).
How is Trump managing that? Through another imaginary emergency.
Secretary of State Mike Pompeo notified Congress on Friday that President Trump, citing "Iranian malign activity" and threatened increased actions by Houthi combatants in Yemen, would invoke an emergency provision of the Arms Export Control Act to complete sales that Congress had not approved.
Except there doesn't seem to be an emergency — just the president's inability (once again) to get what he wants from Congress. So he forges ahead on a pretext and dares someone to stop him.
Except there isn't an emergency.
It's a page from the same playbook he used to shift Pentagon money — that Congress had approved for defense purposes — to augment wall construction and other security measures along the southwest border that Congress refused to approve.
There are two things going on here.
In the past, when lawmakers assumed the White House would be occupied by someone with the nation's best interests in mind, Congress gave the president various authorities to move quickly when circumstances demand it. It even limited its own ability to check that power, a decision that now seems foolish. Under the National Emergencies Act, Congress can overrule a presidential declaration, but the president can veto any such decision. Which means it would take two-thirds of both houses to end a national emergency declaration.
Enter the Fray: First takes on the news of the minute »
Not quite carte blanche for the president, but awfully close. And naturally, it would take a veto-proof majority of both houses to change that law and seize power back from the president.
Beyond yet again blowing up notions of how Washington is supposed to work, and getting to put on his little emperor's hat once more, the president's decision to send more weapons to Saudi Arabia is bad policy because it further cements global perceptions of the U.S. as a blindly loyal supporter of Saudi Arabia, despite its atrocious killing of civilians in Yemen, its domestic political repression, and the unconscionable disappearances of dissidents abroad, including the murder and dismemberment in Istanbul of Washington Post columnist Jamal Khashoggi, a critic of the royal family.
---
A cure for the common opinion
Get thought-provoking perspectives with our weekly newsletter.
You may occasionally receive promotional content from the Los Angeles Times.