Patt Morrison Asks: Doris Day
Who says nice girls finish last? America's favorite girl next door parlayed her wholesome image into being the biggest box-office star for four years in the 1960s and picked up a
Golden Globe
, a lifetime achievement Grammy, the Presidential Medal of Freedom and the film academy's honorary Cecil B. DeMille Award. She's also saved the lives of countless animals through her activism and charity.
Here's a look back at Day's decades-long career in and out of Hollywood.
(Unknown Photographer)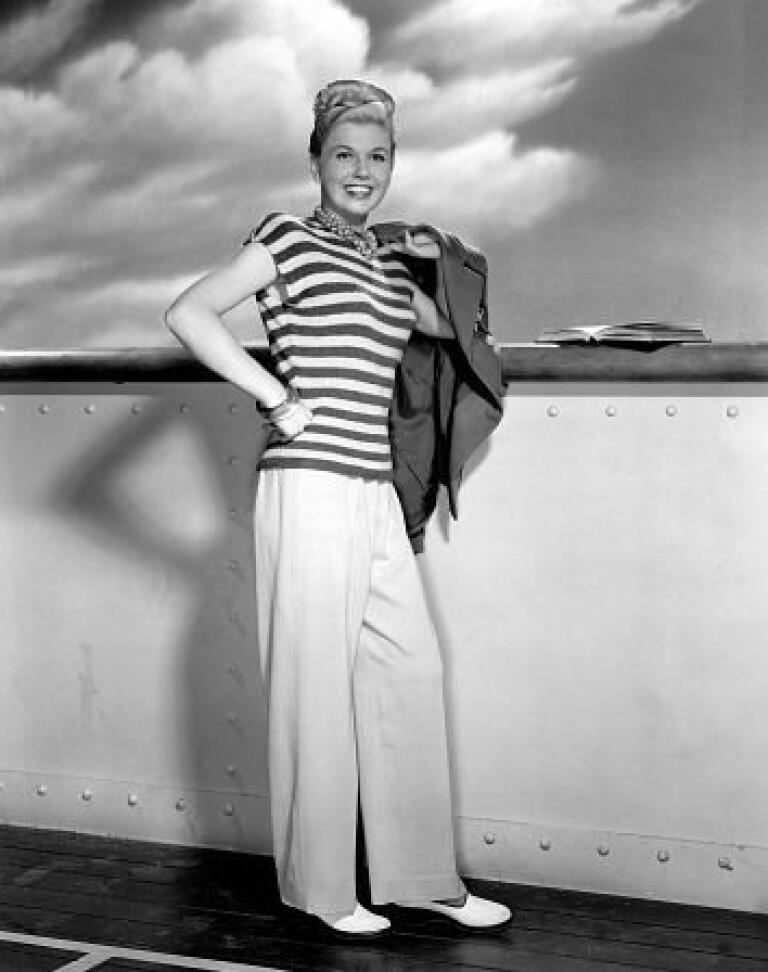 Day launched her career with "Romance on the High Seas." The musical comedy follows a wife (Janis Paige) who suspects her husband of cheating. She hires a travel agency employee (Day) to take her place on a cruise while she stays home to spy on her husband. Meanwhile, he sends a private detective to keep tabs on his wife. In time, Day's character Georgia Garrett and the detective (Jack Carson) fall in love.
The success of "Romance" led to many more projects for the budding star, who spent the early 1950s making films like "My Dream Is Yours," "It's a Great Story," "Tea for Two" and "The
West Point
Story."
(Warner Bros.)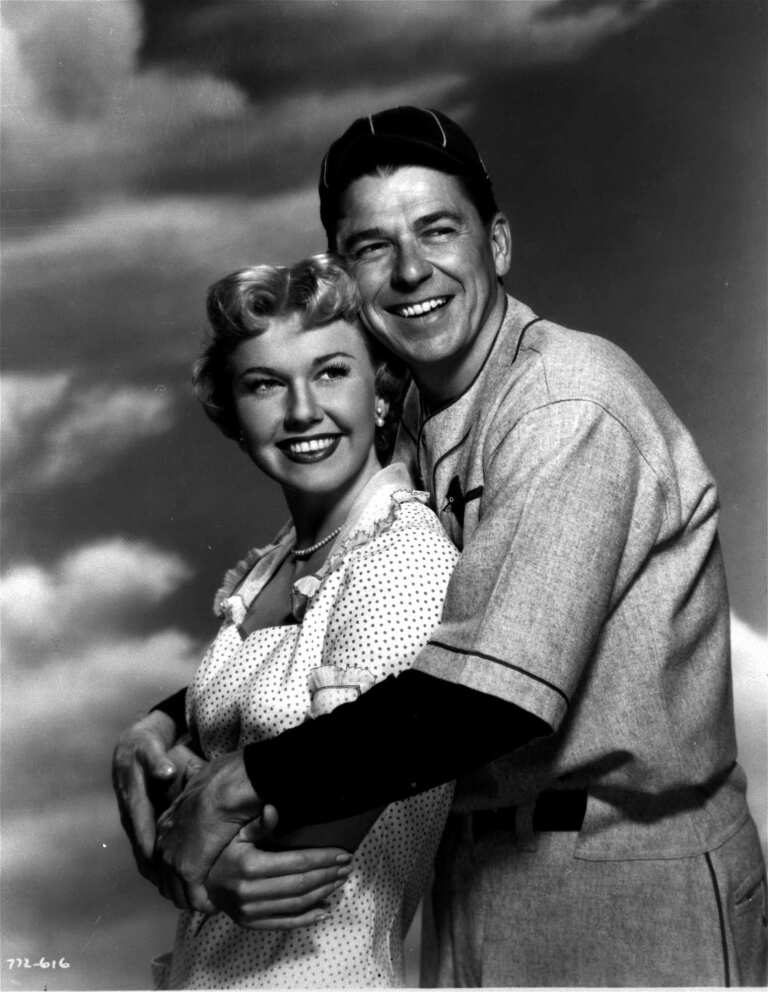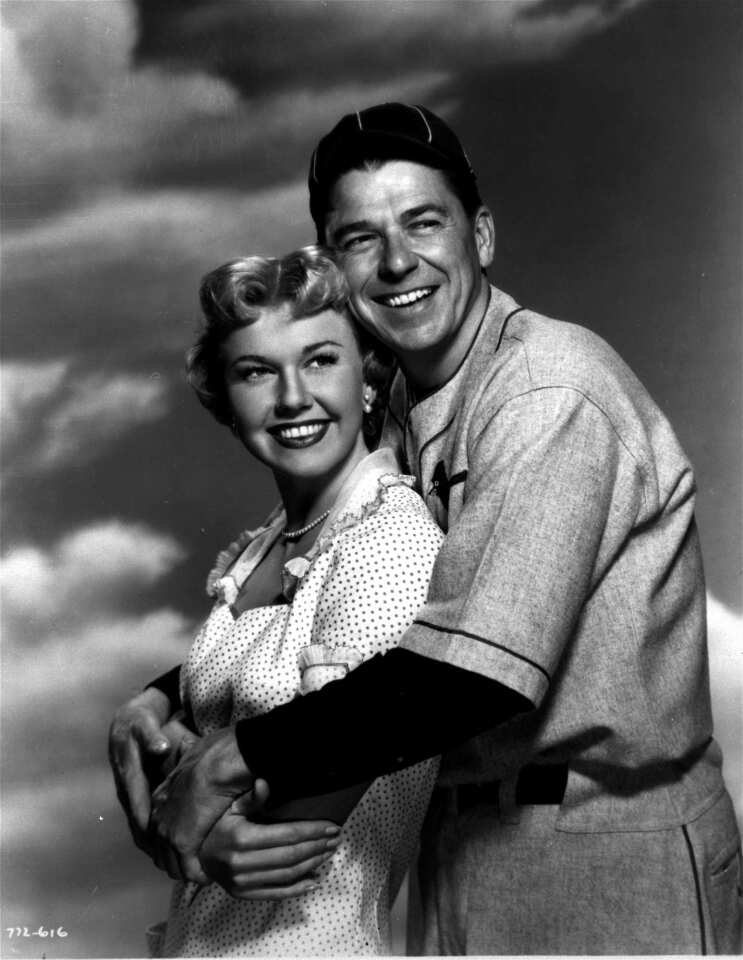 A comeback story, this Lewis Seiler-directed film was pitched as a biopic of famed major league pitcher Grover Cleveland Alexander, although baseball purists have long disowned the film as one that's heavily fictionalized. Alexander was plagued with
epileptic seizures
, and the film never mentions the word "epilepsy," for instance. Yet film historians have praised
Ronald Reagan
's performance as the storied pitcher, as well as
Doris Day
's take as the always uplifting, ever-loving wife Aimee.
(Associated Press)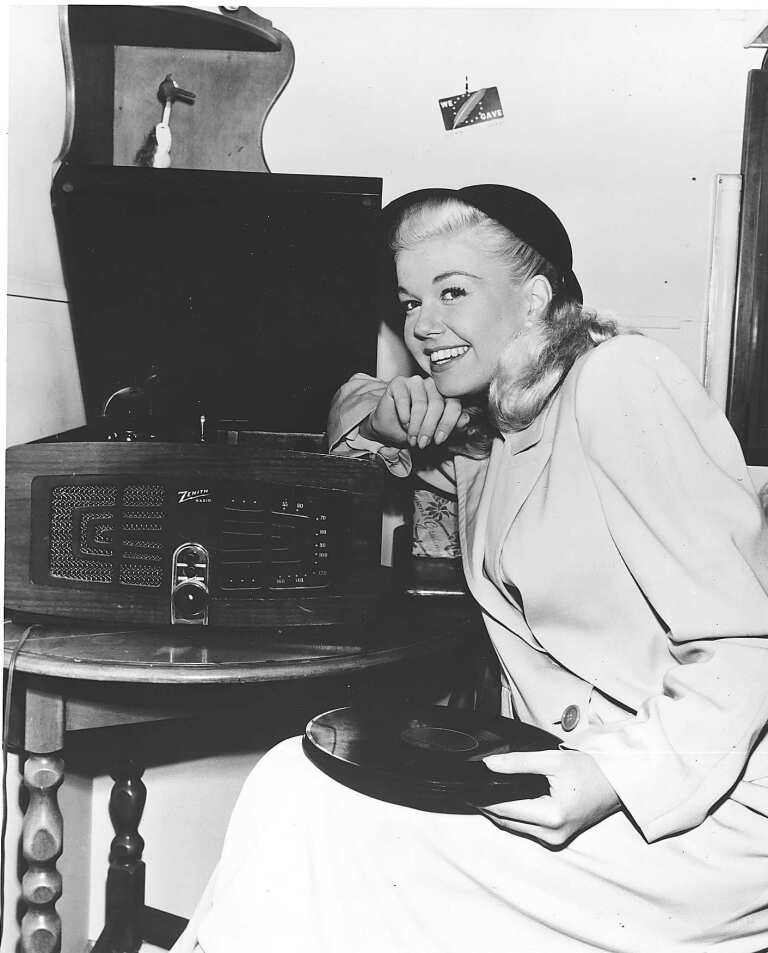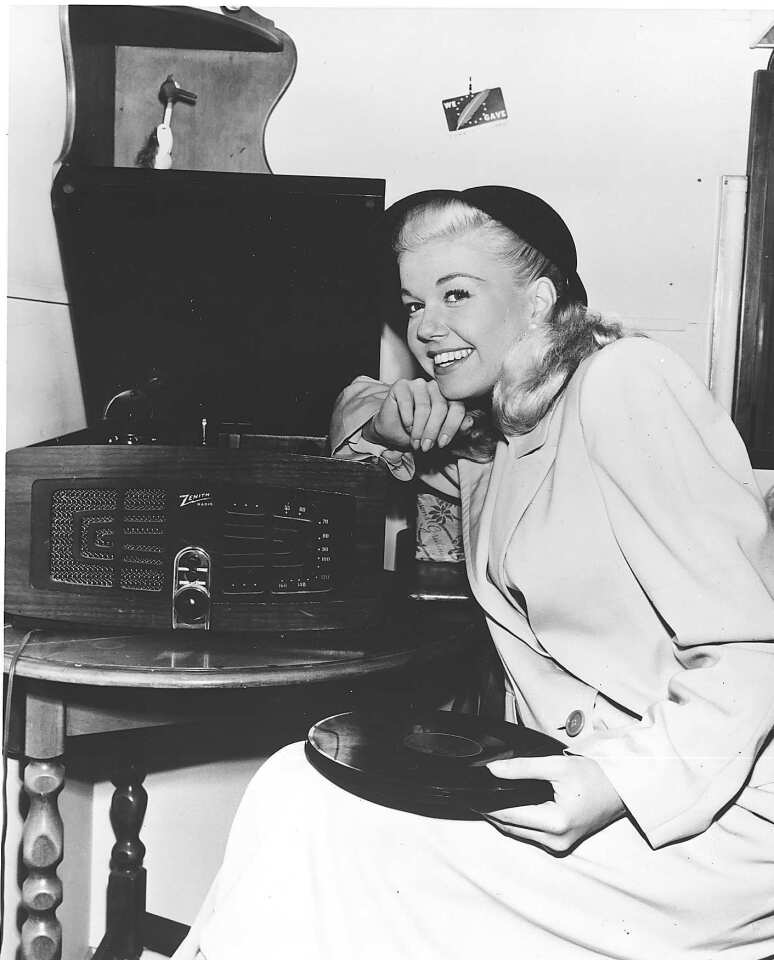 For a decade starting in 1948, Day had 30 top 20 singles, including "Love Somebody" and "A Guy Is a Guy," both of which went to No. 1. Her signature song "Que Sera, Sera (Whatever Will Be, Will Be)" came out in 1956 and her career extended to 2011's album "My Heart." (More about those two later.)
(Warner Bros.)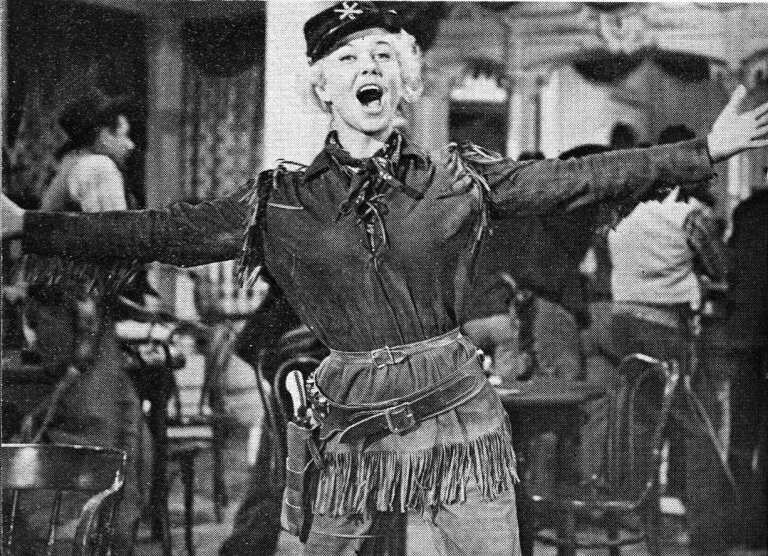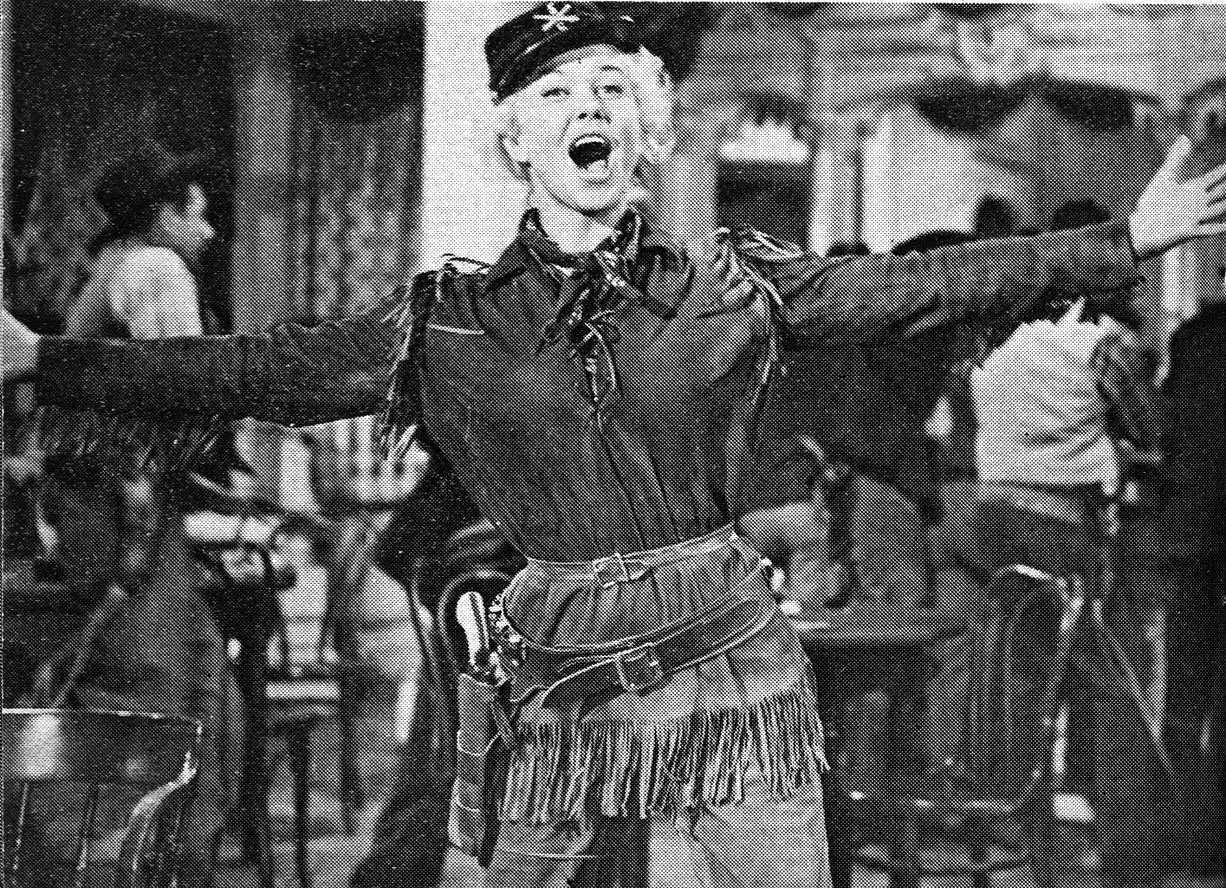 "There never was a glibber fibber or a cuter shooter than Calamity Jane" is a line in the intro to this musically comedic western starring
Doris Day
. The film also starred Howard Keel as Wild Bill Hickok, and it grossed about $128 million (when adjusted for 2011 inflation).
(UCLA Film and Television Archive)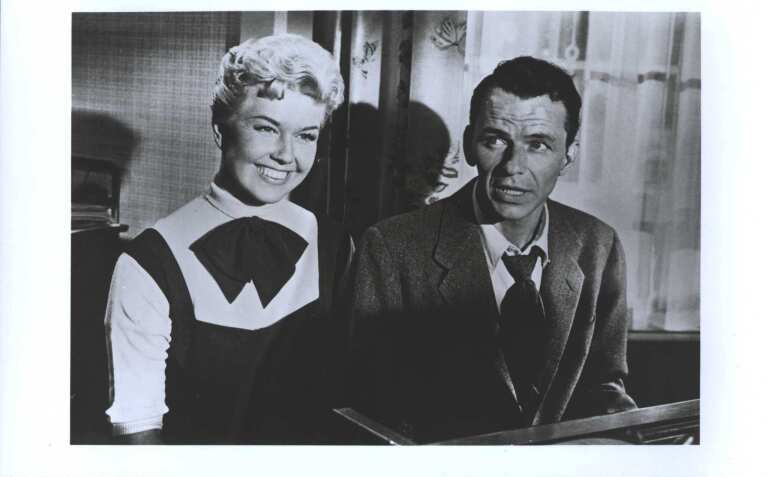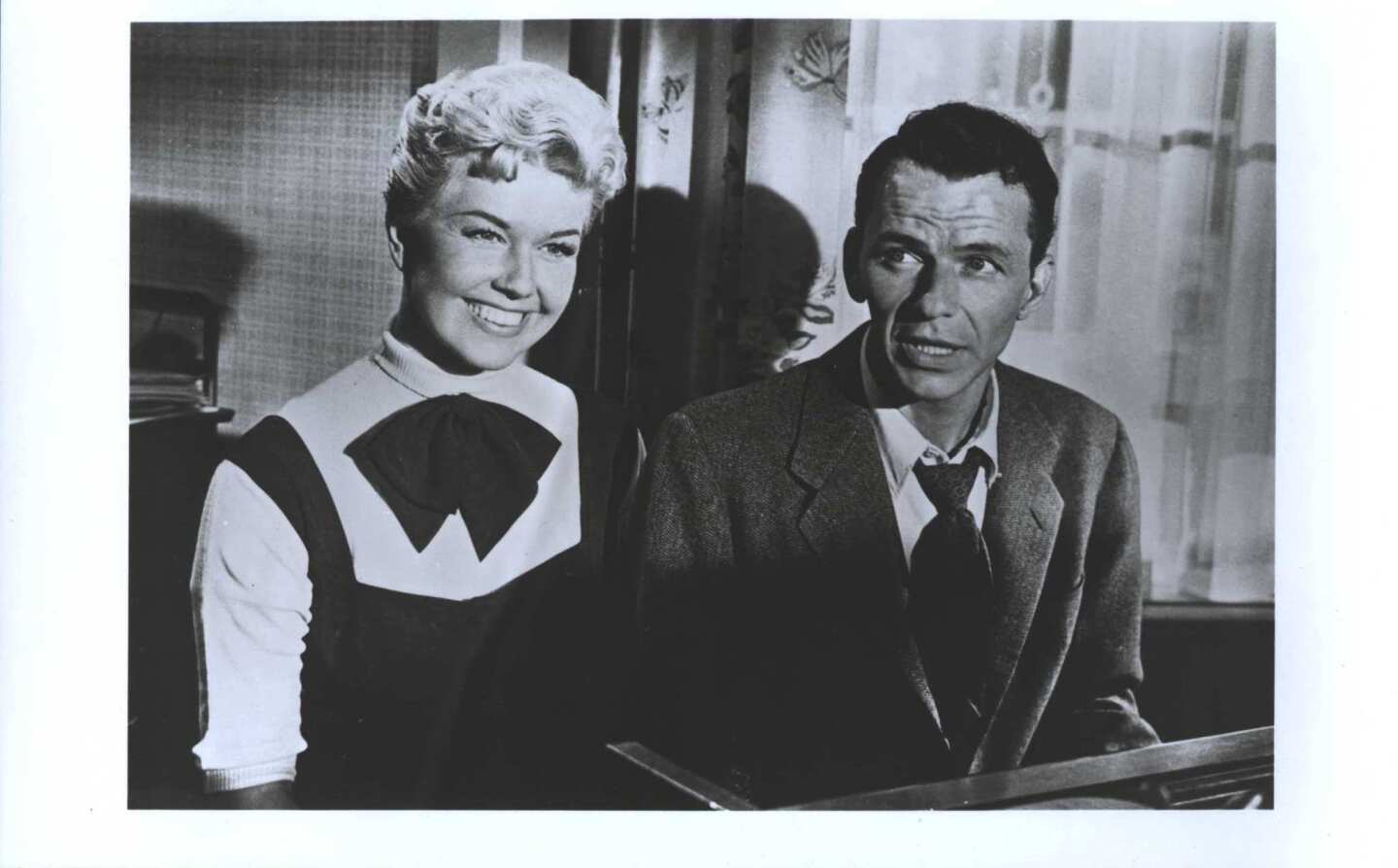 Frank Sinatra
's brooding character seems an unlikely match for Day's bubbly (and engaged) Laurie Tuttle. But as the adage goes, opposites attract. When tragedy strikes, Old Blue Eyes finds refuge and a new-found confidence in Day's velvet voice and loving embrace.
(File photo)
Day's singing talents came in handy in 1955 when she landed the role of jazz singer Ruth Etting in the 1920s biopic "Love Me or Leave Me."
James Cagney
starred opposite Day as Etting's first husband, gangster Martin "Moe the Gimp" Snyder.
(File photo)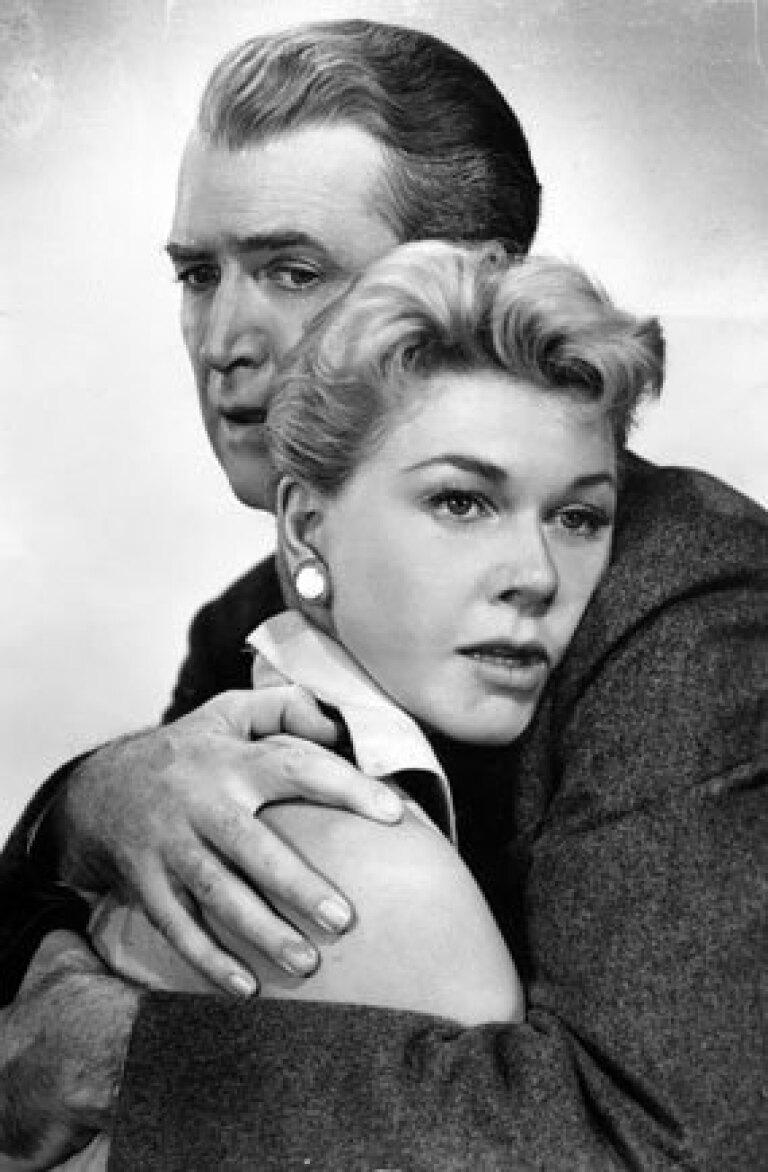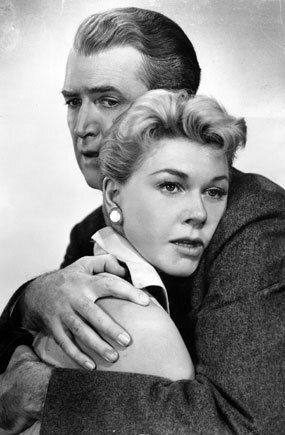 In 1956, Day starred with
James Stewart
in
Alfred Hitchcock
's "The Man Who Knew Too Much." Her signature song, "Que Sera, Sera," emerged from the film about a family caught up in an assassination plot while vacationing in Morocco.
(File photo)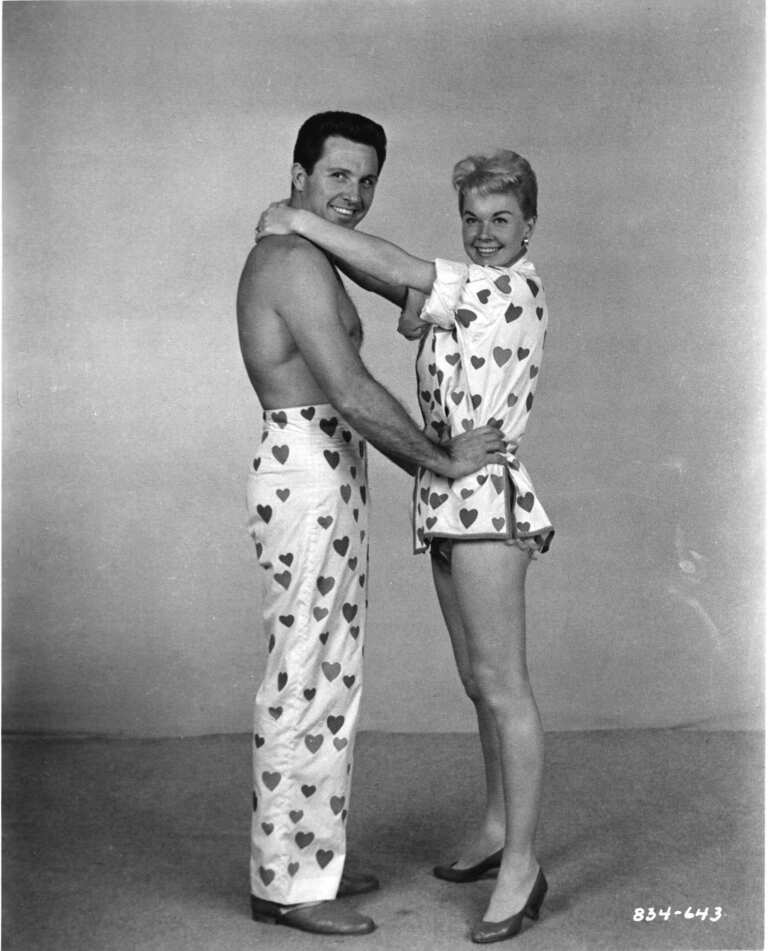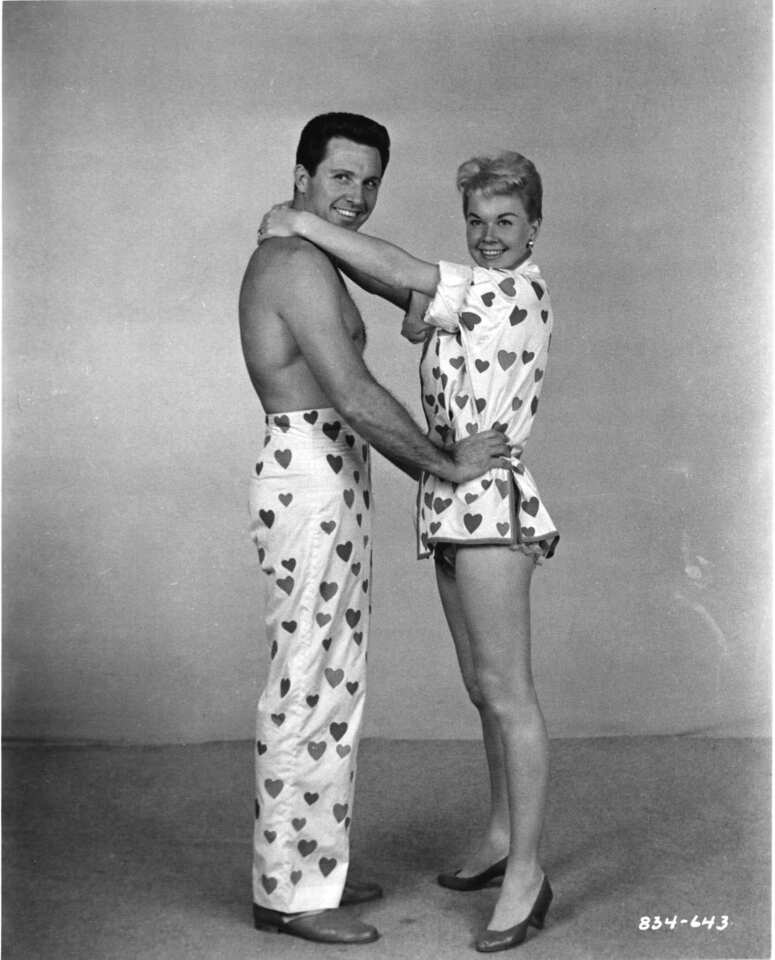 Doris Day
played Babe Williams, head of the grievance committee at the Sleep Tite Pajama Factory, in the film that was adapted from a hit Broadway musical. Babe fought for her fellow employees to get a raise, but sparks (of love) fly when she and shop superintendent Sid Sorokin (co-star John Raitt) get closer. The legendary
Bob Fosse
staged the numbers, and Day created some memorable scenes as Raitt's character courted hers.
(UCLA Film and Television Archive)
Clark Gable
may want to be the pet of his teacher, played by Day, in this classic '50s flick, but he'll have to jump through a few hoops first. There are homework assignments, dance lessons, and as the song goes: lots of dating and parading.
(LACMA)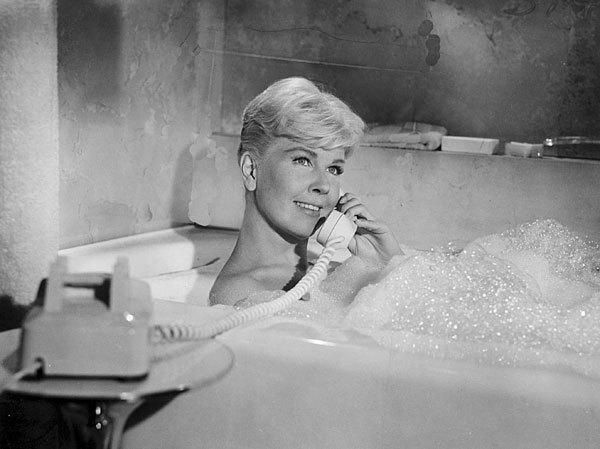 The film, which yielded Day her only Academy Award nomination, probably produced one of the most iconic photos of Day used today. In the film, which was considered racy in 1959, Day is seduced by a man (
Rock Hudson
) whom she already knows through phone conversations but has never met. Concealing his identity, he tries to have a little fun, but ultimately falls for her.
(Associated Press)
Day and
Rock Hudson
found more success with romantic comedies such as "Lover Come Back," about a pair of competing ad executives.
(File photo)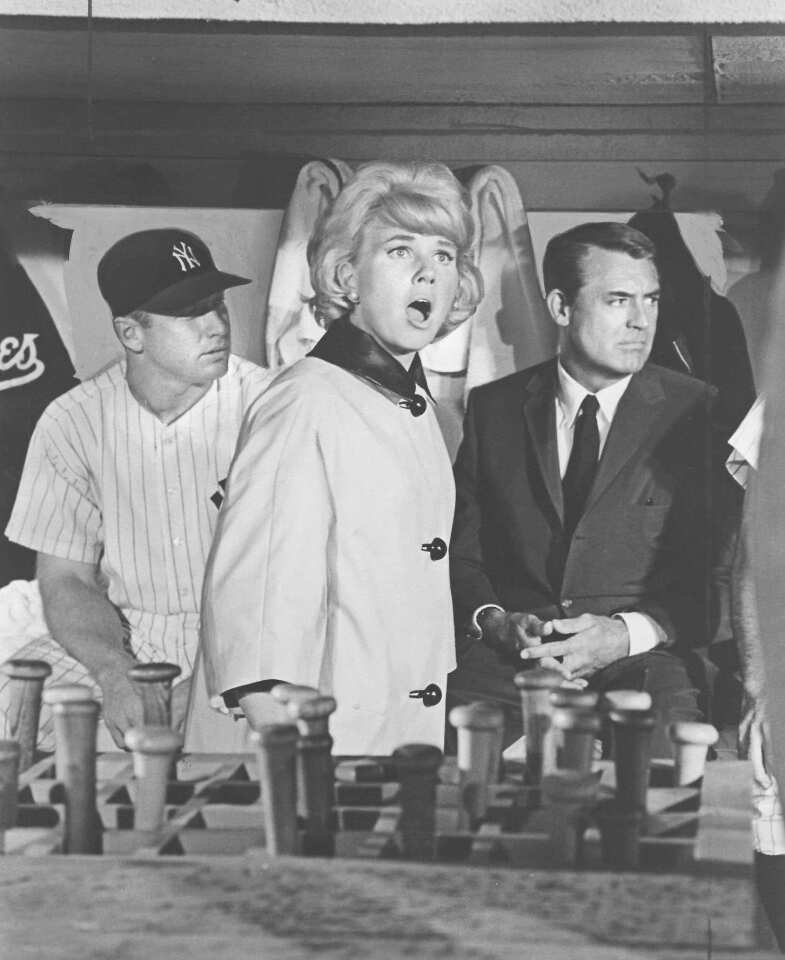 The
Golden Globe
-winning film co-starred Day as Cathy Timberlake, a goodhearted country girl who meets the man of her dreams, Philip Shayne (
Cary Grant
), after his Rolls Royce splashes her with mud on her way to a job interview. He's rich, even cavorting with the likes of
Mickey Mantle
(in photo), and he wants to have a little fun. But she's not into "fun" and wants a deeper relationship before getting into "that." Something's got to give.
()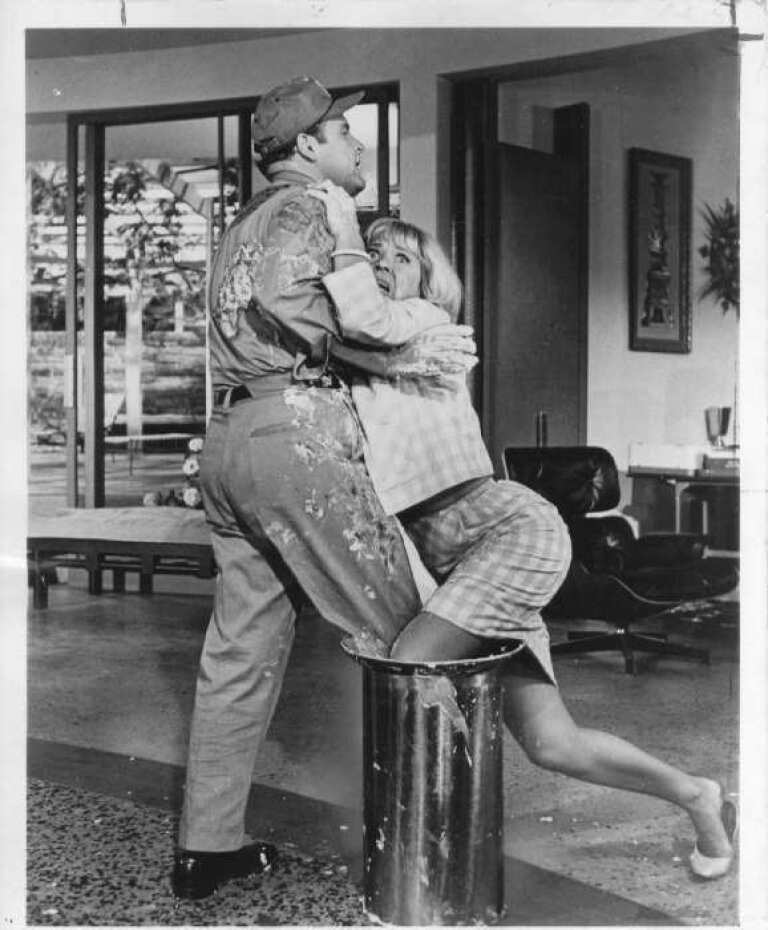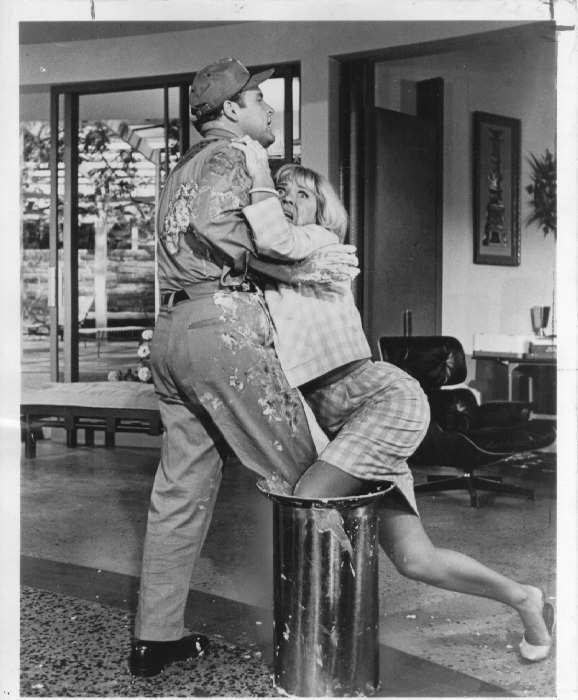 The comedy, directed by Frank Tashlin, sees
Doris Day
as Jennifer Nelson, the widowed daughter of a glass-bottom boat operator who sometimes pretends to be a mermaid to entertain guests. When not swimming around as a mermaid, however, Nelson works for
NASA
. She gets caught (literally, by a fishing hook) by Rod Taylor's Bruce Templeton.
This is when hijinks ensue. Turns out Templeton is her boss, and he has designs on her. Others, however, think she's a spy. There's also an artifical gravity machine.
(File photo)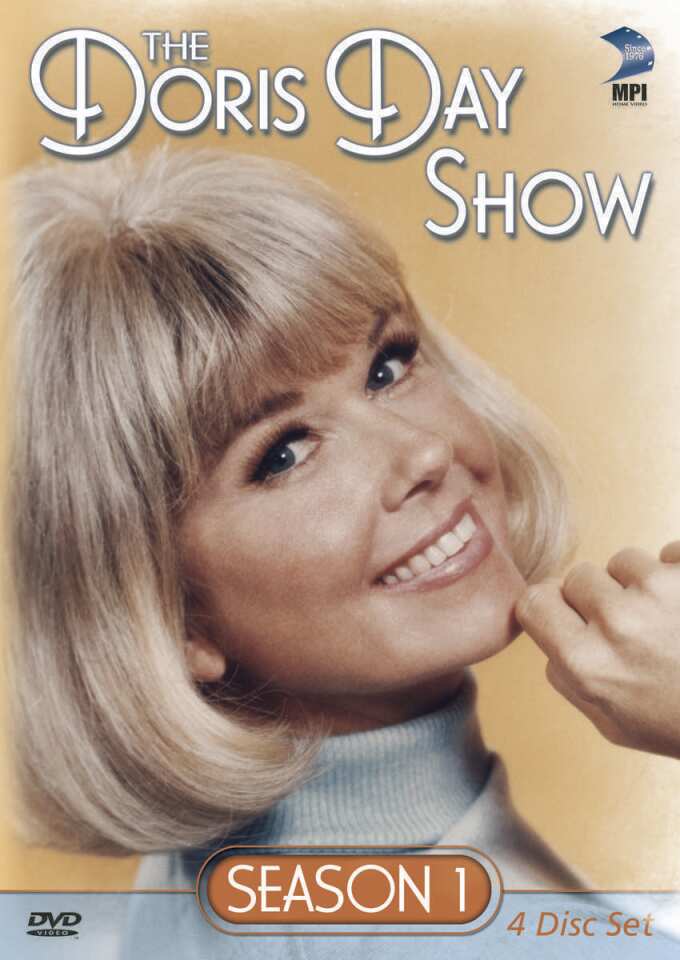 The sitcom was remarkably popular, even though it changed much over its run. Each season seemed different, going from a family theme to a single-working-woman theme, and changing major actors throughout.
Doris Day
remained central to the show, mostly as Doris Martin, even with the changing situations. Though
CBS
was set to renew the show after its fifth season, Day chose not to continue, in effect canceling it.
(MPI Home Video)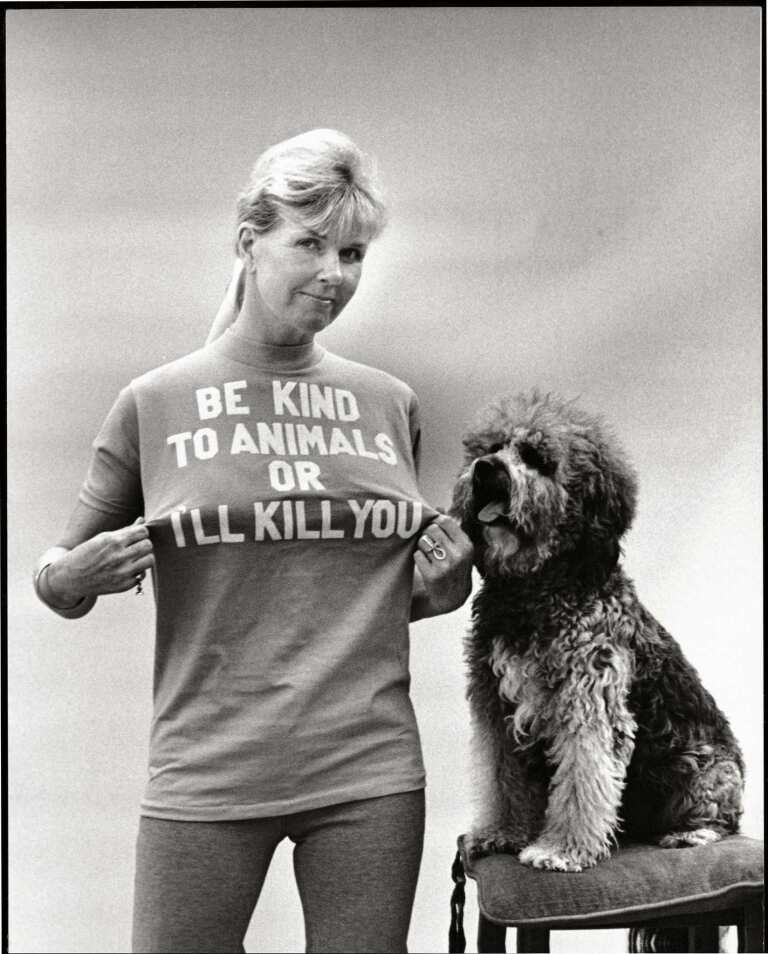 Animal activist Day showed her colors in the book "The Bad & the Beautiful." In 1971, she helped found Actors and Others for Animals, which rescues strays and mistreated animals.
(Ellen Graham / Harry N. Abrams / Stewart, Tabori)
Add it all up, and Doris Day's singular singing voice has spent more than 11 years on the Billboard charts. Her three dozen-plus films made millions of fans and dollars. And now, after nearly two decades of living below the radar in Carmel, Doris Day is back on the charts. "My Heart" is a baker's dozen of songs from the vaults, many produced by her late son, Terry Melcher, who worked with the Byrds and who co-wrote and sang "Happy Endings" on the CD, and sang a second song on it with his mother. The proceeds from "My Heart" go to the Doris Day Animal Foundation, which supports her work protecting animals (that's a rescue dog in the 1993 photo). For that, she's broken a long silence, with a little catch in her voice when she speaks of her departed loved ones -- and, now and again, with that unmistakable throaty Doris Day laugh.
You've been on the charts so often, and here you are again. Take that, Lady Gaga!
[She chuckles.] Lady Gaga!
It's a surprise to me, I can tell you that, but it's thrilling. I'm hearing from people all over the world. And I'm so happy that my son was able to do something with me.
What is it like hearing your two voices together?
I was sort of used to that. When we talked about songs, he would always play the piano. We would sing together, and I loved his singing.
He wasn't a person who pushed himself. I used to say to him, "You should be singing and really using your talents." He was just shy about it. He's so good.
I miss him terribly, and when we put out the recording, it was difficult for me to hear.
There are two animal-related songs on the CD. One of them, "Stewball," is an old folk song about a racehorse. And didn't you have one of your dogs, Biggest, in mind when you recorded "You Are So Beautiful"?
I did. He was something else -- such a darling, precious doggie.
I knew Cleveland Amory, the writer and animal activist, and so did you. He used to talk about you and your critters.
I have some horses on his property in Texas right now. [The Doris Day Horse Rescue and Adoption Center, for abused and neglected horses, is on the grounds of the Black Beauty Ranch that Amory founded.]
Do you remember when you first had dogs?
When I was able to make a film! When I was [singing] on the bandstand, traveling all the time, I couldn't. So the minute I started my first film, I had a dog. Then I had another one. Oh, I had so many.
If I'd find a dog, I'd try to find the owner, of course, but it was mine! I just can't live without them, I love them so much. I have cats too. People call me all the time and say, "We know of a couple of cats people don't care for," and I say, "Bring them!" That's it -- two words. I'm always open for that.
During the making of "The Man Who Knew Too Much," in Morocco, you told Alfred Hitchcock to treat the animals in the film better. And he did.
He did. On the film, all the animals, the way they were treated -- it was not nice. Everybody got told, and everything changed. We turned the whole thing around.
Your work has changed animals' lives. How have animals changed your life?
I couldn't be without them. I couldn't. It's hard to explain. They are so true, and I love that.
You know, it's just a few weeks [ago] that I lost three [dogs] in a week. It's so hard; they should live forever. It's terrible their lifeline is so short. They're so precious. They just go so soon. I have a feeling that you love them the way I do.
I do. I am very sorry to hear about your dogs. I keep all my dogs' ashes, and when it's my turn, we'll all be mixed in together.
That's very sweet. I have [mine] all buried right in [an] area all fenced off for them.
You're from Cincinnati, and on this CD is the song "Ohio" -- "Why oh why oh why oh did I ever leave Ohio?" Then you lived for years in Beverly Hills, and now Carmel. Why oh why oh why oh did you ever leave Beverly Hills?
I loved it there. It was so comfortable and the days were lovely, but then it started changing so much. I wanted to be in a small town.
When Terry and I started walking around, up and down the streets [in Carmel], we didn't see any dogs. I looked at him and said, "You know, this is not a dog town."
And that's when I decided to get involved with the hotel [the Cypress Inn in Carmel, where pets are now allowed]. We found out that the gentleman who owned it decided he would like to have a partner, and that's how I brought all the dogs in.
Do you miss anything about performing?
I really enjoyed films. And I was kind of homesick to think about doing some films. [But] I just got so involved with animals that I didn't. I loved it here, and my son was here, and I could have all the doggies I wanted, and cats, so it's better to be here than in L.A., I think.
You're associated with a lot of classic songs.
There were times when I wasn't too thrilled about the songs, but we had to do them because Columbia [Records] said, "You have to." But I was definite about doing the best that I could, and hav[ing] fun with it.
Would you name one you didn't like?
I lost those titles! I don't know where they went!
Do you sing to yourself?
Oh any time, and anywhere.
What do you sing?
Anything that I know. I knew just about every song there was, but I don't now.
"Life Is Just a Bowl of Cherries'' -- also on the CD -- is one you've been singing for more than 70 years.
When I was a teeny little girl, I was in dancing school, and I sang. We had to put a dance to a song, so I went to the 10-cent store one day and looked at all the sheet music.
It was all laid out, and I picked "Life Is Just a Bowl of Cherries." I asked the lady [working in the store] if she could play that for me; this little elderly lady played "da, da, da, da, da, doo, doo.''
It was fast and I thought, "This is going to be nice for me to dance to." Everybody liked it, and it was done in a very fast tempo.
And then [years later] I put it the way it was supposed to be, soft and lovely. It was my favorite. It took me back to when I sang it as a little girl.
Your movies are still popular. Do you miss acting?
It was just a wonderful part of my life. I couldn't wait to get to work. Sometimes I think I should have stayed longer and I should have done more films. [But] I just got so involved with animals that I didn't.
You'd always be welcomed back.
As a grandma? [Day has one grandson.]
I certainly think so.
I could play grandmas.
I'm not an old lady, and yet I'm up there in years, but I don't feel like that at all.
Do you ever watch your movies?
I've been looking at my old films recently, now that you mention it.
Are you watching like a fan or an actress?
I watch them like I'm there. I never did that when I was making films -- I never saw them. I'm having a lot of fun seeing them now. I [analyze myself] and think, "Um hm, what am I going to do with this?'' I laugh when I'm laughing in the scene. I laugh sitting in my chair watching.
If you could wave a wand, what would you wish the world to do for animals?
I would like for people to know they're part of the family -- and [for animals to have] the best life they could ever have.
This interview was edited and excerpted from a longer taped transcript. Interview archive: latimes.com/pattasks.
---
A cure for the common opinion
Get thought-provoking perspectives with our weekly newsletter.
You may occasionally receive promotional content from the Los Angeles Times.