Newsletter: Why three Californias isn't better than one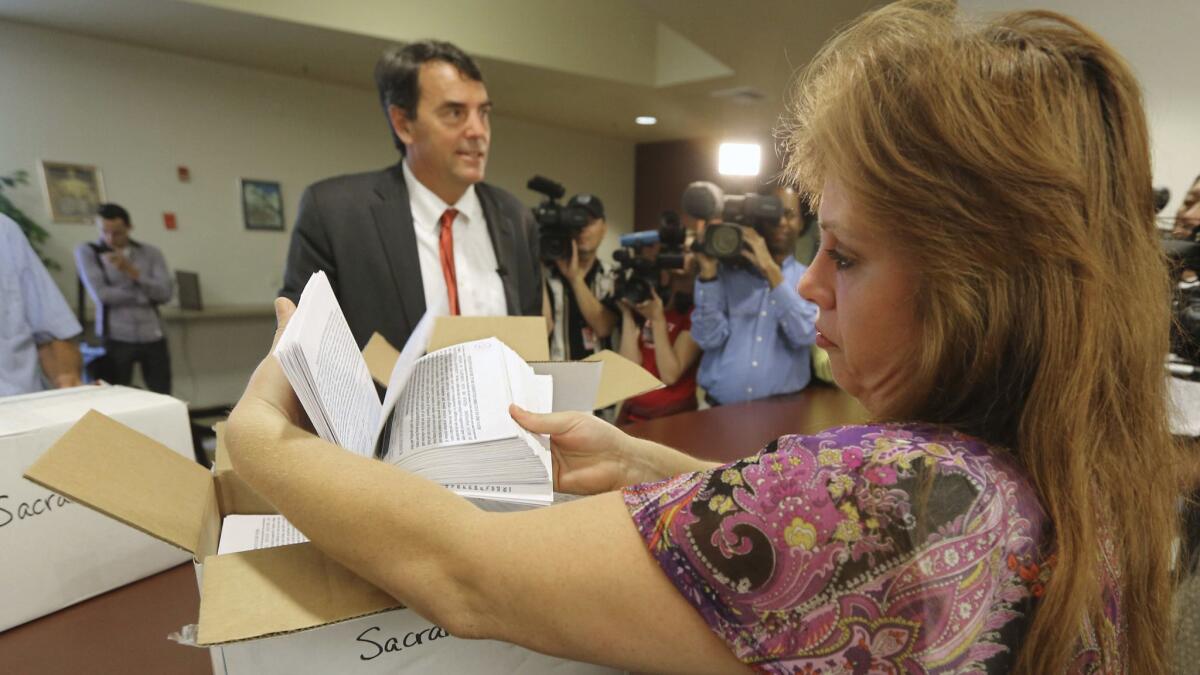 Good morning. I'm Paul Thornton, and it is Saturday, June 16, 2018. Tomorrow, more collect calls will be made than on any other day of the year. Let's take a look back at the week in Opinion.
We've heard it ever since New York's ego took a bruising in 1970 when California took over as the most populous state: The Golden State is too big — population- and geography-wise — and too unwieldy to be governed by a single government and should split into smaller, more amenable political bodies. At times, when the state has been afflicted by drought or deep budget deficits, or turned to Arnold Schwarzenegger to solve its problems, it seemed there might be something to what the California skeptics were saying. But never has the prospect of dissolution been a serious one or at least a credible alternative to solving whatever crisis we faced.
But California voters will soon be asked to decide whether their single if untidy state should remain as one or be balkanized into three smaller bodies, whose borders and populations will be determined based on who knows what — all because a single Silicon Valley billionaire wills it thus. The Times Editorial Board wonders if the initiative's backer has really thought this through:
The DACA "compromise" is an anti-immigrant farce. GOP supporters pitch it as their offer for protecting "Dreamers," but in reality it would deport more of them over a longer period of time and reduce overall immigration to levels not seen since well before World War I. Adding insult to injury, many would-be immigrants who have already filed paperwork would have their applications canceled immediately and their fees confiscated. So much for rewarding those who play by the rules. L.A. Times
Hey, resisters, don't get too excited about Paul Manafort going to jail. Scott Martelle writes that although the fall of the former Trump campaign chairman has been a long, hard one, Manafort's alleged crimes took place before he worked for the future president. Separately, editorial page editor Nick Goldberg reminds us that the person Manafort's being asked to throw under the bus has the absolute power to pardon him.
How did Trump change his mind on pot? Republican Sen. Cory Gardner wasn't in favor of legalizing marijuana in Colorado when the voters in his state elected to do so in 2012, but since then he hasn't been shy about defending his constituents' wishes. When Atty. Gen. Jeff Sessions announced that the Justice Department would come down hard on states that legalized marijuana, Gardner gummed up the Senate's works by putting a hold on all department nominations. This, evidently, brought Trump around to Gardner's view, a battle that op-ed article writer Matt Welch says may be instructive to other Republicans. L.A. Times
A guaranteed $500 a month is nice, but it's not enough — and not just because it's not that much money, writes Gustavo Arellano. In the formerly bankrupt Central California city of Stockton, the mayor proposes to provide that amount to 100 people in a pilot program meant to offset the damage caused by blue-collar jobs being replaced by automation. Arellano appreciates Stockton's willingness to try something new, but he calls the idea of a universal basic income "a commie pipe dream combined with a libertarian belief that cash can solve anything." L.A. Times
Have "the talk" with your college-bound kids — about anxiety and depression. Nearly half of all students suffer from depression, and yet what most people hear before they head off for college is that it's "the best four years of your life," leaving many kids expecting all the highs but none of the lows that await them. L.A. Times
Reach me: paul.thornton@latimes.com
A cure for the common opinion
Get thought-provoking perspectives with our weekly newsletter.
You may occasionally receive promotional content from the Los Angeles Times.