Letters to the Editor: Gloria Molina is a trailblazer. She was also just very good at her job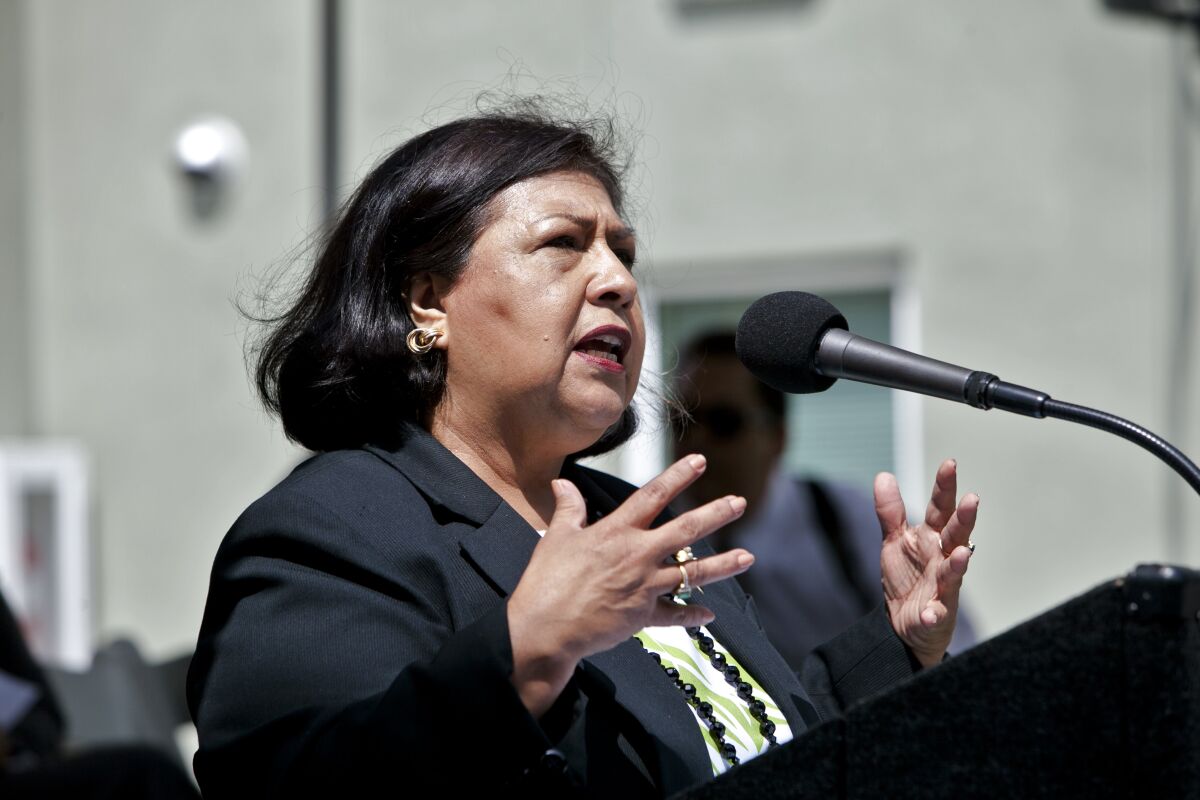 To the editor: I had been the chief executive of L.A. Care Health Plan for about 10 years when then-L.A. County Supervisor Gloria Molina was appointed to our board to represent the county. "You're in for it now," I heard from all corners, as she had a reputation for tearing into people with criticism. ("Gloria Molina, you were always a chingona. L.A. will miss you," column, March 14)
My experience was just the opposite. The supervisor challenged us with great and relevant questions in an attempt to make sure that L.A. residents, particularly her constituents, were receiving quality care. If she thought anyone was being less than candid or was hiding something, she did go after them with a vengeance, but all in pursuit of protecting Angelenos.
Molina is more than a trailblazer — she has always had a great nose for the truth. She will be missed.
Howard Kahn, Altadena
..
To the editor: Missing in Gustavo Arrellano's column on Molina's legacy is how she shaped California politics statewide.
As political pundits capitulate to the San Francisco Bay Area as the power center of California politics, Molina's role cannot be understated. She was the first Latina elected to the state Legislature, and three years later she became the sole Latina co-founder of the California Legislative Women's Caucus.
Elevating Molina's impact in the world's fourth-largest economy is easy. Today, Latinas represent almost half of the Women's Caucus members. Latina legislators represent 60% of the Latino Legislative Caucus' members and have held the chair position since 2018.
My only question is what today's Democratic Party would look like if we had sent Molina to the U.S. Senate in 1992. There would be a hell of a lot more chingonas!
Sonja Diaz, Los Angeles
The writer is founding executive director of the UCLA Latino Policy and Politics Institute.
..
To the editor: I am heartbroken by Molina's terminal cancer diagnosis. A brilliant and courageous fighter, she opened the door for all Latinas.
Molina first ran for state Assembly when Latino and Sacramento politics was dominated by machismo. It was not easy at that time for a Latina to promote herself. Molina paved the way and promoted other women, as she became the first Latina in the Assembly, on the L.A. City Council and on the L.A. County Board of Supervisors.
Molina never let us down or embarrassed us. She knew what her role as being the first at something meant. She fought for her community and helped other women and Latinas run for office.
As a county supervisor, Molina understood the role she played in the lives of more than 100,000 residents of unincorporated East Los Angeles. She always was there for us.
Thank you, Gloria.
Clara Solis, Los Angeles
..
To the editor: Many years ago when Molina was my City Council member, I contacted her about a traffic change on our street that was causing some problems. A week later, I got a hand-signed letter from her: "Mr. Smith, you are absolutely right. I will have this taken care of. Thanks for letting me know."
One week later, the problem was fixed.
There will never be another like Molina. I hope she knows how much respect and admiration her constituents have for her.
David Smith, Los Angeles