Op-Ed: The ignoble history of the 3-drug death penalty cocktail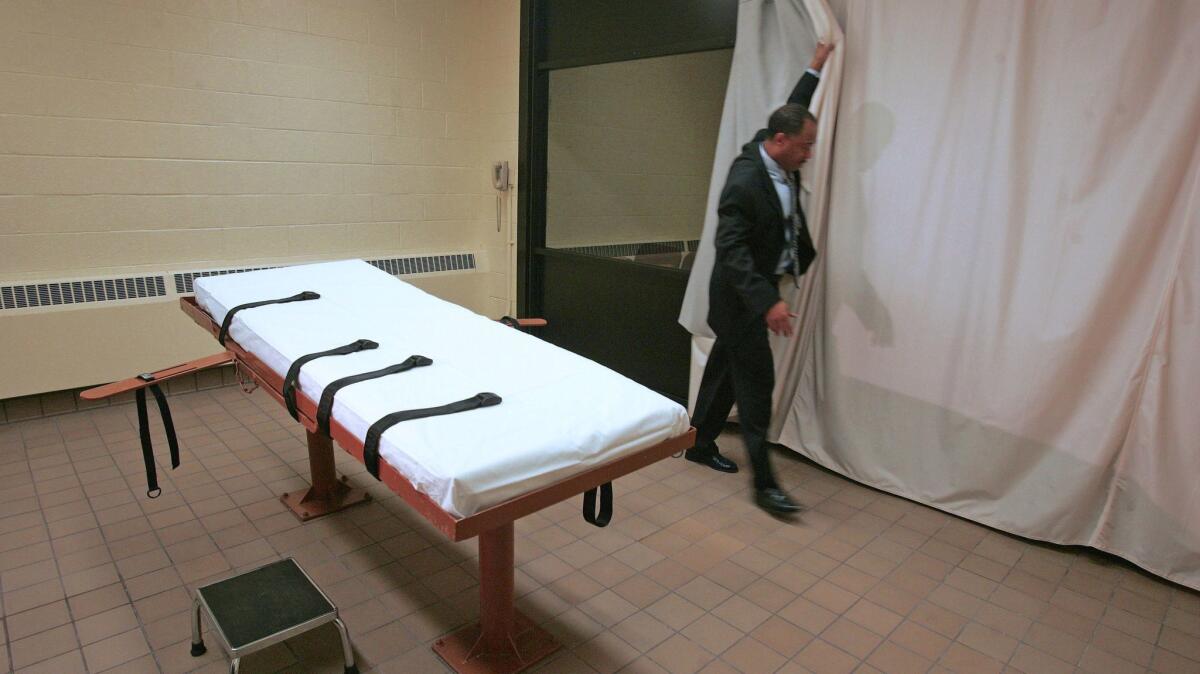 When Ohio announced in 2009 that it planned to abandon the three-drug lethal injection protocol that virtually all jurisdictions had employed for the past three decades, many assumed that most other states would soon follow suit. After all, Ohio's new protocol, which involved an overdose of a single barbiturate, was touted as being easier to administer and less risky.
Eight years later, however, the three-drug protocol is still very much in use, and its current application likely violates the 8th Amendment's prohibition on cruel and unusual punishment. Despite demonstrated concerns, Arkansas planned to use it to execute eight prisoners by the end of April. But for court rulings staying some of the executions, the unprecedented state killings would already have begun.
The three-drug protocol has an ignoble history. In the late 1970s, a medical examiner in Oklahoma, Jay Chapman, developed a procedure that involved, first, an anesthetic to render the prisoner unconscious; second, a paralyzing agent to render him immobile; and third, potassium chloride to stop his heart. No one in the scientific or medical community vetted Chapman's creation, nor was it subjected to testing of any kind. Chapman himself had no expertise in this area; as a medical examiner, he admitted that he "was an expert in dead bodies but not an expert in getting that way."
Nevertheless, virtually every death penalty state adopted Chapman's procedure.
The maladministration of lethal injection procedures has been well-documented in many states over the past 10 years.
A criticism of the three-drug protocol, and one key reason that its current use may constitute cruel and unusual punishment, is that the paralyzing agent serves no medical purpose, nor is it needed to cause death. Instead, paralysis renders it virtually impossible to discern whether the prisoner is suffering.
This is no fanciful concern. Paralyzing drugs are derived from a poison called curare, which was used in the barbaric 19th century practice of vivisection — the dissection of living animals for medical experimentation. In 1868, Swedish physiologist A.F. Holmgren described the use of curare as changing one "instantly into a living corpse, which hears and sees and knows everything, but is unable to move a single muscle, and under its influence no creature can give the faintest indication of its hopeless condition."
Forty-two of 50 states bar the use of such drugs in animal euthanasia because if something goes wrong and the animal is not properly rendered unconscious, it's impossible to know. As one animal welfare organization wrote to New York legislators in 1987 in support of a ban on paralytics in euthanasia, "drugs containing paralytic agents ... can cause acute suffering before an animal dies." The Humane Society of the United States has stated that it is the "moral and ethical duty" of its members to end the practice of "injecting animals with curare-based or paralytic substances."
It's true that if the first drug in the three-drug protocol is an anesthetic and if it's administered properly and in the right dosage, then the prisoner won't feel the effects of the paralytic or the potassium chloride. But the maladministration of lethal injection procedures has been well-documented in many states over the past 10 years (including, notably, California). Even a one-drug protocol can go horribly awry if the drug is of unknown provenance or if the execution personnel are unqualified or untrained. Proper administration cannot be taken for granted.
Arkansas' version of the three-drug protocol is particularly troubling because the state does not even plan to use an anesthetic as the first drug. Instead, its protocol calls for midazolam, a sedative that cannot, at any dosage, render a person unconscious and insensate to pain and suffering. In other words, even if the protocol is administered properly, it cannot work as intended because the first drug is not an anesthetic. Midazolam has led to botched executions in Arizona, Oklahoma, and Ohio — and Arizona has agreed to ban its use in future executions.
Despite grave concerns about midazolam as an execution drug, we may never know whether it works — or fails — in the spate of executions Arkansas has planned. The prisoners will be paralyzed, unable to move a muscle, unable to indicate in any way if they are experiencing the suffocating effects of the paralytic and the searing pain of the potassium chloride. That's more than an execution. That's torture.
Ty Alper is a clinical professor of law and associate dean at UC Berkeley School of Law.
Follow the Opinion section on Twitter @latimesopinion or Facebook
A cure for the common opinion
Get thought-provoking perspectives with our weekly newsletter.
You may occasionally receive promotional content from the Los Angeles Times.