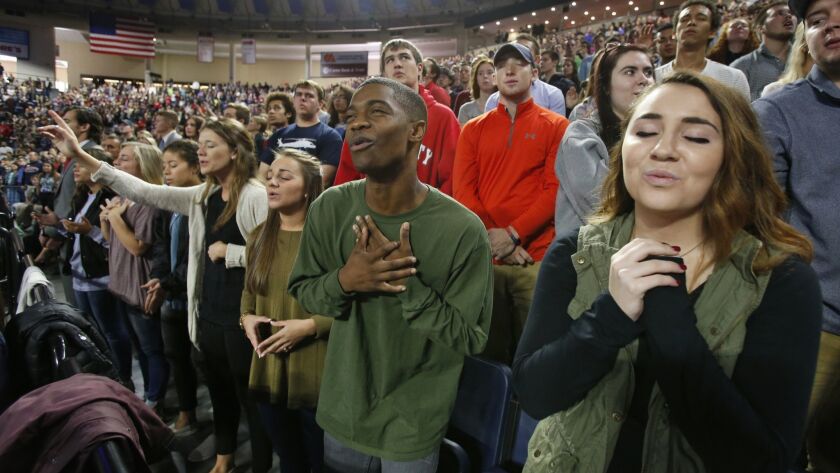 When Donald Trump said he could stand in the middle of Fifth Avenue, shoot somebody and not lose any voters, he might have had white evangelicals in mind. And he might have added to the sins he could get away with: an affair with a porn star, boasting of sexually predatory behavior, two divorces and three marriages, separating families at the border and more.
It seems that nothing can shake the loyalty of a majority of white evangelicals for the president. Eighty-one percent of the Republican Party's most reliable constituency voted for Trump in 2016. Two years later, in a Public Religion Research Institute poll released three weeks ago, 71% said they still viewed the Trump presidency favorably. In our tightly divided times, that's overwhelming support, but the 10-point difference may betray at least a glimmer of doubt.
Could it be that white evangelicals are beginning to see how far outside their own faith tradition the president stands?
Evangelicalism — those who view the Bible as God's revelation, who insist on a religious conversion and who obey the mandate to bring others into the faith — traces its roots to the 18th century and to a tradition that championed the poor, minorities and women. Women's equality, voting rights, prison reform (the creation of "penitentiaries" where criminals could do penance to rejoin society), public education — all were evangelical causes. Although many Southern evangelicals defended slavery, evangelicals in the North worked for abolition. Charles Grandison Finney, the most influential evangelical of the 19th century, criticized free-market capitalism. A "Christian businessman," he suggested, was an oxymoron because commerce elevated avarice over altruism.
Could it be that white evangelicals are beginning to see how far outside their own faith tradition the president stands?
Perhaps tellingly, given Trump's dog whistles to white supremacy, the shift away from progressive politics on the part of evangelicals began in the 1970s over the issue of race. Evangelical leaders, especially the Rev. Jerry Falwell, organized to defend church-related "segregation academies" and racial segregation at Bob Jones University against attempts to rescind their tax-exempt status. Opposition to abortion was added to the evangelical political agenda later, in time for the 1980 election, and by then, white evangelicals had cast their lot with the Republican Party. Trump is merely the latest beneficiary of this long slide away from the traditions and passions of progressive evangelicalism.
Still, two years later, we see some tantalizing, albeit fragmentary, evidence that at least some white evangelicals are experiencing buyers' remorse. Trump's boorish behavior toward women may have alienated some evangelical women, much as it has an effect on suburban women in general. Even Franklin Graham, Billy Graham's son and one of the president's most devoted acolytes, has criticized the president over the administration's draconian separation of immigrant families at the border.
Enter the Fray: First takes on the news of the minute from L.A. Times Opinion »
Given evangelical voting patterns over the past four decades, it would be foolish to suppose these Christians will abandon the Republican Party. However, ominously for Trump in 2020 and for Republicans in the long run, evangelical demographics are shifting along with the country as a whole: The evangelical cohort is increasingly nonwhite, with an emphasis on Latinos. And millennial evangelicals, surveys suggest, dissent from their parents' unblinking support for the Republican Party. A report on younger evangelicals in the New Yorker in August quoted a 24-year-old's perspective: "We can't be married to the agenda of the donkey or the elephant. We must be married to the party of the lamb."
Perhaps these sentiments will surface on Nov. 6 among younger, more diverse evangelicals in swing states, along the border, in suburban districts. If evangelicals can summon the courage to stray from the orthodoxy of the far-right precincts of the Republican Party, they would take the first steps toward reclaiming the orthodoxies of their own heritage — questioning unbridled capitalism, recognizing the rights of women and minorities, embracing true "family values," and caring for those Jesus called "the least of these."
Randall Balmer, the John Phillips Professor of Religion at Dartmouth College, is the author of more than a dozen books, including "Redeemer: The Life of Jimmy Carter."
Follow the Opinion section on Twitter @latimesopinionand Facebook
---