Op-Ed: Electric cars are a dumb target if Trump wants to hurt GM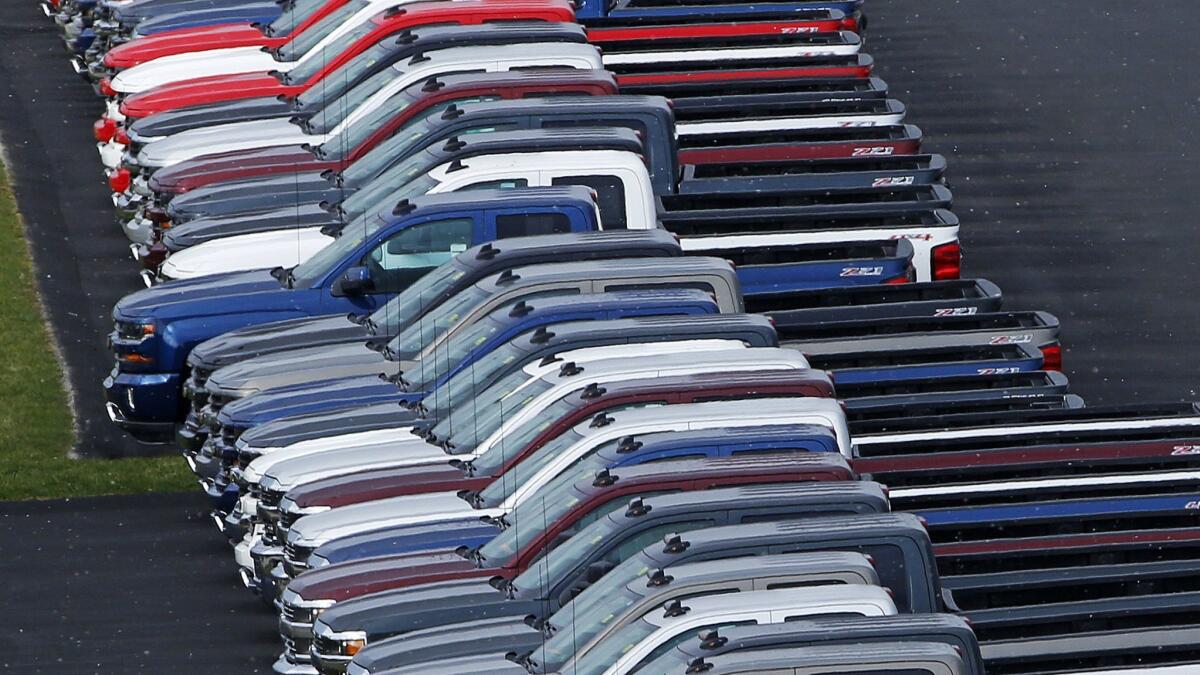 President Trump, looking for a way to strike back at GM for planning to mothball four U.S. factories that employ thousands of autoworkers, is threatening to take away a tax credit that has helped consumers buy electric vehicles.
"The U.S. saved General Motors, and this is the THANKS we get! We are now looking at cutting all @GM subsidies, including ... for electric cars," Trump said on Twitter right after the GM announcement. On Monday, economic advisor Lawrence Kudlow said the administration was looking to eliminate the electric car tax credit for all manufacturers.
If the president really wants to get GM's attention, tax breaks for electric cars are the wrong target. GM is halting production (already tiny) of the plug-in hybrid Chevy Volt. The $7,500 tax credit's availability to GM's customers is about to expire. (It gets reduced, then phased out after a company has sold 200,000 of its electric models; GM has sold 193,000.) And deleting the tax break likely requires congressional approval because it was created by legislation.
If Trump wants to hit GM where it hurts, he should take aim at big trucks and SUVs.
If Trump wants to hit GM where it hurts, he should take aim at big trucks and SUVs. He could start by eliminating what's been called the "Hummer Tax Loophole." This tax provision rewards purchasers of the biggest luxury gas guzzlers — which are also GM's biggest sellers. By eliminating that tax break, he could simultaneously save taxpayers a bundle, slash pollution and remove an incentive to buy these oversized vehicles.
This tax break has been around for years, but the Tax Cut and Jobs Act that Trump signed a year ago actually expanded it. Owners of small companies who use their vehicle for business can now deduct up to the full cost of a new plus-size vehicle — a pickup or SUV weighing roughly 6,000 pounds or more, for example — and write it all off in the first year.
How does that stack up? For someone in the 24% tax bracket, writing off a $75,000 Cadillac Escalade vehicle would reduce their tax bill by $18,000.
In addition to the Escalade, GM vehicles available for this tax deduction include the Silverado and Sierra pickups and the Suburban, Tahoe and Yukon SUVs. In the first 10 months of this year, GM sold 1,046,238 of these vehicles. In the same period, it sold just 56,521 of its Volts and all-electric Bolts.
You may not have heard of this yawning tax escape hatch, but auto dealers know it well. They promote it in sales pitches such as this one from Peninsula Chevrolet, near Monterey: "Take Advantage of the 2017-2018 Business Tax Deduction! The Section 179 Deduction allows business owners to buy large trucks, SUVs, and vans and write them off on their taxes. … Our sales staff is extremely familiar with the rules and requirements, so come in and see if you qualify and how much you can save."
That may be a good deal for farmers who need a new pickup or an electrician who needs a work van. But all sorts of self-employed professionals and business owners qualify, even including dental practices, according to Cain Watters Associates, which advises dentists on finances.
Automakers claim that Americans clamor for trucks. But the industry wants it that way, and spends the lion's share of its approximately $13-billion annual marketing budget pushing pickups and SUVs on consumers to make it so. The tax loophole for the biggest vehicles doesn't hurt their pitch.
The companies are tilting to trucks because those are their most profitable products. Pollution and fuel-economy standards governing them are weaker than those applied to cars. So the manufacturers can slip cheaper, less-efficient engines, transmissions and other antiquated technology under the hoods, then toss in leather seats and a dozen cup holders to run up the price tag.
Enter the Fray: First takes on the news of the minute from L.A. Times Opinion »
SUVs don't cost much more to build than sedans, but they have much bigger price tags on the car lot. Markups are as fat as $38,000 on some Escalades, according to the Detroit News. That's why GM, Ford and Fiat Chrysler are abandoning sedans and focusing production almost entirely on trucks. Soon, consumers who prefer sedans or who want to cut their gas costs and pollution will have little choice but to buy an import.
Trump's threat to take away the electric vehicle tax credit, rather than restricting the truck-SUV business deduction, demonstrates how little he understands about the auto industry and the tax provisions. Eliminating the clean-car incentive will undercut the domestic auto industry's ability to develop the advanced technology it needs to stay competitive in the long term and will open the field to China, already a major producer of electric vehicles. Yet with only a few thousand GM cars still eligible for the credit, yanking it can have no meaningful impact on the company's balance sheet.
Should the president target the gas-guzzler loophole, then he'll hear how loud GM can scream.
Dan Becker directs the Washington-based Safe Climate Campaign, which advocates strong measures to fight global warming. James Gerstenzang, who covered the environment and the White House for The Times, is the campaign's editorial director.
Follow the Opinion section on Twitter @latimesopinionand Facebook
A cure for the common opinion
Get thought-provoking perspectives with our weekly newsletter.
You may occasionally receive promotional content from the Los Angeles Times.