Op-Ed: Obama's national monument designations were lawful, not land grabs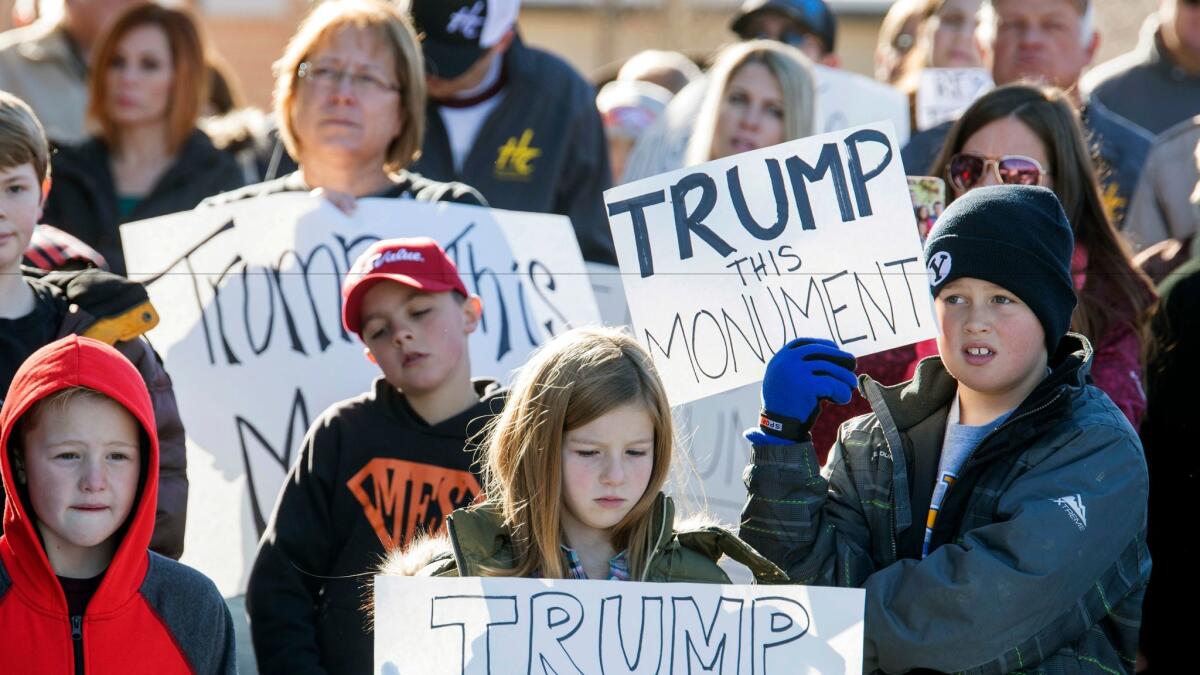 President Obama's 2016 national monument designations have prompted Republican critics from Nevada to Maine to suggest that, under cover of the Antiquities Act of 1906, he exceeded his authority, orchestrating a massive federal land grab. These critics are ignoring the history and scope of the act and the positive effects of monument designations on nearby communities.
The Antiquities Act gives presidents broad authority to protect objects and surrounding public lands with historical, cultural and scientific value to the nation. Sixteen presidents have used the statute since Theodore Roosevelt signed it into law and created the first national monument at Devil's Tower in Wyoming. In the short term, their actions have frequently generated controversy.

For the record:
4:18 a.m. Dec. 3, 2023This op-ed article incorrectly states the location of the Cascade-Siskiyou National Monument was incorrect. It is in Oregon and California, not Oregon and Washington.
One of the most significant battles arose in 1943. During a rancorous tug of war over the preservation of the valley at the foot of the Teton Range in Wyoming, President Franklin Roosevelt stepped in and established the Jackson Hole National Monument. It included 35,000 acres of ranchland purchased secretly, for the sake of preservation, by John D. Rockefeller Jr. FDR meant to resolve the situation, but the monument designation only intensified local anger over outsider interference, worries about lost tax revenues and ranchers' concerns about their future.
Numerous congressional revocation efforts by Wyoming Republicans followed, and a lawsuit challenged the use of the Antiquities Act itself, but the monument survived. In 1950, it was incorporated into Grand Teton National Park, which now welcomes around 3 million visitors annually. Roosevelt's controversial action is now credited with bolstering, rather than destroying, Teton County.
Although the Antiquities Act does not require it, the Obama administration engaged in substantial public involvement before the recent designations.
A similar story has been repeated elsewhere. In southern Utah in the late 1990s, President Clinton designated the Grand Staircase-Escalante National Monument against the wishes of many in Utah who cited fears that "locking up" these lands would depress local economies. In fact, a recent study of the region by Headwaters Economics found that after the designation, the population grew by 8%, jobs by 38% and real per capita income by 30%.
The lengthy legal history of monument designations also informs the debate over presidential overreach. No monument proclamation has ever been revoked; federal courts have dismissed all legal challenges. And the U.S. attorney general long ago concluded that presidents lack the authority to undo designations made by other presidents.
Since the Antiquities Act applies only to lands that already are federal, no private property rights are affected. Monument opponents claim that designation will curtail grazing, mining and vehicular recreation, yet existing "multiple uses" that do not threaten the area's historic and scientific value are preserved. In Grand Staircase, pre-designation livestock grazing continues. The same will be true in Bears Ears National Monument, in Utah, which was designated by Obama in December.
Monuments are neither wilderness areas nor national parks, both of which are created under more stringent criteria. All national monuments are managed according to plans that, by law, must be revisited over time. Although one president creates a monument, subsequent presidents often implement the management objectives.
Opponents have labeled Obama's 2016 monuments as "midnight regulations," although most of the recent designations have been a long time in the making. Interior Secretary Harold Ickes proposed Bears Ears in 1936. Gold Butte National Monument, added in southern Nevada in December, was first proposed by local tribes in 2008. The expanded Cascade-Siskiyou monument in Oregon and Washington was first established two decades ago, and the Papahānaumokuākea Marine National Monument, which Obama enlarged in August, was established in 2006 by President George W. Bush.
Designations are accompanied by detailed rationales that explain the nationally significant resources the monument will protect. The rationales take months, often years, to develop. They are hardly the result of midnight whims.
Tellingly, presidents from both parties have defended prior monument designations. George W. Bush's Justice Department successfully defended monuments designated by President Clinton in court. President Wilson's lawyers won Supreme Court approval of the Grand Canyon monument in 1920, proclaimed by Wilson's predecessor, Teddy Roosevelt, in 1908.
Although the Antiquities Act does not require it, the Obama administration engaged in substantial public discussions before the recent designations. Those discussions led to scaling down the size of Bears Ears monument and eliminating several areas that might be mined or used for vehicular recreation in the future.
Bears Ears and Gold Butte are particularly fitting national monuments, since they include many sites sacred to local tribes. One of Congress' principal purposes behind enacting the statute in 1906 was to protect such sites from pot hunters and looters, to protect the important cultural legacy of Native Americans on public lands.
The often ephemeral local opposition to monument status should not persuade Congress or the Trump administration to attempt to revoke the Obama designations. Today's protesting voices represent a decided minority of the wider public that benefits from public lands conservation, including future generations. Short-term political expediency has not predominated in the past and should not prevail in the future.
Michael Blumm, a professor at Lewis and Clark Law School, specializes in public lands and natural resources law. Hillary Hoffmann, a professor at Vermont Law School, focuses on natural and cultural resources, and tribal lands.
Follow the Opinion section on Twitter @latimesopinion and Facebook
A cure for the common opinion
Get thought-provoking perspectives with our weekly newsletter.
You may occasionally receive promotional content from the Los Angeles Times.