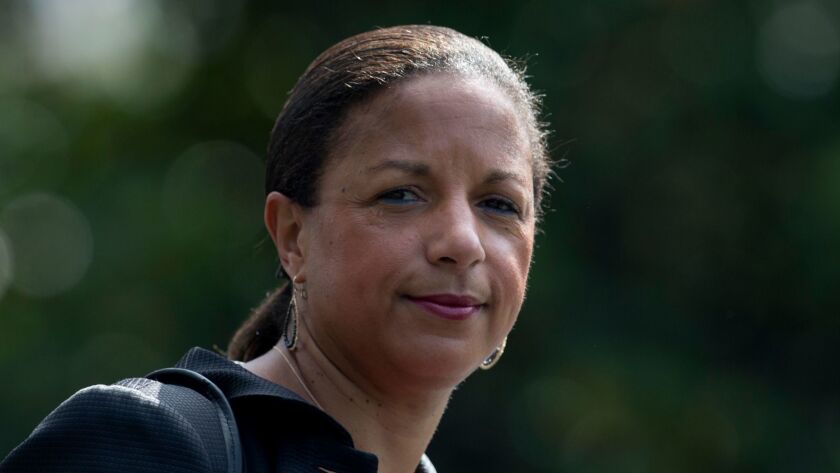 Susan Rice, President Obama's United Nations ambassador and national security advisor, must feel a little like Raymond Donovan. Not the Showtime TV character, but the Reagan-era Labor secretary who was forced to leave office and tried on fraud charges. After he was acquitted, he famously asked: "Which office do I go to get my reputation back?"
This past spring, Rice was accused by President Trump and his supporters of breaking the law by "unmasking" the names of Trump aides in surveillance transcripts made by the National Security Agency. Now it comes out, from Rice's testimony to the House Intelligence Committee last week, that she had every reason in the world to discover those names. She did not break the law. She's just collateral damage in the administration's attack on facts and reality.
The Rice affair was an outgrowth of the president's wild claim, made on March 4, that the Obama administration had engaged in illegal wiretapping of Trump Tower. "Terrible!" he tweeted. "Just found out that Obama had my 'wires tapped' in Trump Tower just before the victory. Nothing found. This is McCarthyism!"
There was not, of course, an iota of evidence to support this charge — which Trump clearly made to distract attention from the very real scandal of his campaign's links to Russia. The tapping story has now been definitively refuted by the Justice Department. "Both FBI and NSD [National Security Division] have no records related to wiretaps as described by the March 4, 2017 tweets," the Justice Department recently wrote in a court filing.
There is, of course, no chance that Nunes, Trump or anyone else will apologize to Rice for impugning her integrity.
Unable to support Trump's ludicrous claim on its face, his more creative fans in the fever swamps of the far right tried to come up with fanciful explanations of how the supposed wire-tapping might have occurred. Former Judge Andrew Napolitano said on Fox News that, even though the NSA hadn't spied on Trump, its British counterpart, the Government Communications Headquarters, had done so. Trump appeared to endorse this claim, which was swiftly and angrily refuted by the British government, straining trans-Atlantic relations.
And then came Version 3.0 of the "Obama surveillance scandal," as some on the right called it: the notion that Rice had illegally unmasked names of Trump associates whose conversations were incidentally collected during the course of wiretapping directed against someone else. This allegation first surfaced April 2 on the Twitter account of Mike Cernovich, a far-right conspiracy theorist who also alleged that Hillary Clinton ran a child-sex-abuse ring out of a Washington pizza parlor.
Within 24 hours, Eli Lake of Bloomberg View had reported that Rice had "requested the identities of U.S. persons in raw intelligence reports on dozens of occasions that connect to the Donald Trump transition and campaign." Unlike Cernovich, Lake did not say this supported Trump's wire-tapping allegations or that Rice did anything illegal, but those details were lost in the rush by right-wing media outlets — Fox News, Breitbart, the Daily Caller, the Washington Examiner, Gateway Pundit and others — to bolster Trump's specious charges by dragging Rice's good name through the mud. Before long the president of the United States was accusing her in the media of having committed a crime.
Rep. Devin Nunes (R-Tulare), chairman of the House Intelligence Committee, proved particularly zealous in pursuing the allegations. He made a dramatic trip to the White House to brief the president and reporters on supposed evidence that incriminated Rice. In fact, the "evidence" was ginned up by far-right White House aides, including Ezra Cohen-Watnick, who was subsequently fired from the NSC staff. Nunes had to recuse himself in April from the House investigation of Kremlingate, and he found himself under investigation from the House Ethics Committee for possibly leaking classified information.
The entire Susan Rice "scandal" began to collapse like an overdone souffle in early August when Lake, who had helped set the story in motion, reported that national security advisor H.R. McMaster had concluded that his predecessor had done nothing wrong. And now Rice's testimony to the House Intelligence Committee explains what she was doing: her job.
Rice unmasked the names of Trump associates because she was trying to learn why the crown prince of Abu Dhabi, in the United Arab Emirates, had made a secret trip to New York after the November election. It turns out that UAE Foreign Minister Sheik Abdullah bin Zayed al Nahyan was meeting with Trump transition officials as part of an effort to set up a secret back-channel to Russia. Neither the Trump aides nor the UAE bothered to inform the Obama administration, which was still in office and still in charge of U.S. foreign policy.
According to CNN, Rice's "explanation appears to have satisfied some influential Republicans on the committee, undercutting both Nunes and Trump and raising new questions" about Trump associates and the Russians. Rep. Tom Rooney (R-Fla.), one of the leaders on the House probe of Kremlingate, said: "I didn't hear anything to believe that she did anything illegal."
So much for this faux scandal. There is, of course, no chance that Nunes,Trump, the right-wing media or anyone else will apologize to Rice for impugning her integrity. Indeed Trump on Thursday told reporters "what she did was wrong." The president and his enablers will never allow truth, comity or common decency to get in the way of their crazy conspiracy theories.
Max Boot is a contributing writer to Opinion and a senior fellow at the Council on Foreign Relations.
Follow the Opinion section on Twitter @latimesopinionand Facebook
---
UPDATES:
3:35 p.m.: This story was updated with additional information.
---