Op-Ed: Trump's stance on national monuments is straight out of the 19th century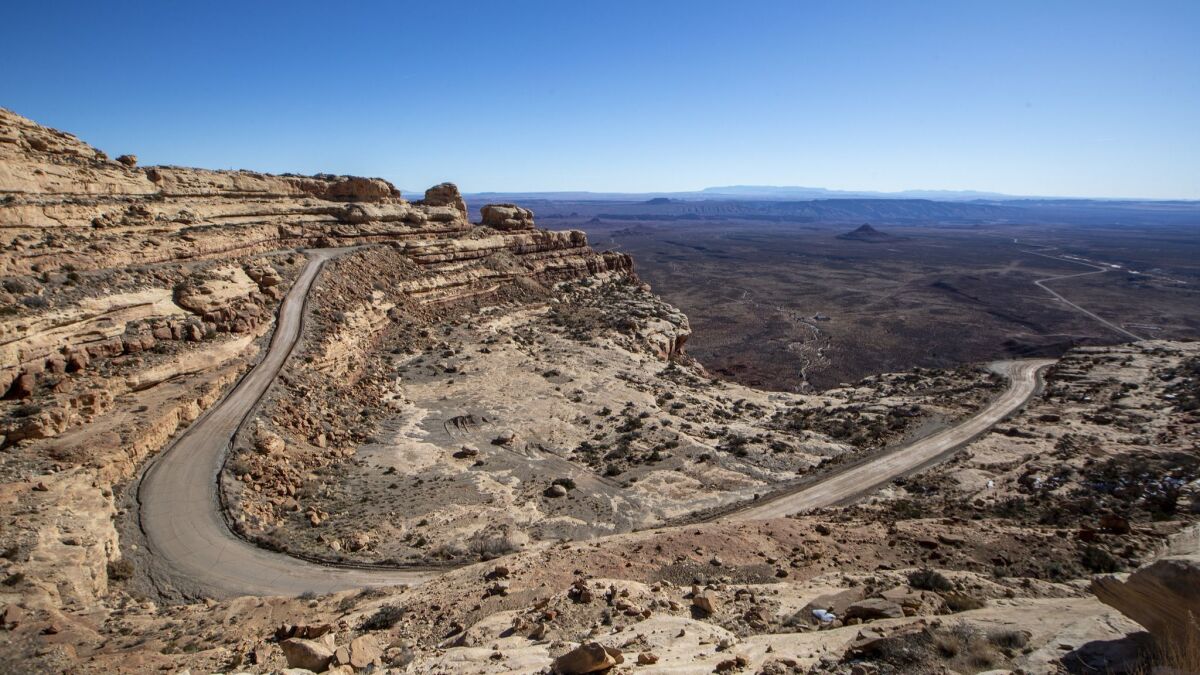 As outrage over family separations at the border erupted last summer, news quietly broke about a different Trump administration policy. The Washington Post reported that senior officials at the Interior Department had dismissed evidence supporting the historic, cultural and economic value of national monuments in a review they conducted of more than two dozen sites.
In that original review, submitted to the White House in August 2017, Ryan Zinke, former secretary of the Interior, recommended the administration modify 10 national monuments and shrink at least four Western sites.
Zinke had been instructed to conduct the survey by President Trump, in an executive order issued in April 2017. Trump told the department to investigate 27 monuments that had been created over the previous two decades, arguing that, by creating the monuments, his predecessors had overstepped the authority granted to them by the Antiquities Act.
Like Trump's pursuit of a border wall, his shrinking of monuments is not merely about enforcing the boundaries of a physical landscape.
At first glance, the administration's efforts to wall off immigrants and asylum seekers may seem unrelated to its efforts to curtail protections for national monuments. But a coherent ideology underlies both policy goals.
Like Trump's pursuit of a border wall, his shrinking of monuments is not merely about enforcing the boundaries of a physical landscape. It's also about controlling the narrative of that landscape — about determining who is included and who is excluded. By reducing and eliminating monuments, he is erasing artifacts and people from our national story. In this case, nonwhite people.
In his memo to the White House, Zinke recommended shrinking the boundaries of four national monuments: Gold Butte in Nevada, Cascade-Siskiyou in Oregon, and Bears Ears and Grand Staircase-Escalante in Utah. Reducing the protected acreage, Zinke argued, would restore "traditional uses," such as grazing, mining, hunting and timber production.
A few months later, Trump announced plans to reduce Grand Staircase-Escalante by 45% and Bears Ears by 85%. The cuts removed from protection ancient cliff dwellings in the Dark Canyon Wilderness Area, rock art etched in sandstone canvases in Moqui Canyon and Grand Gulch, and other lands, ruins and artifacts sacred in Ancestral Pueblo culture.
Zinke acknowledged the presence of archaeological and historical resources, but insisted that the region's arid climate had preserved "virtually identical objects" in other areas. The secretary also portrayed large monuments as security risks, describing them as "difficult to police."
The Interior department justified the review as an antidote to federal overreach. The Antiquities Act, it argued, granted minimal executive authority and limited the president to safeguarding the "smallest area compatible with proper care and management of the objects to be protected."
This is a distortion. Congress passed the Antiquities Act in 1906 in response to looting of Native American artifacts from archaeological sites in the Southwest. It gave presidents the ability to set aside and protect only land that federal agencies already owned and managed. The subsequent Organic Act of 1916 gave Congress the power to create national parks. With extensive input from the public, the legislature has re-designated many monuments as parks.
What constitutes "proper care" of objects with value, and indeed of our cultural heritage, has evolved considerably since. With Bears Ears, for instance, stakeholders drew generous boundaries in order to prevent future damage to sensitive artifacts scattered across a vast and varied landscape.
Before the Antiquities Act, national parks and monuments did not always work to preserve such histories. In fact, many of our earliest national parks and monuments were projects of racial erasure and violence. The so-called crown jewel national parks — Yosemite, Yellowstone, Glacier — won designation through the expulsion of indigenous peoples from their ancestral lands.
In recent decades, the federal government has worked to conserve places that reflect a fuller picture of our national history. The Cesar E. Chavez National Monument in Kern County, the Pullman National Monument in Chicago and the Stonewall National Monument in New York City bear witness to the struggles of people of color, women, queer communities and the working class.
Bears Ears Monument, in particular, was the result of an unprecedented collaboration between a coalition of Native American tribes and federal agencies.
Enter the Fray: First takes on the news of the minute »
Tribal nations, environmental advocates and other stakeholders are waging legal challenges to Zinke's review, and those challenges are still working their way through the courts. And earlier this month, more than 100 lawmakers proposed a bill, the Antiquities Act of 2019, to make clear that only Congress can change monument designations, including those made by a president.
Nonetheless, the Trump administration has made its intentions clear: a return to 19th century ideologies of settlement and exploitation in which centuries of human activity are dismissed in pursuit of economic gain. In the case of Bears Ears, the administration is also reviving a painful history of broken promises.
Trump's recent nomination of a former lobbyist for the oil and agricultural industries, David Bernhardt, to replace Zinke underscores the extent to which resource extraction will remain a priority for the administration.
The building of a border wall, too, will disrupt sensitive cultural landscapes and wildlife corridors in border-adjacent sites such as Big Bend National Park and Organ Pipe Cactus National Monument. By fortifying that southern boundary, Trump is seeking to determine not just who belongs in our past, but also in our future.
Laura Dominguez is a co-founder of Latinos in Heritage Conservation and a former staff member of the Los Angeles Conservancy and San Francisco Heritage. She is a graduate student in the history department at USC.
Follow the Opinion section on Twitter @latimesopinion or Facebook
---
Life is stressful. Our weekly mental wellness newsletter can help.
You may occasionally receive promotional content from the Los Angeles Times.