Op-Ed: Arizona gun laws in L.A.? It could happen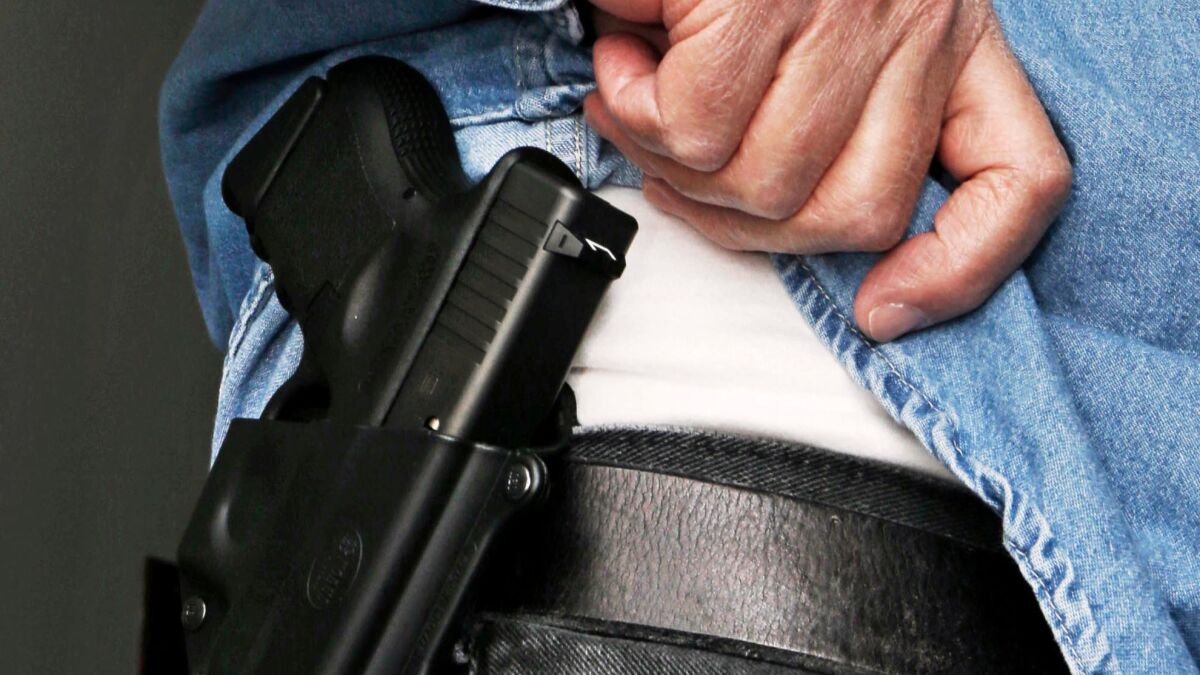 Californians have a lot on the line in the next congressional debate about America's gun laws. Two bills stacked with legislative sponsors — HB 38 in the House, SB 446 in the Senate — would override our state's longstanding rules governing who is allowed to carry a concealed, loaded firearm in public. These bills, both called the Concealed Carry Reciprocity Act, would dictate that if a person can carry a concealed weapon in any state, that person could carry it everywhere in America. This should be a call to action for all Californians concerned about keeping their families safe.
Twelve states do not require any permit to carry hidden, loaded guns within their borders. Some states' rules have been so ineffective as to allow felons to carry concealed weapons. Not so in California. Our laws require good cause for the issuance of a concealed weapon permit. Applicants must undergo a comprehensive background check. No one with a serious criminal conviction may receive a permit, nor may subjects of temporary or permanent domestic violence restraining orders.
But if concealed carry reciprocity were the law of the land, all this would change. Unbelievably, the House version would allow an individual denied a permit in California to cross the border to a more permissive state, obtain a permit there, then return to California — with a new right to carry here.
More concealed weapons on California streets would make police work here much more hazardous.
In addition to jeopardizing public safety, concealed carry reciprocity would endanger the lives of law enforcement. The mere presence of more concealed weapons on California streets would make police work here much more hazardous. What's more, if LAPD officers stopped someone with a loaded, concealed handgun, that person could claim to live in a state where permits weren't necessary, and the officers would be unable to confirm whether it was true. Indeed, law enforcement leaders have warned that concealed carry reciprocity could turn otherwise routine encounters with non-residents into dangerous ones. Given our intensifying focus on the potential for homegrown terrorism, the last thing we need is to make it easier to carry concealed, loaded firearms across state lines.
Because concealed carry reciprocity poses grave risks, the National Law Enforcement Partnership to Prevent Gun Violence, including the Major Cities Chiefs Assn. and the International Assn. of Chiefs of Police, along with the Assn. of Prosecuting Attorneys, the leaders of Prosecutors Against Gun Violence and many other partners in law enforcement, have strongly opposed it.
While the practical implications of this proposal are deeply troubling, the politics surrounding the debate are surreal. Members of Congress who have invoked states' rights for years have supported these bills, even though concealed carry reciprocity destroys the notion that states should decide for themselves which rules best keep their residents safe.
Why lawmakers in D.C. are acting this way would be something of a mystery but for the fact that concealed carry reciprocity has been a top priority of gun rights organizations such as the National Rifle Assn. Invigorated by the recent election, gun rights advocates deride what they see as an inconsistent "patchwork" of concealed carry laws across the nation.
If that were the real concern, though, Congress could take entirely different steps. Robust, national concealed carry standards similar to California's would address the patchwork issue while protecting law enforcement officers and the public. Instead, concealed carry reciprocity defaults to the least stringent standards, with states like Arizona — where there are no universal background checks and residents can carry concealed weapons with no permit at all — dictating policy nationwide.
Finally, concealed carry reciprocity could damage our business community. Were great numbers of out-of-state visitors authorized to carry concealed guns in California, all sorts of venues — sports arenas, theme parks, commercial buildings — could be choked with metal detectors or other barriers installed by business owners legitimately concerned about their patrons' safety.
Forcing concealed carry reciprocity is dangerous and undermines California's gun laws. Lawmakers should find the courage to say no.
Mike Feuer is the city attorney of Los Angeles. Charlie Beck is the chief of the Los Angeles Police Department.
Follow the Opinion section on Twitter @latimesopinion or Facebook
---
Life is stressful. Our weekly mental wellness newsletter can help.
You may occasionally receive promotional content from the Los Angeles Times.